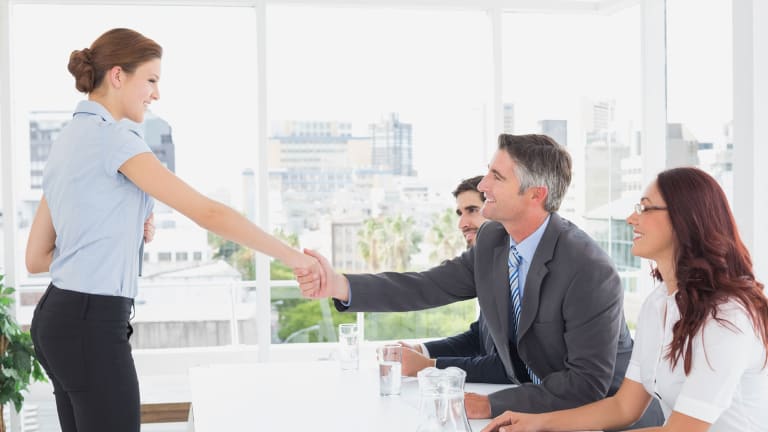 Publish date:
Men More Likely to Think Workplace Playing Field Is Already Level, Study Says
More than 60% of men said that their company is doing what it takes to improve gender diversity while only 49% of women agree, the Women in the Workplace study found.
More than 60% of men said that their company is doing what it takes to improve gender diversity while only 49% of women agree, the Women in the Workplace study found.
As diversity issues permeate through Silicon Valley and institutional investors push for greater gender balance in leadership roles, a new study found that most men think that the playing field is already level.
The third annual Women in the Workplace study by non-profit organization Lean In and consultants McKinsey and Co. shows that men think women are doing better than they really are in the workplace and that their companies are doing enough to improve gender diversity, while women see room for improvement.
"Men are more optimistic that things are OK," Lareina Yee, an author of the study and a senior partner at McKinsey, said in an interview with TheStreet on Wednesday. At companies where only one in ten senior leaders is a woman, nearly 50% of men think that women are well represented. "That's a disconnect in the actual math of how many women there are and a perception that they are well represented," Yee said.
"I think a bit of the disconnect is, perhaps for some people, they're saying, 'If it's better than it was yesterday, that's good,' but I think that for women, they're saying, 'Better than yesterday is good, but that's actually not great,'" Yee said.
"Many workplaces have few women at the senior level, so if there is one, for men it represents significant progress, through their lens," said Sharon Jones, chief executive officer of Jones Diversity. "For women, it doesn't look like significant process."
"Best I can tell there must be a blind spot that's there or unconscious bias," said Yee, adding that there is no evidence this is purposeful.
More than 60% of men said that their company is doing what it takes to improve gender diversity while only 49% of women agree, the study found. McKinsey and Lean In surveyed 222 companies and more than 70,000 employees for this year's report.
Still, the pipeline of female talent decreases at every level, across all industries. For instance, women represent 36% of entry-level position within the technology industry. That percentage slips to 30% at the manager position, to 25% for vice president, and drops to 17% at the C-Suite level. Similarly, women make up 47% of entry-level positions of the asset management and institutional investors industry, but only 17% of C-Suite roles.
Along with evidence that the female talent pipeline narrows at the higher levels, women are less likely to think they have an opportunity to advance in the workplace, according to the report. About 37% of women say that gender has played role in missing out on a raise, promotion or a chance to get ahead. Fifty-seven percent of women said they have equal opportunity for growth as their peers, compared to 62% of men.
Yet, the report said that women of all races and ethnicities are negotiating for raises or promotions at comparable rates to men. And women who do lobby for a promotion "are more than twice as likely to get one," but it comes with social repercussions. Even though the idea of greater gender diversity, particularly at the C-Suite and boardroom levels, is one that companies embrace, women who successfully negotiate a raise or promotion are often called "intimidating," "too aggressive," or "bossy."
For women of color, particularly black women, the workplace presents an even more difficult challenge. Black women receive the least amount of support; about 31% of black women said that managers advocate for them for an opportunity, compared to 41% of white women; and, just 28% of black women said managers defend them or their work, compared to 40% of white women. Still, in spite of these challenges, women of color "have higher ambitions to be a top executive than white women," the study found.
"Women face a steeper path to leadership," Rachel Thomas, president of Lean In, said in an interview with CNBC. "Men are not as committed to gender diversity as women, they think their companies are doing better on gender diversity efforts than they are, and we are not going to get to equality unless men are on board."
Men need to develop the awareness and courage to know where gender biases come into play at the workplace, recognize those biases and then hold each other accountable, said Jennifer Brown, founder of Jennifer Brown Consulting. Change surrounding gender biases will happen when men develop a gender lens, Brown added.
"Training is one piece of the strategy" to address gender biases because it builds awareness, said Brown, adding that "everyone has a bias."
"Be open to learning and challenging your biases," Brown said.
"Companies are responsible for creating an inclusive culture," Jones said. She said that structural changes disrupt the unconscious biases, noting that some companies have started to adopt the Rooney Rule, which requires a diverse slate of candidates to be considered before a promotion is made.
In order to see results on the gender diversity front, businesses and leaders must make it a priority. Jones said that managers should be made accountable for progress and should issue diversity reports frequently because bringing transparency to the issue is the only way to create change.
But companies should not expect to solve diversity and inclusion-related issues within a year, said Yee.
"[Companies] have to set up a realistic operating model" to achieve their gender diversity goals, Yee said.
"For some companies, 50-50 is not in any way realistic, so then set a realistic goal," Yee continued. If a company has 20% representation of women, set it at 30%, Yee said, then work backward on what it's going to take to get there, such as fair promotions, policies, recruiting and support for women and men with families.
Tina Shah Paikeday, an executive director at executive search firm Russell Reynolds Associates who advises clients in the area of diversity and inclusion, echoed that sentiment, saying that diversity and inclusion goals and solutions need to be individualized for each company. 
"A lot of progress has been made but there is still a lot of work to do," said Paikeday. According to a recent survey by Russell Reynolds, 56% of men and 50% of women say that their organization fosters an inclusive working environment and culture. 
But as the Women in the Workplace study shows, plenty of work remains in order to reach parity, and today "the takeaway is that women have a very good assessment of their opportunities in their environment, which aren't strong," said Jones.
More of What's Trending on TheStreet:
Editors' pick: Originally published Oct. 12.