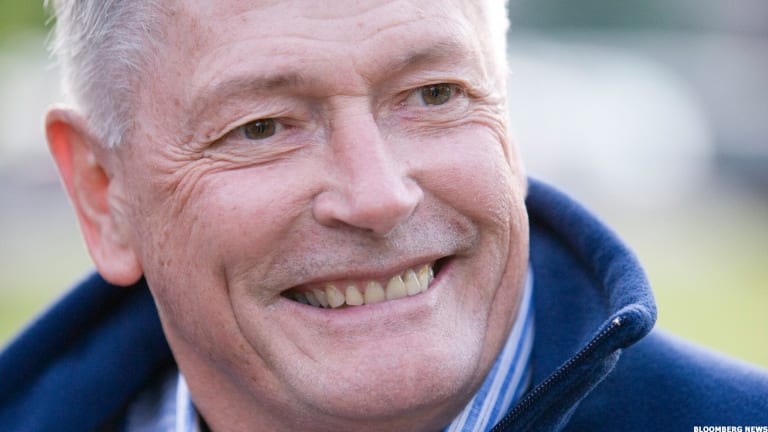 Liberty's Malone and Maffei Top the List of Most Over-Boarded Directors
There are at least 16 U.S. directors who are over-boarded, meaning that they sit on more boards than is recommended by influential shareholder advisory firms.
This is part of a series of stories that comprise TheStreet's Blue Chip Studio, which will illuminate issues related to corporate board performance, activism, dealmakers and personalities revealed by analysis of data generated byBoardEx, a business unit of TheStreet.
John Malone and Gregory Maffei, the chairman and the chief executive officer of Liberty Media Corp. (FWONA) and Liberty Interactive Corp.undefined , top the list of U.S. executives who sit on the most corporate boards, earning them the title of "most over-boarded."
There are at least 14 other U.S. directors who are over-boarded, meaning that they sit on more boards than is recommended by influential shareholder advisory firms such as Institutional Shareholder Services (ISS) and Glass Lewis & Co. Sitting on many boards raises questions about a director's ability to effectively manage his time and responsibilities for each company. The data on over-boarding comes from BoardEx, a subsidiary of TheStreet that maps corporate relationships.
Though being a director on a board is not necessarily a full-time commitment, in recent years, board members have seen a "major increase" in the number of hours required to serve on a public company board, according to global accounting firm BDO. Given this trend, shareholder advisory firms say directors should sit on no more than five public company boards in the United States. Still, there are numerous directors who exceed that limit.
"Over-boarding is really simple, it means you're on too many boards," said Charles Elson, a professor of finance and corporate governance at the University of Delaware. "If you're sitting on too many boards, someone is getting short-changed."
"These so-called over-boarding policies are a reflection of investor concerns over CEO and director effectiveness and ability when potentially stretched by multiple outside board commitments," said Natalia Weaver, managing advisor with ISS Corporate Solutions. 
Malone, 76, and Maffei, 56, each sit on nine boards, more than any other U.S. directors, according to BoardEx. Many of the boards the men sit on are connected through Liberty's affiliates and subsidiaries.
Although most of the various businesses were once part of the same predecessor company, they now fall under five separate entities: Liberty Media, Liberty Interactive, Liberty Broadband (LBRDK) , Liberty TripAdvisor Holdings (LTRPA) , and Liberty Global (LBTYA) . Within the five entities, there are nine stocks, including seven tracking stocks.
"Our structure and strategy provide investors with transparency and visibility into the underlying assets we own," said a spokesman for Liberty Media who declined to be identified by name. "This has resulted in a variety of asset-backed stocks and tracking stocks that have supervision from the boards of directors, which may include our chairman and our CEO. Any shareholder who invests in our assets understands and appreciates that approach and the resulting strong returns we have generated on their behalf."
In regards to Liberty's unique structure, Elson said the men are still dealing with different reporting entities. He believes the real question isn't necessarily whether Maffei and Malone are over-boarded, but whether Liberty's structure makes sense. "There are only so many hours in a day," Elson said.
Glass Lewis addressed the over-commitment of Malone and Maffei in a May 14 report but ultimately issued its support for both directors.
"While we are concerned by this level of outside commitments, given Mr. Malone's position as chair of the company, we do not believe it would be appropriate for shareholders of the company to oppose his candidacy at this time," said Glass Lewis. "Rather, we believe such concerns would be better expressed at the other companies where Mr. Malone serves as a director but not as an executive of the company."
To be sure, the nine stocks under the Liberty Media umbrella together delivered an annualized 13% return over the past decade, compared with 7.5% for Warren Buffett's Berkshire Hathaway (BRK.A) and 7.7% for the S&P 500, Barron's said in October 2016.
During the past year, Malone made $1.07 million from his directorships, according to U.S. Securities and Exchange Commission filings, while Maffei earned $1.03 million. This does not include the executive compensation they both received from Liberty Media, in which Malone made $747,156 and Maffei earned $16.89 million as CEO.
Besides five of the various Liberty boards, Malone also sits on the boards of Lions Gate Entertainment (LGF) , Charter Communications (CHTR) , Expedia Inc (EXPE) and Discovery Communications Inc. (DISCA) .
Behind Maffei and Malone is Barry Portnoy, a real estate executive who has a seat at eight boards of public companies, including Hospitality Properties Trust (HPT) , TravelCenters of America LLC (TA) and RMR Group Inc (RMR) . Four directors -- David Habiger, Isaac Blech, Michael Malone and Fred Cohn -- serve on seven boards. Nine people serve on six boards.
Interestingly, Edith Holiday was the only women on the list.
Still, a director serving on nine boards is almost double the limit suggested by Institutional Shareholder Services and Glass Lewis. Both advisory firms have indicated that they would vote against or withhold from individuals directors who sit on more than five public company boards. CEOs should serve no more than two outside directorships, according to ISS; Glass Lewis will recommend against a CEO who serves on more than two boards, including his or her own.
The firms lowered the directorship limit for over-boarded directors in 2016. That year, the National Association of Corporate Directors' (NACD) annual Public Company Governance Survey found that respondent directors of public companies dedicated an average of 245 hours per year to board service. The report revealed that directors are spending more time on preparations and less time on travel compared to the previous year. For comparison, the NACD said in 2005 that the average annual director time commitment was 190 hours, as noted by ISS.
"Companies should have a policy requiring prompt notice of changes in employment or directorships, and directors and executive officers should be periodically refreshed about this policy," wrote Lyuba Goltser and Megan Pendleton of the law firm Weil, Gotshal & Manges LLP in a post for Harvard Law School Forum on Corporate Governance and Financial Regulation. "Directors and executive officers should be mindful of potential over-boarding that may arise from board service on private companies that anticipate an IPO."
Almost three-quarters of S&P 500 boards have established some limit on a director's ability to accept other corporate directorships, according to leadership consulting firm Spencer Stuart. Sixty-one percent of boards set a numerical limit for another board service; "of those, 5% cap additional directorships at two, 36% at three, 40% at four, and 19% at five or six," Spencer Stuart reported. But, only 20% of companies set a limit for CEO's serving on outside boards.
"Interestingly, board members themselves are in favor of more severe limits," BDO reported in October 2016. Three-quarters of directors surveyed for BDO's 2016 Board Survey believe that corporate boards should limit the number of boards on which a director can serve.
"Forty-four percent would set the limit at three boards, more than a quarter (28%) chose four, and less than 10% said two (6%) or one (1%)," BDO said. "Only 19% of directors agreed with the proxy advisors suggested a limit of five board seats."
Meanwhile, over on Real Money, Jim Cramer talks about "best tech story that nobody knows." Get his insights with a free trial subscription to Real Money.
Editors' pick: Originally published May 19.
Employees of TheStreet are restricted from trading individual securities.