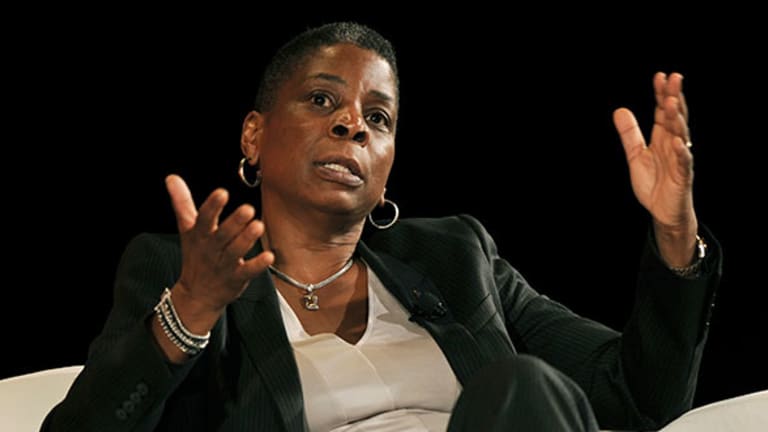 Publish date:
Meet the High-Powered New Uber Directors Representing 'Team Travis'
Former Merrill Lynch CEO John Thain and ex-Xerox CEO Ursula Burns are polished representatives of Corporate America's old guard.
Former Merrill Lynch CEO John Thain and ex-Xerox CEO Ursula Burns are polished representatives of Corporate America's old guard.
Uber Technologies founder and former CEO Travis Kalanick, who roiled the taxi industry and antagonized governments while presiding over a work culture that reportedly ran amok, is turning to a pair of well-connected, old-industry corporate executives for assistance as he seeks to maintain a voice at the beleaguered ride-hailing company.   
Kalanick last week named former Xerox Corp. (XRX) - Get Xerox Holdings Corporation (XRX) Report  CEO Ursula Burns to join him on the Uber board of directors, along with John Thain, a former CEO of Merrill Lynch & Co. and the New York Stock Exchange. Kalanick announced the appointments as the board prepares to vote on changes to voting rights at the company, TechCrunch reported, citing a statement from a spokesman for the former CEO.
The choice of two former Fortune 500 CEOs could bring credibility to Kalanick's push to retain a say at the company he ran for six years prior to his abrupt departure in June amid allegations of that sexual harassment was running rampant. One problem is that the moves appear to have been made in the same maverick vein Kalanick used to disrupt the car-and-driver business: According to Uber, he announced the new board members without the foreknowledge of the other directors, including new CEO Dara Khosrowshahi.
"The best practice would be to run candidates throught the nominating committee, have a full vetting and make sure everybody is on the same page," said Nell Minow, who counsels investors on corporate governance as a vice chair at ValueEdge Advisors. "The fact that he did not go through the process suggests that this board is not working cooperatively and collaboratively together."
The Uber board of directors was prepared to vote Tuesday on whether to pursue a stock deal with Japan's SoftBank Group, Bloomberg News reported, citing people familiar with the matter. The board also was slated to vote on reforms to limit Kalanick's control, according to Bloomberg. It was unclear whether Kalanick's appointees would vote.
When Kalanick stepped down, he retained a seat on the private company's nine-member board, according to San Francisco-based Uber's website. Other directors include Chairman and co-founder Garrett Camp and former Huffington Post Editor-in-Chief Arianna Huffington.   
The latest appointments came as a "complete surprise" to Khosrowshahi and the board, TechCrunch reported, citing a statement from the company. 
Although neither Thain nor Burns had officially met with Khosrowshahi, a source told Recode that "no one opposes them." In a memo to employees, Khosrowshahi called the move to appoint the new directors without any discussion with the board or himself "disappointing" and "highly unusual," according to Recode.
Burns, 59, spent more than three decades at Xerox and served as CEO from 2009 through January 2017. She's currently a director at telecommunications company Veon Ltd. (VEON) - Get VEON Ltd. Sponsored ADR Report , Nestle SA (NSRGY) - Get NSRGY Report , ExxonMobil Corp. (XOM) - Get Exxon Mobil Corporation Report and American Express Co. (AXP) - Get American Express Company Report , according to BoardEx, a relationship mapping service of TheStreet Inc.
Burns is also a senior advisor for public-relations firm Teneo Holdings LLC, which Kalanick hired to manage his communications strategy following his ouster in June.
Thain, 62, has been retired since he stepped down as chairman of CIT Group Inc. (CIT) - Get CIT Group Inc. Report in 2016. He joined CIT in 2010 following the corporate lender's emergence from bankruptcy protection, though the stock price was essentially flat during his six-year tenure.
A former Goldman Sachs Group Inc. (GS) - Get Goldman Sachs Group, Inc. (GS) Report senior executive, he led the New York Stock Exchange through its initial public offering in the mid-2000s. He took over Merrill Lynch in 2007, and as the financial crisis peaked the following year, he was forced to sell the firm to Bank of America Corp. Thain was fired soon afterward, after it was reported that he had paid big bonuses to Merrill employees.   
Whether Burns and Thain can help Kalanick -- or Uber's shareholders -- is the question now. And so far, according to ValueEdge's Minow, the situation doesn't look promising. 
"They seem to be walking in the door with a button that says Team Travis, instead of Team Shareholder," Minow said in a telephone interview. Kalanick "does not have control, but he's acting as if he does." 
More of What's Trending on TheStreet:
Editors' pick: Originally published Oct. 3.