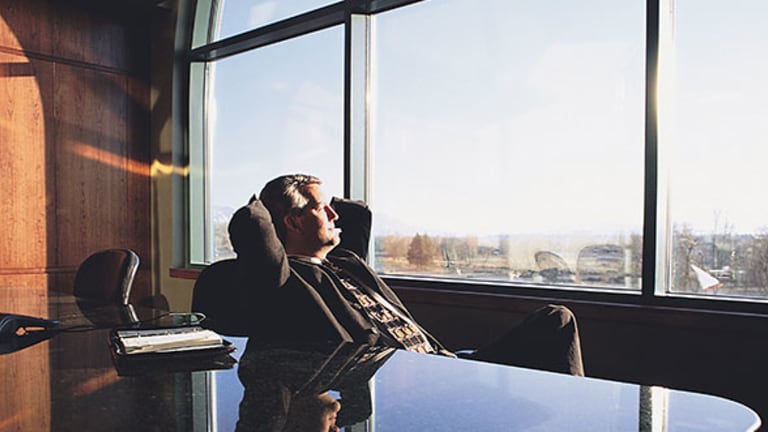 Is 75 Too Old for the Boardroom? It Depends
Activists are targeting boardrooms with older, over-tenured directors and your company could be next: BoardEx reveals that there are 2,631 directors over the age of 75 at U.S.-listed companies.
Activists are targeting boardrooms with older, over-tenured directors and your company could be next: BoardEx reveals that there are 2,631 directors over the age of 75 at U.S.-listed companies.
This is part of a series of stories that comprise TheStreet's Blue Chip Studio, which will illuminate issues related to corporate board performance, activism, dealmakers and personalities revealed by analysis of data generated by BoardEx, a business unit of TheStreet.
A director-election battle is set to go the distance at CDI Corp. (CDI)  in June and the two veteran activist investors at the gate see "chronic governance failures" as a key issue at the engineering, staffing and IT company.
The fund managers, Josh Schechter and Bradley Radoff, cut their teeth in the early 2000s working at established activist funds Steel Partners and Third Point LLC, respectively. They argue that CDI should look into selling itself because its share price has been on a downward trajectory, and prospects, in their opinion, look bleak.
To back up their boardroom shuffle effort, Schechter and Radoff are focusing on replacing six incumbent board members, with incumbent directors Lawrence Karlson, 75, Michael Emmi, 76 and Barton Winokur, 77, as potential targets. The trio have sat on the CDI board for 28, 18 and 49 years respectively and the company's founder, Walter Garrison, 91, is chairman of the board.
"You have a group of people who have overseen this company, through multiple CEOs, as it continues to deteriorate," said Schechter. "Several of them have been on the board for decades. It is apparent they don't have the skill set and know-how to execute. Over-extended tenure is a serious issue when the situation is clearly not working for shareholders."
The campaign puts a spotlight on a core governance issue often highlighted by activists seeking to shake things up at targeted companies - that over-tenured directors reaching their twilight years often need to be replaced, especially when the length of time they have spent on the board suggests that they may be too cozy with management and no longer have the skills needed to drive share-price improvement.
"Tenure and age often come into play when it comes to contested elections," said Pat McGurn, special counsel at proxy adviser Institutional Shareholder Services. "The activist investors usually call into question whether the senior directors who have sat on a particular company's board for a long time are independent. Barely a contest goes by where activists don't target an older director with a younger director they are nominating."
In addition to CDI, many other companies have been the target of activists, with a focus on over-tenured older directors, including Viacom Inc. (VIAB) - Get Report , Bed Bath and Beyond Inc. (BBBY) - Get Report and Eastern Co. (EML) - Get Report And many other directors on the older and over-tenured side could soon become activist targets if the companies they oversee fail to perform.
According to relationship mapping service BoardEx, a service of The Street, there are 2,631 directors 75 or older at U.S.-listed companies, 850 of which are 80 or over and 51 are over 90. Directors 75 or over represent about 10% of the 27,809 directors at U.S. publicly traded companies, according to BoardEx, and there 323 directors over the age of 75 at S&P 500 companies. Alternatively, BoardEx reports that there are only 195 directors on U.K. publicly-listed companies over the age of 75, 47 of which are over 80 and two over 90.
Last year Bed Bath and Beyond directors Stanley Barshay, 78, Dean Adler, 61, and Victoria Morrison, 63, all members of the retailer's compensation committee, were targeted in a shareholder "just vote no" campaign led by the New York City Pension Funds. The directors, considered over-tenured by governance experts, received negative votes of about 35% of participating shares. The campaign also convinced a majority of shares to vote against the senior pay packages at the retailer.
Also consider Eric Jackson, a tech and media activist, and his campaign to shake up Viacom in 2015. In a 99-page presentation, partly targeting Sumner Redstone, 93, the then-controlling shareholder, Jackson noted that the media giant had the "oldest directors' on average," at 66, of any of their media peers.
In another situation, Jim Mitarotonda and his activist fund, Barington Capital won two director seats on security product company Eastern Co.'s board recently, in a move that removed one director, David Robinson, who had been there for 25 years and was 72 years old at the time.
In many cases corporate boards have a hard time removing directors that have been at the company for a long time but no longer have the skill set needed to meet the latest challenges facing the company. Activists argue they can come in and become a catalyst to help boards bring in the new directors they need, especially when corporations are uncomfortable about asking people who have provided such long service to leave.
Anne Sheehan, governance chief at the California State Teachers' Retirement System, or CalSTRS, points out that many corporate boards have set up retirement ages in their bylaws, which she said could be good or bad. "Sometimes you can lose good people or it can be used to move people along that need to move on," she told a gathering of the Council of Institutional Investors in February.
In addition, she put a spotlight on a General Electric (GE) - Get Report  board policy that she thought was "sort of revolutionary" that sets a board tenure limit of 15 years for all directors except the CEO. John Brennan, GE's lead independent director, told the gathering that the limit helps to make sure individuals with the proper skill sets continue to be in place to meet changing needs. "The challenge in a place like GE is you need to understand the big business issues and then you want people on the board with digital experience, or healthcare experience or manufacturing experience," Brennan said. "It's an ongoing project."
Brennan said the limits help create age and "cognitive" diversity in the boardroom. "A 45 year old tech leader thinks differently than a 65 year old financial guy," he said. "That is one of the great appeals of term limits. It's nice to have different generations in the boardroom."
A 2016 study by SpencerStuart, an executive search firm, reports that 73% of S&P 500 boards have set a mandatory retirement age for directors, and that a little under half of those have it set it at age 72. The study noted that setting the retirement age at 75 is a trend that has accelerated in recent years, with 39% of boards having putting their cap at that level or higher, compared with 20% in 2011.
A look at the oldest and youngest boards reveals a cross-section of corporate America. Among the oldest boards in the U.S. include CBS Corp. ( (CBS) - Get Report ), Kinder Morgan Inc. (KMI) - Get Report , and M&T Bank Corp. (MTB) - Get Report , according to BoardEx. CBS has 11 members over the age of 70, four of which are over 80 years old, Kinder Morgan has ten members over 70 and M&T has nine. The Oracle of Omaha, Warren Buffett, 86, is one of five members at stellar performer Berkshire Hathaway (BRK.A) - Get Report  who is over the age of 80. (Charlie Munger is 93). And Costco Wholesale Corp. ( (COST) - Get Report ) has four members over 80, including two over 90.
Alternatively, the three youngest boards, according to BoardEx, are Tripadvisor Inc. (TRIP) - Get Report , with an average age of 49.9, Facebook ( (FB) - Get Report ), 50 and Coach Inc. (COH) , 53.
For now, however, activists will target underperforming boards with over-tenured, older directors. But as with Berkshire Hathaway, not all older, long-tenured boards, make good activist targets.
In fact, Jackson, formerly of activist fund SpringOwl and a key investor critic of Viacom's board, takes issue with corporations that set up age limits, arguing that it is very hard to "legislate" good governance.
"We can create easy to define rules like 'no directors over the age of 80' but the truth is that can't get at the dynamic of a discussion in a room," Jackson said. "Some 80-year-olds could stay on some boards another 10 years. Some 60-year-olds are checked out."