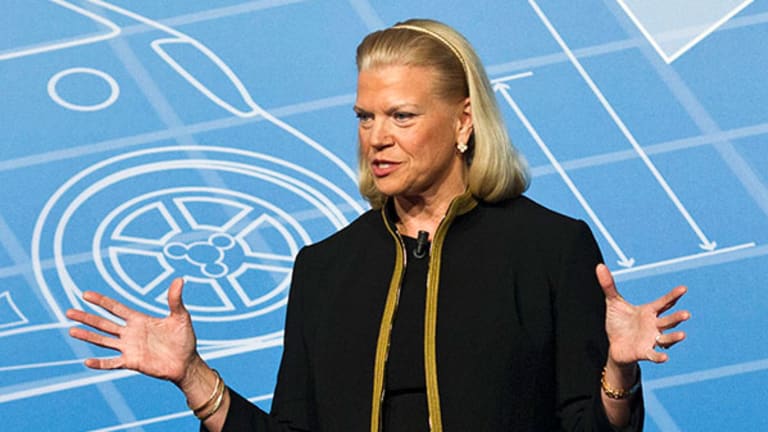 IBM CEO Ginni Rometty Rules Struggling Tech Giant, Aided by Entrenched Board Members
There are five over-tenured directors and four directors with whom CEO Ginni Rometty works with outside of the company, according to BoardEx.
For the last five years, Virginia Rometty has been chairman and chief executive of International Business Machines Corp. (IBM) - Get International Business Machines Corporation Report , which just reported that year-over-year revenue fell for the 21st straight quarter. Now, with shareholder frustration mounting and some analysts saying the stock is poised to drop another 18%, Rometty, 59, remains at Big Blue's helm, surrounded by an entrenched board of directors that may compromise the company's ability to innovate and act independently.
IBM's board has five directors that are considered over-tenured because their length of service exceeds the average tenure of other S&P 500 company boards, as well as four directors with whom Rometty works outside of the company, according to BoardEx, a relationship mapping service of TheStreet Inc. The average tenure on S&P 500 boards is 8.3 years, according to leadership consulting firm Spencer Stuart.
Extended tenure for an independent director on a board can create too close a relationship with other long-serving board members and chief executives, corporate governance experts contend. Moreover, Rometty's work outside of IBM with other directors can give the appearance that those directors are less than fully independent.
"The problem with co-serving on a separate board is that it creates a relationship that may make it more difficult to operate independently," Chares Elson, director of the John L. Weinberg Center for Corporate Governance at the University of Delaware, said in an interview.
Rometty, who has worked at the Armonk, N.Y.-based company for 36 years, is one of the best-known women in America business and the first to head IBM. But her tenure has been marked by declining revenue -- she has actually never presided over a quarter that showed year-over-year revenue growth -- even while her pay has skyrocketed. Rometty earned $32.69 million in total compensation in 2016, according to a 2017 filing with the U.S. Securities and Exchange Commission. She's the fifth-highest paid CEO in the U.S., according to the Bloomberg Pay Index.
Helping Rometty run IBM are three independent directors who also work with her as directors at the Peterson Institute for International Economics, according to BoardEx. James Owens, former chairman and CEO of Caterpillar Inc. (CAT), serves at the Peterson Institute's chairman of the executive committee. Owens, 71, is also one of the over-tenured directors having served on IBM's board since March 2006.
Joining Owens and Rometty at both IBM and the Peterson Institute are Dow Chemical Co. (DOW) - Get Dow, Inc. Report  Chairman and CEO Andrew Liveris, 62, and Hutham Olayan, 63, CEO of Olayan America Corp., the U.S. office of the Saudi Arabian conglomerate The Olayan Group.
Another IBM director that Rometty sees outside of board meetings is former Boeing Co. (BA) - Get Boeing Company Report  CEO Jim McNerney. Both of them are trustees for Northwestern University. McNerney, 67, was named a trustee in 2008 while Rometty became a trustee in 2010, according to BoardEx.
Elson acknowledged that cross-directorships are going to happen from time to time, but said, "In the best of all worlds, you wouldn't co-serve; you want to keep your civic and professional life separate."
While McNerney has not exceeded the 8.3-year tenure average at IBM, there are five directors who do, including Owens.
American Express Co. (AXP) - Get American Express Company Report  CEO Kenneth Chenault is the longest-serving board member. Chenault joined the board in 1998. (Chenault is also an over-tenured director at Proctor & Gamble Co. (PG) - Get Procter & Gamble Company Report .) Sidney Taurel, the chairman emeritus at Eli Lilly & Co. (LLY) - Get Eli Lilly and Company Report , has been a board member for 16 years.
Michael Eskew, 67, former CEO of United Parcel Service Inc. (UPS), and Shirley Jackson, 70, president of Rensselaer Polytechnic Institute, have both been IBM directors for more than a decade, according to BoardEx.
In March 2017, influential proxy advisory firm Glass Lewis & Co. LLC urged shareholders to vote against Eskew, Jackson and Chenault. Glass Lewis argued that Chenault serves on too many boards (he presently serves on four boards, according to BoardEx); the proxy advisory firm was against Eskew because his son is employed by the company "and received between $120,000 and $850,000 in compensation during the fiscal year 2016;" and, Glass Lewis was also against Jackson, who serves as chair of the directors and corporate governance committee, because the firm does not consider Eskew as an independent director, given his son's employment at IBM.
Furthermore, fellow proxy advisory firm Institutional Shareholder Services Inc. (ISS) recently highlighted serious governance risks for IBM. In an ISS QualityScore report, IBM received a score of "10." (A score of "1" indicates lower governance risk, while a "10" indicates high governance risk, per ISS QualityScore.) ISS raised a red flag regarding the 41.67% of the non-executive directors on the board that have lengthy tenures; it also took issue with the fact that the CEO and chairman roles have not been separated.
Still, all of the directors were
at IBM's annual meeting in April, and Rometty remains at the top of Big Blue.
IBM shares fell $6.47, or 4.2%, to $147.53 in Wednesday trading on the New York Stock Exchange.
More of What's Trending on TheStreet:
Amazon Faces a Potential Existential Threat That Could Hammer Its Shares, Doug Kass Reveals
What's the Fallout From Chipotle's Latest Food Safety Concern? Who Knows?!
Honda Finally Makes a Cool-Looking Accord Sedan Because Everyone in America Is Buying SUVs
Facebook Exec Campbell Brown: We Are Launching a News Subscription Product
Stock Market Bulls Are Wrong and It Could End Badly