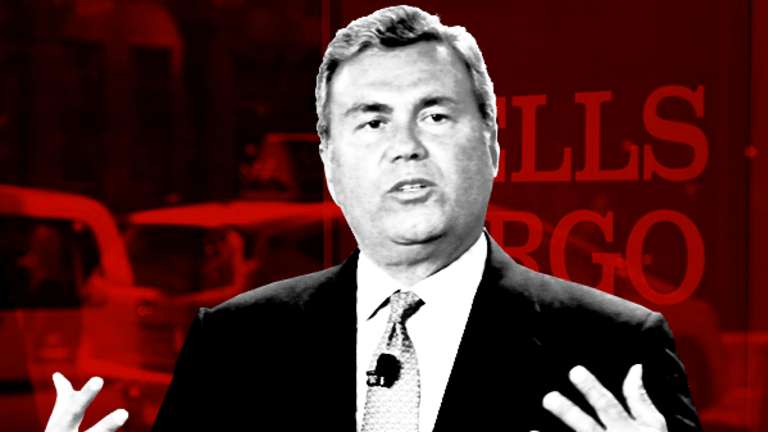 How Wells Fargo Bought Millions in Services From an Independent Director's Firm
A private-security firm led by Enrique Hernandez Jr. has reaped extra revenue selling services to companies where he served as an independent director.
The CEO of his family's private-security company, Enrique "Rick" Hernandez Jr. was already rich when he joined the board of directors of Wells Fargo & Co. (WFC) - Get Report  in 2003.
But once there, Hernandez's Inter-Con Security Systems Inc. would find an additional source of wealth, regulatory filings show -- by winning a contract in 2005 to provide security to the San Francisco-based bank's branches in Southern California, all while he was getting paid to oversee management on shareholders' behalf. Based on an analysis of Wells Fargo's filings, Inter-Con has received at least $24.4 million in payments from the bank over the past decade, and that doesn't include Hernandez's board-member compensation, which totaled $421,002 last year.
The extra business for Inter-Con, which has at least 25,000 employees on four continents, providing guards to companies, federal courts and U.S. embassies, didn't stop with Wells Fargo. The security firm also got at least $13.2 million from 2005 through 2016 for guarding the headquarters of McDonald's Corp. (MCD) - Get Report , where Hernandez serves as the board's independent chairman, according to the fast-food chain's filings.
Since 2011, filings show Inter-Con subsidiaries in Ghana and Liberia have received an undisclosed amount of payments from Chevron Corp. (CVX) - Get Report , where Hernandez serves as an independent director and head of the board committee that sets CEO John Watson's compensation. And Inter-Con received at least $15.8 million since 2008 for providing security to the non-profit Children's Hospital Los Angeles, where Hernandez and his wife, Megan, have been trustees, nonprofit filings show.
All told, it works out to at least $53 million of payments to Inter-Con from entities where Hernandez served as a board members.
The payments to Inter-Con were disclosed, and they aren't illegal. Furthermore, under most public companies' bylaws, a director can win business from the firm and still be deemed independent -- as long as the arrangements are approved by the rest of the board, as they were for Hernandez.
But corporate-governance experts say such contracts put a board member in the nearly impossible position of providing tough oversight of a CEO on behalf of shareholders -- while simultaneously trying to avoid upsetting a valuable customer.
"I'm stunned to hear about this," Nell Minow, vice chair of consultant ValueEdge Advisors, which counsels big investors on corporate governance, said in a telephone interview. "That's the kind of thing that used to go on all the time, but it's generally frowned on now as invalidating the independence of the director."
The situation illustrates how corporate boards still enjoy considerable leeway in ruling on actual or potential conflicts of interest involving directors, more than a decade after the dot-com crash of the early 2000s prompted the U.S. Securities and Exchange Commission and New York Stock Exchange to publish specific rules on the issue.
Under the NYSE's rules, boards of publicly traded companies are supposed to have a majority of independent directors, which mainly means that they haven't served as executives at the company for at least three years.
The idea is that these directors are paid to represent shareholders' interests, and their independence from the company gives them greater leeway to second-guess CEOs on management decisions and spot troubles that the front-line executives might want to minimize.
But the rules also stipulate that board members shouldn't be considered independent if their employers get more than 2% of their revenue or $1 million annually from the publicly-traded company, whichever is greater.
So when a director works for a large concern like Inter-Con, the payments can exceed $1 million a year but still be less than 2% of revenue -- meeting the strict test of the rules but nonetheless presenting awkward optics.
John McOsker, Inter-Con's general counsel, said in an interview that closely-held Inter-Con is one of the world's largest  private-security companies both in the U.S. and internationally. He declined to discuss contracts with specific customers or disclose the company's annual revenue. 
"We have a wide and varied spectrum of customers," McOsker said by telephone. "It doesn't surprise me at all that you've identified some top companies that have hired Inter-Con to provide security." Hernandez didn't respond to requests for an interview. 
Hernandez, 61, has come under fire this year amid criticisms of the Wells Fargo board, which failed to stop a series of scandals that unfolded under former CEO John Stumpf, including the creation of 2 million unauthorized accounts and erroneously charging some 490,000 car-loan customers for insurance they didn't need.
One of 14 directors deemed to be independent, Hernandez is head of the board's risk committee -- with responsibility for ethics, oversight and integrity -- as well as the finance committee, which reviews the bank's financial strength and makes recommendations on the appropriate size of stock dividends.
At Wells Fargo's annual meeting in April, he received just 53% of shareholder votes, the lowest among the 15 board nominees. Such a result was seen as a harsh rebuke, since the directors run unopposed; it's rare in such corporate elections to receive approval ratings below 90%.
Last week, Wells Fargo announced that Hernandez will be replaced next month as head of the risk committee amid a broader board shakeup that also entails replacing Chairman Stephen Sanger with former Federal Reserve Governor Elizabeth "Betsy" Duke.
Two directors who joined the board in the 1990s will step down at the end of the year. Hernandez will remain on the board, and he continues to lead the finance committee, a Wells Fargo spokesman confirmed. The departures at the end of the year would leave Hernandez as Wells Fargo's longest-serving director, according to BoardEx, a relationship-mapping service of TheStreet. 
Aside from the payments to Inter-Con, Hernandez has received compensation as a Wells Fargo director totaling roughly $4 million in cash, stock and options from 2003 through 2016, based on an analysis of annual disclosures. Until last year, when Wells Fargo's account scandals exploded, the part-time job consisted mainly of attending nine board meetings a year.
"You have to wonder," Jennifer Taub, a former associate general counsel at Fidelity Investments who now teaches finance and corporate governance as a professor at Vermont Law School, said of the Wells Fargo board during a telephone interview. "Are they proud of the job that they've done?"
Wells Fargo declined to make Sanger or Duke available for an interview on the Inter-Con arrangement. The payments represent less than 1% of Inter-Con's consolidated gross revenue, according to the bank.
The security services are provided "in the ordinary course of business," a spokesman, Mark Folk, wrote in an e-mailed statement. "This relationship does not impair Mr. Hernandez's independence as a director."
Hernandez's father, Enrique "Hank" Hernandez Sr., founded Inter-Con in the 1970s, according to an obituary in the Los Angeles Times; one of the company's first contracts was to provide security for NASA at nearby Edwards Air Force Base, the site of the first space shuttle landings, the paper reported.
The younger Hernandez got undergraduate and law degrees from Harvard University, and after a brief career at a law firm, he went to work in the family company, becoming CEO in 1986.
In addition to his service on the Wells Fargo, Chevron and McDonald's boards, Enrique Hernandez has served stints as chairman of Nordstrom Inc. (JWN) - Get Report and as a director of Tribune Co. and the now-defunct banks Washington Mutual Co. and Great Western Financial Corp.
In 2005, Inter-Con won a contract to provide guard services to Wells Fargo branches in the Los Angeles area and neighboring Orange County, filings show. There was a competitive bid process, and two firms won the business, with Inter-Con getting $323,801 in payments that year from Wells Fargo.
The board, then led by Chairman Richard Kovacevich, determined that the arrangement would not violate the independence standards under the bank's guidelines, according to the filing. The following year, Inter-Con received $2.3 million from the lender. The payments have continued since.
From a corporate-governance perspective, Wells Fargo should have just used another private-security company -- to preserve the appearance that Hernandez was working for shareholders, not for his own company, said James Post, a Boston University management professor who specializes in business ethics.
"They've got to keep pretty clear separation between director compensation and private consulting advice or advisory services, or these security services," Post said in a telephone interview. "They're two different pots of money."
A similar thing happened at McDonald's. Hernandez joined the burger chain's board in 1996. For a decade, the Oak Grove, Illinois-based company's annual proxy filings made no mention of any contracts with Inter-Con.
Then in 2006, the fast-food company revealed that Inter-Con had won a contract the year before from then-CEO James Skinner to provide physical security. Over the past decade, the payments to Inter-Con, which guarded the company's corporate headquarters, ranged from $1 million to $1.4 million a year, filings show.
In May 2016, Hernandez was promoted to chairman of the McDonald's board.
The payments represented less than 1% of Inter-Con's total revenue, with the services provided "on terms at least as favorable as would have been available from other parties," according to McDonald's.
"Our corporate-governance principles require that all non-management directors be independent under applicable law and the board's own standards for independence," Terri Hickey, a McDonald's spokeswoman, said in an e-mailed statement.
At the end of last year, the Inter-Con contract expired and wasn't renewed, a recent filing shows. Hickey declined to say whether the termination was for commercial reasons or due to corporate-governance concerns.
There's also Chevron. In 2008, Hernandez joined the board of the San Ramon, California-based oil company. Three years later, it purchased services from Inter-Con Security Systems of Liberia "in the ordinary course of business" for an undisclosed sum, according to a filing.
The purchases continued through 2014. Then, during the following two years, Chevron bought services from Inter-Con Security Systems of Ghana, filings show.
Chevron's board, led by Chairman and CEO John Watson, put Hernandez on its compensation committee in 2015, and the following year he was promoted to head the panel, filings show.
Kent Robertson, a Chevron spokesman, wrote in an e-mail that the payments represented less than 1% of Inter-Con's revenue, and that the board adheres to the NYSE's corporate-governance standards.
"The board concluded that these transactions would not impair Mr. Hernandez's independence," he wrote. He declined to make Watson available for an interview.
"They can check the boxes to show that he was technically independent and that this was not self-dealing," said Taub, the law professor. "That doesn't change the fact that the standards are way too low. And there's not a long history of people biting the hand that feeds them."
Inter-Con also got security business from Children's Hospital Los Angeles, the non-profit organization where he served as a trustee from 1990 to 2009, including seven years as vice chairman. His wife, Megan, has served on the board since 2010.
Inter-Con began providing security to the hospital in the mid-1990s, after the board "underwent a decision-making process guided by applicable law and voted to approve this transaction," a spokesman, Lorenzo Benet, wrote in an e-mailed statement.
Based on TheStreet's analysis of the non-profit's tax filings going back to 2006, Inter-Con has received at least $15.8 million of payments from the hospital. The couple's family trust is a member of the hospital's First Families Legacy, and the couple themselves are members of the Children's Fund 100, according to Benet. Both designations recognize donor pledges of at least $100,000.
To Hernandez's credit, there's some evidence that he played a key role in pushing Wells Fargo executives to address their fake-account scandal once it was discovered.
A 113-page report this year by a special board committee, with assistance from the law firm Shearman & Sterling LLP, showed that directors were mostly oblivious of the bank's overly aggressive sales practices until the Los Angeles Times published a series of articles on the topic in 2013.
When the board began addressing the issues two years later, Hernandez was one of the most aggressive in challenging executives over the matter, according to the report, which Hernandez helped prepare.
"To the extent that he had the information, he really was right there," said Mary Jo White, a former SEC chair and federal prosecutor who assisted Wells Fargo this year in an annual "self-assessment" of the board, which is based on directors' evaluations of themselves and their peers.
White, now a partner at the law firm Debevoise & Plimpton LLP in New York, said in a telephone interview that Hernandez "is perceived to be a very strong director, and that was my impression in interviewing him."
As with a lot of gray areas in corporate governance, perception is key.
"It certainly raises questions about the ability of a director who has that kind of relationship to say no to the CEO when you're depending on that kind of income," Minow said. "It just doesn't seem right."
More of What's Trending on TheStreet:
The 30 Nastiest Storms in Recent U.S. History Have Caused Mind-Blowing Damage
Editors' pick: Originally published Aug. 23.