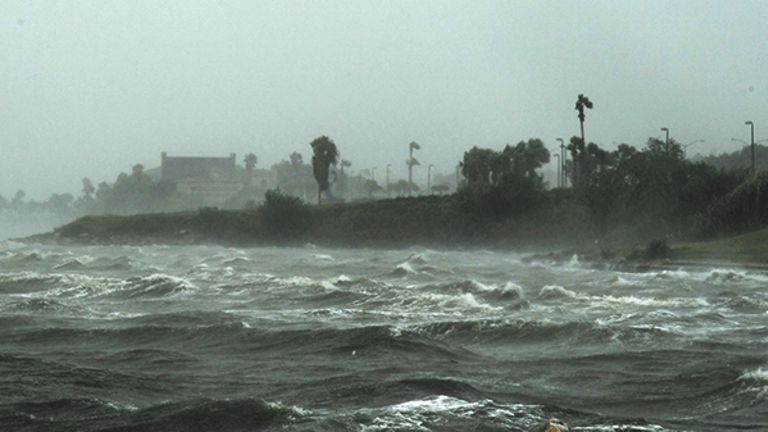 How Boards Prepare for an Unpredictable Crisis
Most boards have a playbook to guide them through a crisis, but the magnitude of the disaster can force a board to improvise its plan.
As Tropical Storm Harvey, formerly a Category 4 hurricane that brought a deadly amount of rain to East Texas, makes its final landfall, and as North Korea's most recent missile launch over Japan may serve as prelude to more military operations directed at the U.S. territory of Guam, corporate boards are finding it difficult to prepare for a disaster that by its nature is unpredictable, executive search firm consultants said.
Planning for a disaster, such as a hurricane, is ongoing, said Constantine Alexandrakis, member of the Board and CEO Advisory Group at executive search firm Russell Reynolds Associates, but the problem is the magnitude of the disaster, which can force boards to improvise on its crisis management plan. "Boards can never really prepare for the extreme disaster," he said.
"It's very hard to predict what the crisis might look like," said Dennis Carey, co-leader for board services at executive search firm Korn Ferry.
"The degree to which boards have a plan has to do with the culture of the company and the industry," John Kurtz, a partner at management consulting firm A.T. Kearney, said in an interview. Boards need to plan at various levels of detail, looking at how they mobilize in the face of a disaster and which partners they might pull into play, like providing phone assistance for those stranded, Kurtz said. "Boards have to be able to be very imaginative, but they can't plan for everything."
A 2016 study by Deloitte called "A crisis of confidence," found that 76% of board members believed their companies would respond effectively if a crisis struck, and yet, only 49% said their companies have playbooks for likely crisis scenarios. Fewer than half of the directors surveyed (49%), said they have engaged with management to understand what has been done to support crisis preparedness. About a third said their companies engage in crisis simulations or training. Deloitte surveyed more than 300 board members from companies representing every major industry and geographic region.
Typically, management develops a plan and brings it to the board, said Carey. It would be a broad plan that "might be flexible enough to respond to a variety of events," he added.
"The oil and gas industry is extraordinarily good at planning, and that includes disaster planning," said Kurtz. "I expect that they all had fairly robust plans."
When Harvey touched down in Texas over the weekend, it disrupted refineries across the region, affecting Valero Energy Corp. (VLO) - Get Valero Energy Corporation Report , Exxon Mobil Corp. (XOM) - Get Exxon Mobil Corporation Report and Phillips 66 (PSX) - Get Phillips 66 Report among others. The closures of these refineries "are already impacting markets with crude prices lower on a perceived drop in demand and gasoline prices spiking in response to lower supply," Sandy Fielden, director of oil and products research at Morningstar Commodities Research, wrote in a note on Tuesday.
"The bigger concern now is crude supply and product distribution for plants further east in Houston," Fielden said.
Accounting and consulting services company BDO noted in 2015 that natural disasters appear to be on the rise in recent years and that these events are a "powerful" demonstration of supply chain risks in a global economy.
"Any single failure in a business's supply chain can cause problems throughout the company," BDO said. "Boards should be prepared to articulate what they have done to prepare for low probability, but high impact events such as natural disasters."
TheStreet reached out to five oil and gas companies; ConocoPhillips (COP) - Get ConocoPhillips Report and Phillips 66 both declined to comment on their boards' plan to deal with natural disasters; the rest, Exxon Mobil, Valero and Royal Dutch Shell (RDS.A) did not respond to a request for comment.
"With a natural disaster, its location and asset specific," said Alexandrakis. He said the plan to respond to a natural disaster will be localized to ensure that assets are being protected and that the people working in that area are safe.
Another potential crisis such as a potential military strike, given North Korea's most recent activity and the ramped up rhetoric by President Donald Trump, might be on a board's radar, but directors are "probably spending more time on currency issues and natural disasters," Alexandrakis said.
"Few companies have contingency plans for an all-out war between the U.S. and another country," said Alexandrakis.
Kurtz echoed that sentiment, saying that there is probably no U.S. company that has a war plan, which could be due in part to "overconfidence of our country and our military." Although the feeling is probably different in Japan, he said.
TheStreet reached out to a several of Japan's and South Korea's biggest companies, including Samsung Electronics Co. Ltd. (SSNLF) , car makers Hyundai Motor Co. (HYMTF) , Kia Motors (KIMTF)  and Nissan (NSANY) , and steelmaker Posco (PKXFF) , to see if these boards have taken any measures in preparation for further military action by North Korea.
"Hyundai has business continuity plans for various potential disruptions in its business, but it is not something we discuss publicly," Hyundai's press relations team said via email. "We support and encourage a diplomatic resolution of the current tension with North Korea."
"As a company, we have no specific comment on this issue other than to say that we would follow any guidance or emergency response plans put in place by the competent government authorities in Japan should this be the case," Jean-Yves Jault, a media relations manager for Toyota, wrote in an email. The other companies did not respond to a request for comment by the time of publication.
Government plans, however, tend to be focused in a different way, said Carey. While a government has more resources at its disposal, it doesn't typically respond financially as efficiently and as immediately as companies can. "A company, because it is a smaller and well-defined universe, can be much more efficient and targeted in its response than a government can be," Carey said.
Increasingly, the best companies have practiced scenario planning, by asking structured "what if" questions, to think about the possible events in the future, said Kurtz. Both Kurtz and Alexandrakis agree that boards should have specific discussions about crisis prevention and management at least once a year, and even more frequently for companies that have business exposure in volatile parts of the world.
-- This story has been updated to include Hyundai's response.