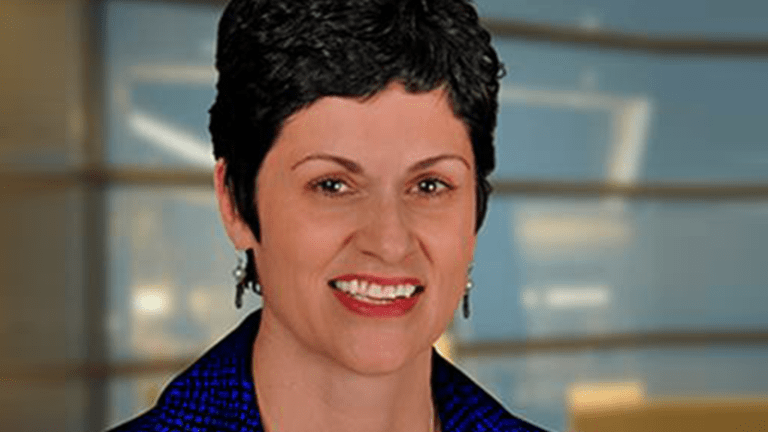 Here's Why Hedge Funds Put Few Women on Company Boards
There's no dearth of good woman candidates. So why aren't more of them on company boards?
Debra Janssen, the chief operating officer at Bankers Trust, received a phone call earlier this year from a former colleague asking if she wanted to be considered for a slate of dissident director candidates nominated by an activist investor for embattled tech giant Yahoo!'s (YHOO) board.
Janssen said she jumped at the opportunity, which she said was brought to her through "the power of networking." The prospect of participating on an activist slate can scare off some director candidates, worried that putting themselves up for election in what typically becomes a heated director battle complete with mudslinging on both sides stigmatizes them for life. But not Janssen.
"They wanted a C-Suite level women with tech expertise," Janssen said. "It didn't bother me at all. When people heard that I was on this slate they were supportive, saying, 'What a great experience.'"
The contest was ultimately settled and four of activist investor Starboard Value's Jeff Smith's nominees were installed on Yahoo!'s board in a deal that helped ensure the tech giant's auction process concluded in a sale -- Verizon (VZ)  agreed to buy Yahoo! in July for $4.8 billion.
However, neither Janssen nor another Starboard female candidate were included in the final slate. "I spoke to Jeff multiple times and when the agreement came down about how many of his slate were going to be on the board, he called personally to tell me," Janssen said. "I'm optimistic I will hear from Starboard again."
The experience was positive for Janssen. Yet, her experience is unusual when considering that only a small number of women have ever been nominated by activist investors in director-election battles. According to a study completed by relationship mapping service BoardEx, a service of TheStreet, the 10 top activist investors nominated 408 individuals over the past six years and only 20 of those were women, including Janssen.
Starboard led the pack in terms of women candidates, nominating 10 female board members, including four at Darden Restaurants (DRI) that became board members and two, including Janssen, at Yahoo! that did not. Nevertheless, while that does sound impressive, Starboard also nominated 126 men candidates over the five-year time frame, according to BoardEx.
The other biggest activist funds engaging in the most director contests all have included a smattering of female candidates among their male director nominees. These include Carl Icahn, Pershing Square Capital Management's Bill Ackman, Barington Capital's Jim Mitarotonda, Corvex Management's Keith Meister, Elliott Management's Paul Singer and Engaged Capital's Glenn Welling.
So why the dearth of woman director candidates? Anne Sheehan, governance chief of the California State Teachers' Retirement System, or CalSTRS, has been a lead advocate for the installation of women on corporate boards. Sheehan and CalSTRS also invest with a number of activist funds, including Starboard and Legion Partners Asset Management LLC.
She argues that activists will typically look for director candidates who have served on boards in the past when they look for possible nominees. An overall lack of women on corporate boards, she argues, has made it harder for insurgent investors to find appropriate women candidates with the director experience necessary to be adequate candidates for boards.
"That is not to say that activists shouldn't work on getting more diversity on their slates but if you did that measurement ten years ago there would have been even fewer women on activist slates," Sheehan said.
One attorney who advises activists believes fund managers have increased their efforts to put highly skilled women on corporate boards in recent years. However, he added that a lot of women haven't served on boards and their experience isn't as deep as many of their male rivals. He suggested that if there were more women directors overall there would be a greater number of female activist-nominated board members.
Activists say they try hard to find women candidates they think they can elect, in part because they believe the influential proxy advisory firms, Institutional Shareholder Services and Glass Lewis, are more likely to recommend that investors back their candidates if one or more of them is a women. ISS, for its part, supports shareholder proposals seeking to pressure companies into setting up board diversity policies to consider women candidates.
There have been some successes. Engaged's Welling, for example, nominated Diane Neal, who was installed on the board of Abercrombie & Fitch (ANF) , along with two other mutually agreed upon women candidates, Bonnie Brooks and Sarah Gallagher. Cheryl Krongard was picked to serve as a director of Federal-Mogul Holdings following the closing of Icahn-owned American Entertainment Properties' acquisition of the company. In addition, Lady Barbara Judge, an ex-SEC commissioner, was installed on the board of Voltari (VLTC) after being recommended by Icahn at a time when the activist fund owned about a 20% stake.
Nevertheless, most activists are still not nominating many women candidates, especially when considering that females represent roughly half of the population. One reason why there may be so few women activist fund-backed director candidates could be because insurgent fund managers are mostly male-- and they often like to pick themselves as director candidates rather than find outside nominees. 
The number of activist hedge funds run by women can be counted on one hand and includes Ides Capital Management's Dianne McKeever and a Parisian duo, Anne-Sophie D'Andlau and partner, Catherine Berjal, of Charity Investment Asset Management.
However, governance experts agree that there are a number of additional tactics both activists and corporations can employ to find qualified female directors.
Activists could use LinkedIn and work on their own to find candidates, a time-consuming but cost-effective approach. Alternatively, they could reach out to the National Association of Corporate Directors and women-focused organizations such as WCD to find potential nominees from their databases. An activist could also hire a headhunter, such as Heidrick & Struggles, Spencer Stuart, Russell Reynolds Associates or Korn Ferry, to advise them, with a specific focus on looking for a diverse pool of women.
The NACD has a board recruitment services team that helps identify and place director candidates based on the organization's member profile database and other sources. "Last year 80% of our searches placed women and minority candidates," said NACD Managing Director and General Counsel Steven Walker."
Jon Lukomnik, executive director at the Investor Responsibility Research Center Institute in New York, contends that activists should look beyond the pool of women who are CEOs, ex-CEOs or current directors when looking for qualified women candidates.
"It is lazy sourcing," said Lukomnik. "There are a ton of investors, division heads and entrepreneurs you can choose from. The idea that you have to have been a CEO, when CEOs are mostly male, to be a director doesn't make any sense."
Activists often have private or public advisory panels stacked with potential director candidates on call for potential campaigns. Lukomnik said activists could work harder to recruit women to be on these panels. "Most activists are male and they recruit people they know in CEO or ex-CEO positions and they are often male," Lukomnik said. "It takes some additional effort to find a qualified women candidate. You have to want to do it."
The bottom line is activists will continue to find it hard to find qualified women candidates with both executive and board experience in the months and years to come -- especially when they feel compelled to choose from the male-dominated existing pool of directors, CEOS and ex-CEOs.
For now, expect women to continue to be in the minority when it comes to dissident director elections.