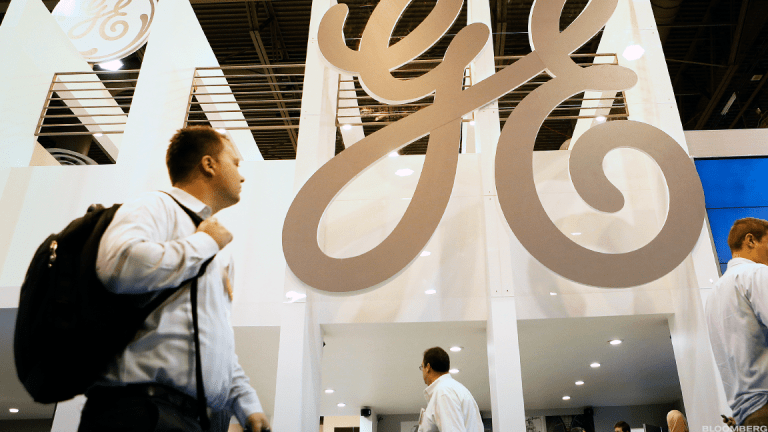 GE Shareholders Urged to Kick KPMG to the Curb by ISS, Glass Lewis
Given the recent accounting issues at the Boston-based industrial conglomerate, the influential proxy advisory firms recommend shareholders vote against keeping KPMG as GE's auditor.
General Electric Co. (GE) - Get General Electric Company Report should replace KPMG LLP as its auditor after accounting issues have led to federal probes at the Boston-based industrial conglomerate, two influential proxy advisory firms recommended.
Institutional Shareholder Services, or ISS, and Glass Lewis & Co. LLC are urging shareholders to vote against keeping KPMG, one of the big four auditors, as GE's outside auditor, according to reports published this week.
"In light of the apparent extent of GE's previously-undisclosed liabilities and accounting issues accompanied by unqualified reports by long-time auditor KPMG, a vote against this proposal is considered warranted," ISS said in its report.
In late January, GE booked a $6.2 billion charge to its fourth-quarter earnings related to weakness in its North American Life & Health insurance portfolio. The company also said that its financing arm, GE Capital, would make $15 billion in payments over the next seven years to shore up NALH's statutory reserves, starting with $3 billion in the first quarter of this year and approximately $2 billion annually from 2019 to 2024.
Shortly after the company announced the fourth-quarter charge, GE disclosed that the U.S. Securities and Exchange Commission was investigating the process that led to the insurance charge as well as the company's revenue recognition and controls for long-term service agreements. Chief Financial Officer Jamie Miller said that GE is cooperating fully with the investigation.
The industrial giant with a market capitalization of $115 billion has used KPMG and its predecessor firms as its auditor since 1909, and the board's audit committee has at least eight private meetings per year with KPMG. Last year, GE paid KPMG $142.9 million for its services, an increase from $89.9 million in 2016 due to an additional audit for Baker Hughes and carve-out audits for GE's Oil and Gas business, its Water business and its Industrial Solutions business ahead of transactions.
Glass Lewis said it generally supports management's choice of an auditor "except when we believe the auditor's independence or audit integrity has been compromised."
"In this case, we believe shareholders should reconsider the ratification of KPMG in light of several ongoing concerns, including the recently announced SEC into the company's accounting practices, historic criticisms of the company's relationship with KPMG, and KPMG's extremely long tenure with the company," Glass Lewis said.
KPMG declined TheStreet's request for comment.
GE directed TheStreet to its proxy statement, which argues the benefits of a long-tenured auditor, such as KPMG's familiarity with GE's business helps to keep costs competitive and saves management's time and resources. The company also said that bringing on a new auditor would require "a significant time commitment that could distract from management's focus on financial reporting and internal controls."
"While we acknowledge the company's disclosure of the measures taken to ensure KPMG's independence, we nonetheless believe that auditor rotation benefits shareholders, as it helps ensure both the independence of the auditor and the integrity of the audit," Glass Lewis said in its report.
Still, it's rare for investors to reject an auditor recommended by a board at a large-cap company, according to Charles Elson, the director of the John L. Weinberg Center for Corporate Governance at the University of Delaware. Elson has a relatively small stake in GE.
"A shareholder vote [against an auditor] in a large, existing company doesn't happen to often, if at all," Elson told The Deal. There is a possibility that shareholders might vote against retaining KPMG, particularly when two large advisors make that claim, Elson said. But he said he would be surprised if the majority of shareholders voted against keeping KPMG.
That said, if the vote on KPMG was close and given GE's recent accounting issues, "the board may wish to reconsider the relationship" with KPMG, Elson added.
According to Audit Analytics, which analyzed shareholder votes filed between Jan. 1, 2014, and Dec. 31, 2016, votes against auditor ratification are very rare. About 96% of auditor ratification proposals had 5% or fewer of the votes cast against ratification, the independent research provider said in a Jan. 17 analysis.
The two proxy advisory firms are also in agreement on a shareholder proposal seeking an independent board chair. Currently, John Flannery holds the dual role of Chairman and Chief Executive Officer, but an independent chair is "better able to oversee the executives of a company and set up a pro-shareholder agenda," Glass Lewis said.
"A vote for this shareholder proposal is warranted given that the company's short- and long-term underperformance and questions about the viability of its business model and corporate culture suggest that shareholders would benefit from the most robust form of independent boardroom oversight, provided by an independent board chair," ISS said.
GE, meanwhile, said in its proxy statement that prior to Flannery's appointment, the board evaluated whether to continue to combine the Chairman and CEO roles and after a "robust debate" ultimately decided that "continuing to have the CEO speak for and lead the company and the board was the best approach in view of the size and complexity of GE."
But that's exactly why ISS argues for a separation of the two roles. "There is ample evidence to suggest that GE in its current form is sufficiently large and complex that it is difficult for any one person to both run the company and run the board," ISS said.
Investors will have just over two weeks to mull things over as GE's annual meeting is scheduled for April 25.
Shares of GE fell 1.5% to $13.23 at 11:30 a.m. New York time.

-- This story has been updated to include statistics from Audit Analytics.