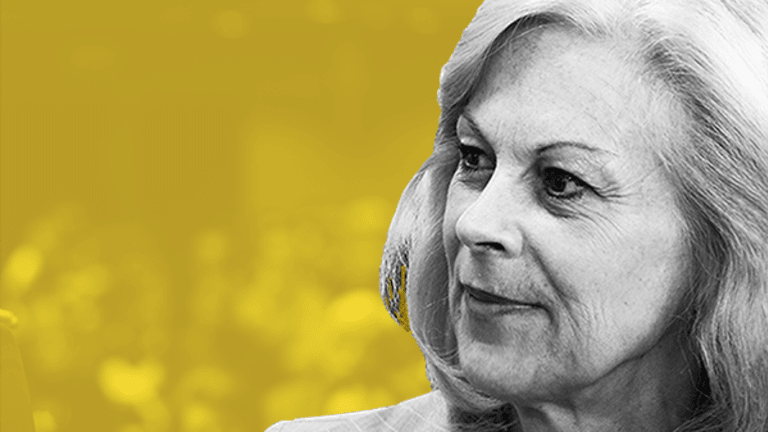 Former Playboy CEO Christie Hefner Pushes for More Women on Boards
Hefner revolutionized her father's company by bringing on more women as executives and is continuing that work beyond Playboy.
Christie Hefner, daughter of Hugh Hefner, ascended to the top of Playboy Enterprises 13 years after she first started working there in 1975, and once she was at the helm of the Beverly Hills, Calif.-based media company she worked to elevate other women in the workplace.
"I was very fortunate because it was even harder for women to get ahead then and so, candidly, I capitalized on that and was able to attract incredibly talented women who felt they couldn't go any further in the companies they were working for," Hefner told TheStreet in a recent interview. "When I left [in January 2009] over 40% of my executives were women."
In the 1980s, as Hefner rose through the ranks of the company her father founded, becoming CEO in 1988, she thought that by now women would be equally represented in the boardroom, but that's far from the case. Presently, women make up about 22% of S&P 500 boards and there are just 28 female S&P 500 CEOs, according to BoardEx, a relationship mapping service of TheStreet Inc. Five companies within the index still don't have a woman on their boards.
More of What's Trending on TheStreet:
"It's both troubling and disappointing to be where we are," said Hefner.
Hefner, 64, said there is no single answer to why there has been little advancement toward gender parity, but she's been actively working to increase the number of women on boards. From her experience as a founding member of the Chicago chapter of the Women Corporate Director, which works to promote good governance and get more women on boards, Hefner said a lot of networking has to be done to bring together people who are on boards with people who are qualified to be directors.
"It is about letting everyone in your networks -- plural -- know that this is something you're interested in and figuring out what is the set of skills you would bring into the boardroom," Hefner said. She added that a person should also reach out to executive search firms.
Hefner advises potential director candidates to have two resumes: A board resume and an executive resume. The latter focuses on the jobs a person has had while a board resume hones in on "the skills, experiences and talents" a person has.
Watch More with TheStreet:
5 Ways Companies Are Using AI to Secretly Change Your Life
Around the World in 5 Insane Pizza Hut Pizzas
Tesla's Elon Musk Is All Jokes as the Model 3 Accelerates into "Production Hell"
"You're not applying to do a job in the executive sense, you're applying to bring your skills into a boardroom," Hefner said.
Hefner, herself, serves on the boards of several private companies, including beauty innovation company Hatchbeauty LLC, according to BoardEx. She is also an advisory council member at Springboard 2000 Enterprises Inc., which works to build high-growth technology-oriented companies led by women.
The former Playboy CEO also discussed how important a company's culture is when attracting talent.
"If a board and CEO don't believe that creating a culture where talented people are going to want to come and do their best work is every bit as important as having the right business model, then the risk that you wind up with a less-than-optimal, if not toxic, culture is real," said Hefner, adding that the corporate culture is created at the top.
She recalled a quote from management guru Peter Drucker to drive home her point, "Culture eats strategy for breakfast."
Aside from her work promoting equality, she is still in touch with the media world as she went on to work with Columbia Journalism Review for some time after leaving Playboy. During her tenure at Playboy, however, she led the transformation of the company from a domestic magazine company to an international, multi-media, brand-driven company. But this transformation is what both news organizations and magazine companies are struggling with, Hefner said.
"The legacy companies in the news business have to be the ones that are willing to disrupt themselves, and I think that is why you see something like the Washington Post under Jeff Bezos' ownership actually being incredibly successful, whereas companies that are not as willing to spend the money to embrace the digital future are still struggling,"said Hefner.
"I think the need for companies to worry about their reputations, not just their financial results is a permanent change in the market," Hefner said.
WATCH HERE: TheStreet's feature series#AlphaRising:
I'm No Barista, Says Deloitte Managing Principal
Meet Ford's 23-Year-Old Prodigy Who Holds 15 Patents
Has The Children's Place Figured Out How to Beat Amazon?