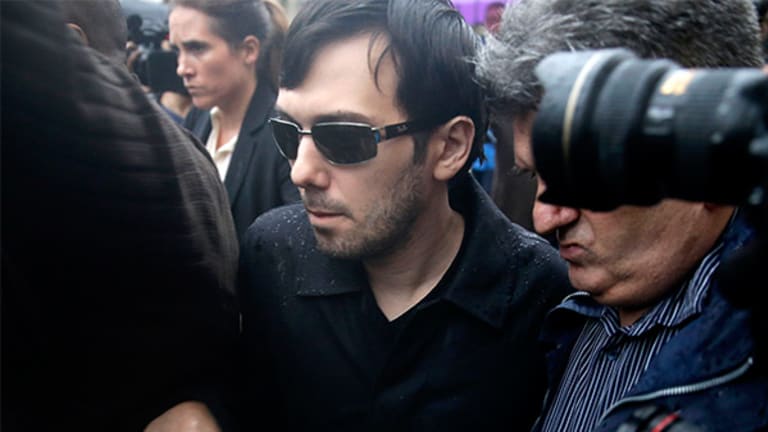 First Amendment Needs to 'Take a Backseat' in Pharma Bro Trial: Lawyer
The 'Pharma Bro's' lawyer attempts to bar the press again from 'Pharma Bro's' hearing.
It's only the second day of Martin Shkreli's trial and already, Shkreli's attorney Benjamin Braufman has filed a mistrial motion and renewed an attempt to bar press from the courtroom.
According to Braufman, the press is affecting juror sentiment given the "bad" and "inaccurate" publicity that Shkreli has received.
"The first amendment in this particular case needs to take a backseat for Mr. Shkreli's case," said Braufman.
Braufman cited a New York Post cover from Tuesday, June 27, that depicted Shkreli smirking with a headline captioned "Jury of His Jeers: 134 jurors out in 'Pharma Bro' trial: They all hate him". As Braufman reviewed the articles in question, Shkreli glanced over at the press situated in the back of the room and smirked. 
To Braufman's dismay, Judge Kiyo Matsumoto denied the motion.
Shkreli is the former CEO of the biotech firm Retrophin Inc. (RTRX) - Get Report as well as the founder of Turing Pharmaceuticals AG. He received negative press after increasing the price of Daraprim, a preventative medication geared towards those with HIV/AIDs, by nearly 5,000%. What used to cost $13.50 per pill now costs $750 for a single tablet.
Accused of defrauding investors of two hedge funds, Shkreli is said to have allegedly paid off two hedge fund investors using $11 million worth of Retrophin's assets. Currently, Shkreli is under federal investigation for eight counts of securities and wire fraud.
The case is expected to begin during the later-half of Tuesday, June 27, or on the morning of Wednesday, June 28. The court is still filtering through potential jurors to assemble a grand jury for the case. The judge initially summoned 130 prospective jurors, but an additional 50 prospective jurors joined the fray on Monday. On Tuesday, at about midday, the judge called in more prospective jurors.
Braufman further referenced his concern, believing that this "negative" press publicly affects juror sentiment. But Katherine Bolger, a lawyer at Levine Sullivan Koch & Schulz LLP who represents various media outlets, argued that Shkreli's past actions speak for themselves. 
"Mr. Shkreli has circulated these opinions himself," said Bolger. "It's not that jurors don't like Mr Shkreli, it's that Mr. Shkreli took a position that people don't like."
She continued that any restriction on public access to a proceeding has to be effective in protecting constitutional rights, which within this case, was not the instance.
"With all due respect, you don't know what you're talking about. It's about publicity that attacks the jurors," responded Braufman. He emphasized that his intent was not to curtail coverage of Shkreli, but to curtail press coverage of the jurors.
Judge Matsumoto responded to the two by voicing caution: "Despite my admonishments to jurors to not read headlines...we have to probe very carefully."
According to Jeffrey Cramer, a former federal prosecutor and current Managing Director at Berkeley Research Group, it will be difficult for Shkreli to present himself as "an innocent dupe" given his prior statements.
"The smartest play is for him to stay quiet and let his lawyers argue that the Government has not met its burden of proof," said Cramer. "Defendants like this are usually their worst enemy in court. Most of his public statements on this topic have been fairly arrogant."
More of What's Trending on TheStreet:
Meet The Women Redefining Business in TheStreet's New Series, Alpha Rising