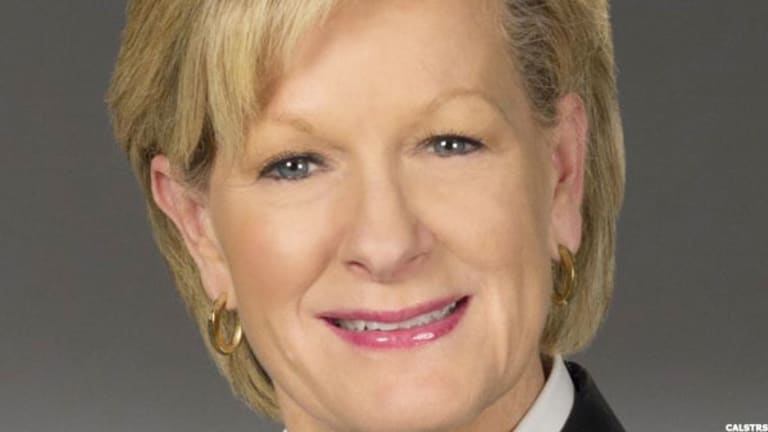 Diversity Measures on Corporate Boards Have a Breakout Year
Companies targeted by activist pension funds have become increasingly responsive to shareholder proposals and no-confidence campaigns to install women on corporate boards.
Last year, Wespath, a pension fund representing the United Methodist denomination worldwide, submitted shareholder proposals seeking to increase the diversity of the board of directors at Comcast Corp. (CMCSA) , Equifax Inc. (EFX)  and Simon Property Group (SPG) .
The proposals, which were later withdrawn, would have been non-binding. Targeted corporations wouldn't be required to respond in any way even if a majority of shares backed the measures. However, a strong vote for the proposals could have embarrassed the companies-and they could even have been seen as a vote of no-confidence in the board. The measures themselves didn't appear to be too controversial. They only sought to have the companies issue a report outlining their strategy for including women and minority directors on their boards.
In each case, Wespath withdrew the measures before they could come up for a vote because, hoping to fend off a mandate on the proposals, all three corporations agreed to add women to their boards. Comcast and Simon Property Group both added a second woman director to their boards after Wespath's engagement. Equifax had initially made a commitment to nominate a woman to its board by the May annual meeting but didn't meet it. The consumer credit reporting company later committed to nominate a woman later in 2016 but in September, it nominated another male candidate, raising questions about whether a woman will ever be an Equifax director. Company officials declined to comment.
"At each of these companies, we had previously communicated privately a desire to have a more diverse board," said Kirsty Jenkinson, managing director of sustainable investment strategies at Wespath. "When corporations aren't responding we file shareholder proposals, but we view it as a last resort."
Things are changing when it comes to getting more women on corporate boards. Diversity measures have had a breakout year in 2016. A measure introduced by the New York State Common Retirement Fund at FleetCor Technologies Inc. (FLT)  received the backing of 72% of the vote at a June annual meeting, according to ISS Voting Analytics. FleetCor, which has a $20 billion market capitalization, makes fuel cards and workforce payment products for commercial businesses. Another proposal at Joy Global Inc. (JOY) in March that was introduced by Amalgamated Bank, an institution majority-owned by a union, gained the backing of 52% of the voting shares.
"We have found of late that the companies have been incredibly responsive," said Gianna McCarthy, co-director of corporate governance at the New York State Common Retirement Fund, which has yet to find success in its effort to pass a measure at Skechers USA Inc. (SKX) . "Skechers is an outlier."
Shareholder proposals on the diversity of corporate boards emerged roughly 10 years ago but historically haven't done that well, usually amassing only between 5% and 25% of the vote.
In all, however, institutional investors including public pension funds have submitted 27 non-binding proposals related to board diversity at U.S. companies thus far this year; in all of 2015, there were 31. And the tally this year has already beaten the 22 for whole-years 2014 and 2013, according to ISS Voting Analytics.
Perhaps more significant is that nine companies allowed diversity proposals on their ballot to go to a vote in 2016, up from five in 2015 and three in 2014, according to ISS Corporate Solutions.
And the efforts come as the number of women directors on large U.S. and U.K. corporate boards is on an upward swing. According to relationship mapping company BoardEx, an affiliate of the Deal, there are 923 females on S&P 500 company boards, or roughly 20.5% of total S&P boards, up from 20% as of December and 19% in 2014. In the U.K., by contrast, there are 247 female directors on FTSE 100 boards, or about 26% the total. That was roughly the same percentage at the end of last year, and up from 22% in 2014.
Percentages may be climbing slowly, but the proposals are having heavier impacts. For example, CalSTRS submitted, and later withdrew, a proposal it had submitted at Urban Outfitters Inc. (URBN) in 2015 seeking to have the clothing chain prepare an annual report describing what steps, if any, its board or nomination committees had taken to include women and racial minorities to its boards.
CalSTRS chief of governance, Anne Sheehan, said the measure was withdrawn after Urban Outfitters moved to appoint a second woman to its board. It was a major victory. Shareholder efforts to hike diversity at Urban Outfitters have gone on for a while. In 2014, according to ISS, a proposal submitted by the New York State Common Retirement Fund seeking a report on board diversity only garnered 33% of the vote after getting 30% and 39% in 2013 and 2012, respectively.
Sheehan noted that the second women director was a positive step, partly because the first female director installed under shareholder pressure was Margaret Hayne, the wife of Urban Outfitters CEO Richard Hayne. Removing the vote of insiders, including shares owned by Hayne and his wife, would have brought the total tally up substantially.
"The first women brought on Urban Outfitters board was the wife of CEO Richard Hayne," Sheehan said. "Really? You couldn't find someone else? Shareholders responded in kind. They finally got the message."
Sheehan notes that CalSTRS will send private letters to corporate boards with no women directors urging them to hike board diversity. Recently, CalSTRS sent 125 letters to boards at California corporations that have no women directors, with 35 companies appointing female board members in response to the campaign. Sheehan noted that CalSTRS even sent a letter to Menlo Park, Calif.-based Facebook Inc. (FB) , "and they subsequently" added a couple women directors.
Facebook and Comcast are holdings in Jim Cramer's Action Alerts PLUS Charitable Trust Portfolio. Want to be alerted before Cramer buys or sells FB or CMCSA? Learn more now.
If CalSTRS isn't successful with its collaborative private approach, it will escalate the effort with a nonbinding shareholder proposal.
However, many proposals are still met with resistance. The diversity proposal at Skechers received about 11% support in 2016. CalSTRS noted in a governance report that it had dialogue with officials at the shoe company but "significant progress was not realized."
Proponents of more diversity were able to obtain the backing of the two major U.S. proxy advisory firms, Institutional Shareholder Services and Glass, Lewis & Co. LLC, for their shareholder proposal. CalSTRS claims the appearance of a low level of support for diversity was "largely attributed" to Skechers dual-class share structure. According to a March report by Edward Kamonjoh, the head of U.S. Strategic Research and Analysis at ISS, the Greenberg family and trusts associated with it control 45.9% of Class B super-voting stock, or approximately 72% of the firm's voting power. The high level of insider ownership suggests that the percentage of outside investors backing diversity was much more significant than 11%.
At Urban Outfitters and Skechers, activist funds are focused partly on the fact that a large component of both companies' customer bases are made up of women. That's a key sticking point for many activist public pension funds.
EDITORS' NOTE: A full version of this article was originally published by The Deal, a sister publication of TheStreet that offers sophisticated insight and analysis on all types of deals, from inception to integration. Click here for a free trial.