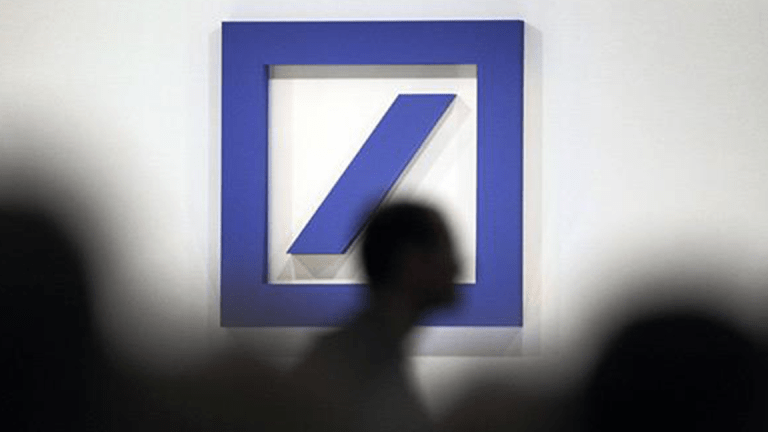 Deutsche Bank's Stock Gains as New CEO Points to Further Job Cuts
'It does not need saying that we want to and have to become profitable again. And for that we need to be successful, that's our lifeline,' Sewing said in a memo to employees Monday.
Deutsche Bank AG (DB) - Get Deutsche Bank AG Report shares surged more than 4.5% on Monday, April 9, after the German lender on Sunday said Christian Sewing will replace embattled CEO John Cryan with immediate effect.
Shares pared earlier gains, up 2.14% an hour into trading, changing hands at €11.71, after the Sewing pointed to further cuts at the bank in a memo to staff Monday.
Sewing, who joined the bank in 1989 and was most recently co-president overseeing the company's private and commercial bank, said in the memo that the bank will further adapt its revenue, cost and capital structure in its corporate and investment bank.
"We'll thoroughly analyse how we want to position this pillar of our bank in a difficult market environment. The priority is to leverage our strengths and to allocate our investments accordingly. And at the same time we will look to free up capacity for growth by pulling back from those areas where we are not sufficiently profitable," Sewing wrote.
Sewing said that "setbacks like in the fourth quarter of 2017 are not to be repeated under any circumstances."
The Frankfurt-based lender reported a net loss of €2.2 billion ($2.7 billion) in the fourth quarter, and a €497 million loss for the year, hit by a drop in investment banking and tax changes in the U.S. It was the lender's third consecutive year of annual lose.
Sewing said Monday that the company's adjusted costs must not exceed €23 billion euros in 2018, "this is non-negotiable."
"It does not need saying that we want to and have to become profitable again. And for that we need to be successful, that's our lifeline. In sharp contradiction though is how we missed some of our targets for costs and revenues. There may have been good reasons in some cases. But it was damaging for our bank. The new leadership team will not accept this anymore. We'll have to take tough decisions and execute them," Sewing wrote.
Deutsche Bank late Sunday that the 48-year old would take the helm at the bank after weeks of rumors that Chairman Paul Achleitner was on the hunt for a successor. Fellow Co-President Marcus Schenck will depart later this year
"Following a comprehensive analysis we came to the conclusion that we need a new execution dynamic in the leadership of our bank," Achleitner said in the statement.
Deutsche Bank shares have tumbled 27% in the past year, even as global rivals JPMorgan Chase & Co. (JPM) - Get JP Morgan Chase & Co. Report , Bank of America Corp. (BAC) - Get Bank of America Corporation Report and Citigroup Inc. (C) - Get Citigroup Inc. Report have posted big rallies.