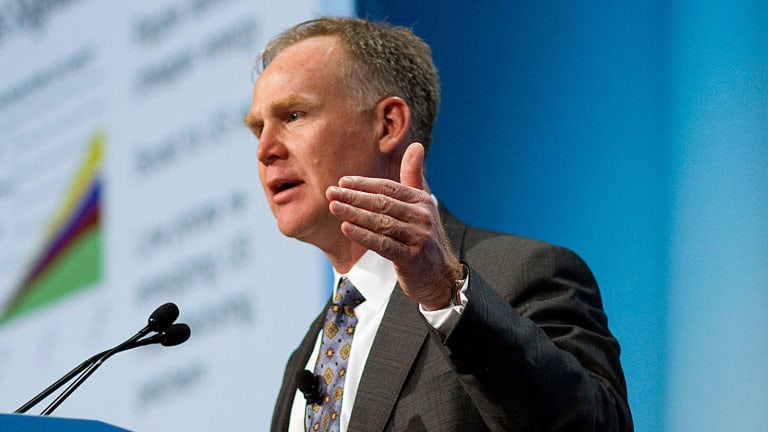 Corvex's Meister threatens to nominate 10 of his employees to Williams' board
The pipeline operator called the move unfortunate, distracting and costly, as it's moving forward with its own plan to identify qualified and independent directors.
Keith Meister of activist hedge fund Corvex Management said on CNBC Monday that it plans to nominate 10 of his employees to stand for election to the board of Williams (WMB) at its annual meeting on Nov. 23. He said the employees would serve as placeholders while Corvex seeks other nominees, including other investors.
Separately, he told the Wall Street Journal that he wouldn't serve on the board himself and would consider the three directors Williams plans to add but hasn't yet named depending on their qualifications. He acknowledged hearing rumors about the offer from Enterprise Products Partners (EPD) to buy Williams but didn't know the details so couldn't comment on its valuation.
Corvex owns around 4% of Williams. The Tulsa, Okla., pipeline operator called Corvex's move "unfortunate," "distracting" and "costly" as the company is moving forward with its own plan to identify qualified and independent directors, who it hopes to announce in the coming weeks.
Williams noted that its stock has risen 35% since announcing a series of actions, including funding new fee-based projects at affiliate Williams Partners (WPZ) , signing new gathering contracts in the Barnett Shale and the mid-continent and selling its Canadian businesses to Inter Pipeline Ltd. for $1 billion. It said it doesn't comment on M&A rumors but does evaluate all potentially value enhancing strategic opportunities.
Seven directors remain on the board after Meister and others resigned over disagreements with company management, including CEO Alan Armstrong (pictured), who was against Williams' failed acquisition by an affiliate Energy Transfer Equity (ETE) . Tudor, Pickering, Holt,  which counts Williams as one of its core midstream picks along with Kinder Morgan  KMI, thinks a purchase by Enterprise would make sense strategically, as Williams would give Enterprise an even larger natural gas liquids footprint and should offer commercial synergies within the petrochemical business.