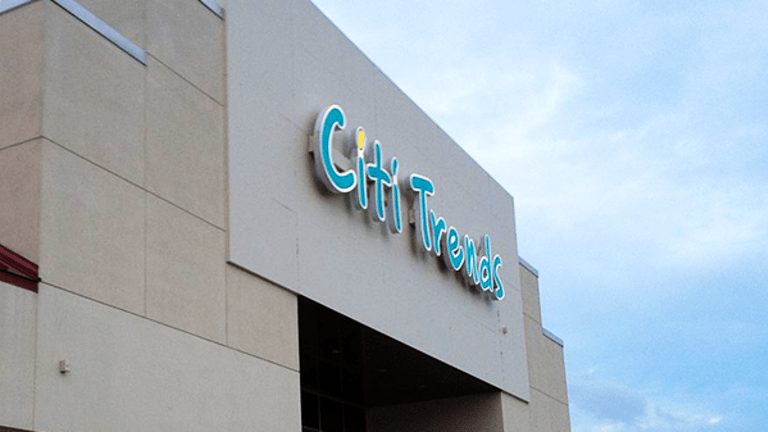 CEO Mazzola of Activist-Targeted Citi Trends Resigns
Citi Trends's Jason Mazzola will resign as CEO and board member effective immediately.
This is part of a series of stories that comprise TheStreet's Blue Chip Studio, which will illuminate issues related to corporate board performance, activism, dealmakers and personalities revealed by analysis of data generated by BoardEx, a business unit of TheStreet.
Citi Trends (CTRN) - Get Citi Trends, Inc. Report CEO Jason Mazzola has resigned, effective immediately, to "pursue another opportunity," cutting the size of the company's board to six from seven members, Citi Trends said in a statement this morning.
CFO and COO Bruce Smith will assume the role of acting CEO, and board member Ed Anderson will become executive chairman.
Shares of Citi Trends, which operates a chain of discount clothing stores, fell 5% Thursday afternoon to about $17.50 apiece, and have fallen about 7% so far this year. The stock has declined about 32% since March 2015, when Mazzola was appointed CEO.
Smith has served as CFO since 2007 and COO since 2015, and previously held executive roles at crafts retailer Hancock Fabrics and discount retailer Fred's Inc.undefined . This will be Anderson's fourth time assuming the executive chairman title, and he has twice served as CEO of Citi Trends.
"Ed is a proven leader who has made significant contributions to Citi Trends during his more than 15 years with the company," John Lupo, lead independent director, said in a statement. "His intimate knowledge of the company and our industry make him ideally suited to work with Bruce, a talented executive with significant expertise."
Anderson joined Citi Trends's board in 2001, making him the longest-serving director, according to data from BoardEx, a business unit of TheStreet. In total, the six board members have an average tenure of 9.05 years each, with three of the six directors having served for more than a decade.
Activist investor Macellum Advisors, however, has been pushing to change the board's composition. Macellum owns almost 4% of Citi Trends' shares, and has nominated four individuals for election to the company's board at Citi Trends's annual meeting on May 24.
"We believe that the time has come to elect new independent directors that are better aligned with stockholders and who will bring a fresh perspective to decision-making at Citi Trends," Macellum said in a letter to shareholders earlier this month. "We believe the addition of new independent Directors will provide stockholders with the highest possible likelihood of a materially higher stock price - a focus that we believe has been lacking at the company for many years."
Macellum CEO Jonathan Duskin did not respond to a request for comment in time for publication.
Macellum's nominees include Duskin, Dyan Jozwick, Lana Cain Krauter and Paul Metcalf. Not including Metcalf, who has held executive positions at TJX Cos. (TJX) - Get TJX Companies Inc Report and Burlington Stores (BURL) - Get Burlington Stores, Inc. Report , the nominees have previously worked with retailers that were either forced to shut down, filed for bankruptcy or are currently distressed.