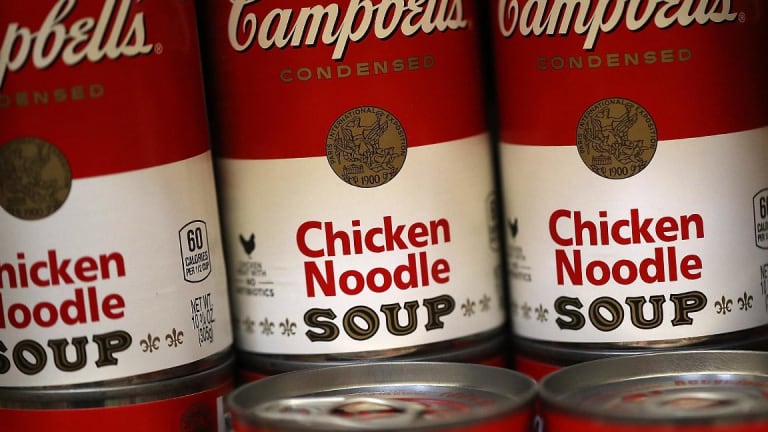 Campbell Soup Eyes Pinnacle Foods Chief as Its Next CEO - Report
Campbell Soup reportedly is trying to lure the chief executive of Pinnacle Foods to become its next CEO.
Campbell Soup Co. (CPB) may have scooped up its next CEO, according to a report in The Wall Street Journal that identifies Mark Clouse of Pinnacle Foods Inc. (PF) as a top choice for the job. 
Clouse, who has been chief executive of Pinnacle since 2016, is considered a veteran in the food industry, previously working at Mondelēz International Inc. and Kraft Heinz Co. He also served as an Army captain in the 1990s and attended the United States Military Academy at West Point where he earned a bachelor of science in economics, according to his profile on LinkedIn. 
Campbell could make a deal with Clouse in the coming weeks, stated the Journal, which relied on unnamed sources for its report. It appears from the reporting that Clouse could still reject any offer by the company known for its red canned soups.
Shares were up slightly on the news Wednesday, Nov. 28.
Campbell did not immediately respond to a call from TheStreet for comment, but told the Journal that the board is continuing to look at "a number of highly qualified internal and external candidates."
The company's previous chief, Denise Morrison, left earlier in the year and the company has been searching for a new leader since around May.
Earlier this week, the New Jersey-based company said it had reached an agreement with hedge fund investor Third Point, ending a dispute over leadership at Campbell. Under the deal, the soup maker will raise the number of directors to 14 from 12 and add two additional independent directors proposed by Third Point, Sarah Hofstetter, president of Comscore, and Kurt Schmidt, former chief executive of Blue Buffalo Co. Third Point will also have a say in Campbell's ongoing CEO search process, though the final decision will be made by Campbell's board.