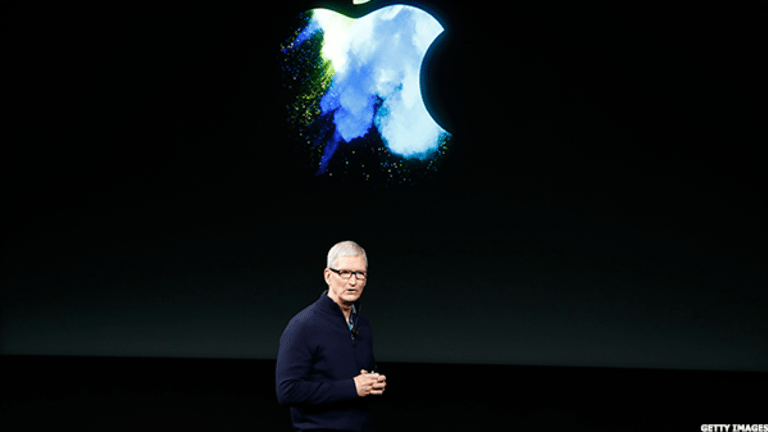 Publish date:
Apple Investors Reject Diversity Proposal
Investors overwhelmingly reject a shareholder proposal to increase diversity among senior management and directors.
Investors overwhelmingly reject a shareholder proposal to increase diversity among senior management and directors.
Apple (AAPL) - Get Report , the world's second most valuable company, won't adopt a policy to increase diversity among its senior management and board of directors.
Apple is holding in Jim Cramer's Action Alerts PLUS Charitable Trust Portfolio. Want to be alerted before Cramer buys or sells AAPL? Learn more now.
Two Apple shareholders, Antonio Avian Maldonado II and Zevin Asset Management, asked the Cupertino, California-based company to "adopt an accelerated recruitment policy," which would have required Apple to increase the "diversity of senior management and its board of directors." They said those two bodies "presently fail to adequately represent diversity and inclusion (particularly Hispanic, African American, native American and other people of color)."
Shareholders, however, rejected this proposal at the company's urging. Micreports that the proposal received 4.91% votes for and 95.09% against, citing an anonymous shareholder. Apple, for its part, argued that Proposal 6 was too narrowly focused.
At Apple, we take a holistic view of inclusion and diversity that includes the varied perspectives of our employees as well as app developers, suppliers, and anyone who aspires to a future in tech. We also support diversity by creating opportunities beyond Apple.
The company which has a $720 billion market capitalization, says has been actively working on increasing representation of women and minorities. On its Diversity website, Apple says 37% of new hires are female, while 27% of new hires are made up of U.S. underrepresented minorities, according to data as of June 2016.
"Our hiring trends over the last three years show steady progress in attracting more women and under-represented minorities (defined as groups whose representation in tech has been historically low -- Black, Hispanic, Native American, Native Hawaiian, and Other Pacific Islander)," Apple said in an SEC filing. "In addition, Apple is cultivating diverse leadership and tech talent through on-campus training, events, and programs."
Yet, under a separate proposal, Proposal 1, Apple nominated all of its directors for re-election -- six of the eight board members are white. And, shareholders rejected another proposal, Proposal 7, that would have let them nominate two directors on the company's board.
CEO Tim Cook sits on the board and Calico CEO Dr. Arthur Levinson serves as the independent chairman. Disney (DIS) - Get Report CEO Bob Iger, former Vice President of the United States Al Gore, former Boeing (BA) - Get Report CFO James Bell, former Northrop Grumman CEO Ronald Sugar, former Avon Products (AVP) - Get Report CEO Andrea Jung and BlackRock (BLK) - Get Report founding partner Susan Wagner complete the 8-seat board.
With only two women on the board, Apple ranks 179th among components of the S&P 500 in terms of gender diversity, according to ISS Analytics, the data and analytics arm of Institutional Shareholder Services. The company's ranking is better in terms of minorities on the board, coming in at 79th. Jung is an Asian American and Bell is an African American.
Still, Apple lags behind in board diversity among other companies in the technology sector. ISS Analytics ranks HP (HPQ) - Get Report as the company with second most minorities as directors with six, representing 46% of its board. Texas Instruments (TXN) - Get Report is the technology company with the most women on its board, five in total.
Former CFO of Marathon Oil (MRO) - Get Report Janet Clark, Humacyte CEO Carrie Cox, former PricewaterhouseCoopers executive Jean Hobby, MoneyGram International (MGI) - Get Report CEO Pamela Patsy and president of Whitman Strategy Group Christine Todd Whitman are directors at Texas Instruments, according to BoardEx. (BoardEx is a business unit of TheStreet.) Their average tenure is 8 years.
At HP, the board gained a number of minorities and women following the split with Hewlett-Packard Enterprise (HPE) - Get Report in 2015. African Americans Stacy Brown-Philpot, the COO of TaskRabbit, and Stacey Mobley, former executive at E.I. du Pont de Nemours, joined the board. India-born Subra Suresh, president of Carnegie Mellon University, has served as director since 2015. Alongside Suresh is Shumeet Banerji, co-founder of advisory firm Condorcet. Rajiv Gupta, who was also born in India and is the lead independent director of the board, announced on Feb. 20 that he will be leaving his position. Aida Alvarez, a Puerto Rican businesswoman and politician, is the most recent addition to the board.
Hewlett Packard Enterprise is holding in Jim Cramer's Action Alerts PLUS Charitable Trust Portfolio. Want to be alerted before Cramer buys or sells HPE? Learn more now.
A recent Governance Insights study by PricewaterhouseCoopers (PwC) noted the importance of diversity on the board of directors. The auditing giant found that 91% of directors say diversity enhances a board's effectiveness, and 84% of directors say the same leads to enhanced company performance.
AAPL shares were slightly higher during the trading session on Tuesday.
Employees of TheStreet are restricted from trading individual securities.
Action Alerts PLUS, which Cramer co-manages as a charitable trust, is long AAPL and HPE stock.