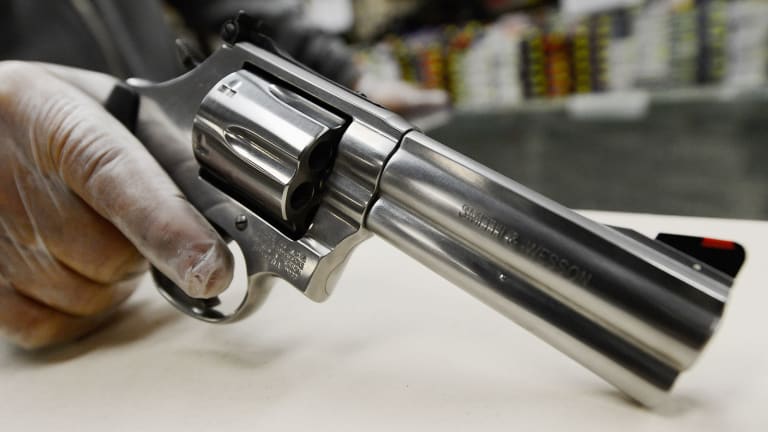 American Outdoor Brands? What Would Smith & Wesson Say?
Smith & Wesson announces name change initiative the way Philip Morris morphed into Altria.
There actually was a Smith. And a Wesson. They answered to Horace and Daniel, respectively. And in 1852, they founded a gunsmith known as Smith & Wesson. The company wasn't initially a handgun maker - that didn't happen until the patent that Samuel Colt held on the revolver expired in 1856 - though along the way, it bought the long gun manufacturer owned by Oliver Winchester.
Who knew those antebellum firearms makers were such narcissists?
Horace and Daniel - or, more commonly, Smith and Wesson - are going the way of the Edsel. Smith & Wesson (SWHC) , the enterprise that manufactures its eponymous handguns, said Tuesday it was changing its name. By the start of next year, it will become known as American Outdoor Brands Corp., changing its ticker symbol to AOBC from SWHC.
There are a variety of ways of looking at these nomenclature changes undertaken by corporate America. American Buggy Whip, for instance, is no longer a publicly traded enterprise because we no longer need, nor make, buggy whips.
Name changes are often a matter of sheer caprice. Until 2000, what's now Verizon (VZ) - Get Verizon Communications Inc. Report was known as Bell Atlantic. A moniker that sounded so ... well, pre-consent decree.
Some rebrandings are products of structural changes: when the old Kraft spun off its legacy grocery business - Oreos, Wheat Thins, Cadbury - the new unit needed a new identity and became Mondelez International (MDLZ) - Get Mondelez International, Inc. Class A (MDLZ) Report , somehow a mashup of "world" and "delicious" in Romance languages.
Some rebrandings are kind of half-hearted: Comcast (CMCSA) - Get Comcast Corporation Class A Report hasn't really become Xfinity, though it's branded a sports bar on steroids in its hometown of Philadelphia as such.
Others prove perspicacious: would anybody plop $800 for shares of BackRub? Which morphed into something called Google. Which, of course, itself morphed into Alphabet (GOOG) - Get Alphabet Inc. Class C Report . Another story.
Rebrandings are sometimes face plants. Remember that, as Netflix (NFLX) - Get Netflix, Inc. (NFLX) Report was trying to pivot away from its original business model, it briefly tried to label its old discs-by-snail-mail operation "Qwikster"?
Of course, the obvious corollary to Smith & Wesson's rebranding initiative is the enterprise now known as Altria (MO) - Get Altria Group Inc Report . Which, until June 2003, was known as Philip Morris. Having just settled lawsuits with the government, the tobacco industry was trying to run from its image as a purveyor of carcinogens.
Smith & Wesson is obviously trying to distance itself from its association with gun violence. Gun violence both stokes worries about an onslaught of gun control legislation, and pushes hesitant gun purchasers off the fence. After the Orlando massacre in June, Smith & Wesson shares jumped 12% one day.
Hillary Clinton has said she does not oppose the Second Amendment, though the rhetoric probably hasn't quelled much in the way of the anxiety of gun enthusiasts. Background checks for gun permits rose again in October. There are gun control measures on ballots in California, Maine, Nevada and Washington, according to Ballotpedia. If all passed - hardly a slam dunk - these initiatives would affect 50 million citizens. (For perspective, 81 million more citizens gain access to recreational pot, if all ballot initiatives on marijuana were to pass.)
Nevertheless, Smith & Wesson has been pushing more into supplies and accessories. It's bought companies that make flashlights and tree saws. Earlier this year it bought knife maker Taylor Brands and laser site maker Crimson Trace. Its Battenfeld division makes reloading and gun cleaning supplies. The company boosted its line of credit to $500 million, presumably to finance additional accessories that make it look more like an outdoor sports brand than a one-note gun maker. It's stated its objective to become a broader, more inclusive platform.
Nevertheless, Smith & Wesson won't run away from its heritage. Its gun products will still be marketed as Smith & Wesson. Its gun making subsidiary will still be known as Smith & Wesson. So it's not exactly hiding behind its new identity. It's not going to trick those "anti-vice" pension funds into becoming shareholders because they'll think American Outdoor Brands makes lawn darts and badminton racquets.
The fact is, you read American Outdoor Brands, you're going to hear "Smith & Wesson." Probably in Clint Eastwood's voice.