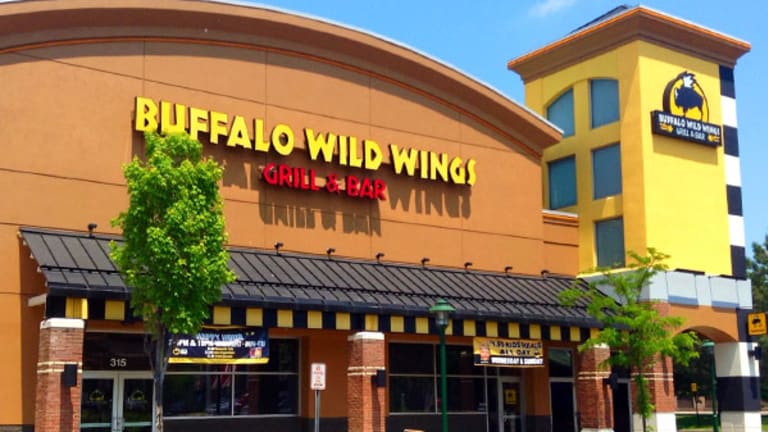 Publish date:
Activist Investor Marcato Rebukes Buffalo Wild Wings Director Nominations
Investment manager Marcato Capital Management says the changes to the board 'do not go far enough,' even though one of the nominees came from its dissident slate.
Investment manager Marcato Capital Management says the changes to the board 'do not go far enough,' even though one of the nominees came from its dissident slate.
This is part of a series of stories that comprise TheStreet's Blue Chip Studio, which will illuminate issues related to corporate board performance, activism, dealmakers and personalities revealed by analysis of data generated byBoardEx, a business unit of TheStreet.
Buffalo Wild Wings Inc. (BWLD) said on Monday that it is nominating two directors to its board, including one who is part of activist shareholder Marcato Capital Management LP's dissident slate. Yet, the San Francisco-based investment manager says the restaurant chain did not go "far enough" regarding the changes to the board.
The wing and beer restaurant company nominated Sam Rovit and Janice Fields. Rovit is one of the four nominees put forth by Marcato, which owns approximately 5.6% of the outstanding common shares of the company, making it the fourth largest shareholder, according to FactSet. Marcato officially launched a proxy fight against the company in February due to a "history of over-promising and under delivering with no accountability."
Buffalo Wild Wings is not the only restaurant feeling the heat from activist investors recently. Ruby Tuesday Inc (RT) has seen "a wolf pack" of activist investors buying more shares. Chipotle Mexican Grill Inc (CMG) - Get Reportreached a settlement with activist Bill Ackman of Pershing Square in 2016 and Cracker Barrel Old Country Store (CBRL) - Get Report has faced pressure multiple times from Biglari Holdings Inc (BH) - Get Reportin the past couple of years.
Rovit, 60, is a veteran of the food services industry, with more than 20 years of experience. Currently, he serves as CEO of privately held CTI Foods Holding Co LLC. Previously, he held executive roles at Kraft Foods, before its merger with Heinz, as well as Swift Foods, according to BoardEx. BoardEx is a business unit of TheStreet.
Fields, 62, previously served as President of McDonald's USA, a subsidiary of McDonald's Corp (MCD) - Get Report . She's currently an independent director for Monsanto Co (MON) and Chico's FAS Inc (CHS) - Get Report .
Marcato viewed the nominations as "desperate," saying the company's actions only confirm that there is substantial deficiency at the board level and lack of a cohesive plan to create long-term shareholder value.
"In our view these changes do not go far enough and the company's rejection of our proposal to adopt a Universal proxy ballot is clearly designed to thwart shareholder democracy," Marcato, which is led by Mick McGuire, said in statement. "Rather than scrambling to protect the status quo, Buffalo Wild Wings should address our proposed operational improvements and business model modifications, which we believe are the only ways to drive sustainable value for all shareholders."
Buffalo Wild Wings declined to comment on Marcato's statement.
"The nomination of Jan and Sam, respectively, along with the additions of Andre Fernandez, Hal Lawton and Harmit Singh, who joined the Board in October 2016, demonstrates our commitment to enhancing Buffalo Wild Wings' governance practices through Board refreshment," Jerry Rose, the chairman of the board, said in a statement.
Additionally, over-tenured directors James Damian and Michael Johnson announced their intent to retire from the board, effective at the annual meeting. Both men have served on the board for more than a decade, BoardEx reports. The average tenure of S&P 500 boards is 8.3 years, according to leadership consulting firm Spencer Stuart.
In July, Marcato began its public campaign against the company, pushing Buffalo Wild Wings to franchise more of its company-owned stores and to change its capital structure. Specifically, Marcato wants the restaurant chain to improve its food quality, speed of service and technology in order to drive shareholder value.
The company's disappointing fiscal year 2016 results opened the door further for Marcato's campaign. Same-store sales fell by 3.4% at company-owned restaurants and by 2.7% at franchised restaurants year-over-year. Net earnings declined 0.3% to $94.7 million from $95.1 million year-over-year.
"Continued weak results show an inability to manage costs and successfully implement sales-building initiatives," wrote KeyBanc Capital Markets Analyst Chris O'Cull in a February research note. "Before significant investments are made supporting company-owned restaurants, a fresh perspective at the Board level could benefit shareholders," he continued. KeyBanc rates BWLD shares at Overweight with a $180 price target.
Buffalo Wild Wings said on Monday it intends to file its preliminary proxy statement with the Securities and Exchange Commission shortly. Shareholders will then vote on the nominations at the company's annual meeting, which is expected to take place in May. If the slate of directors put forth by the company is elected, the board will comprise nine directors, five of whom will have served less than one year on the board.
Buffalo Wild Wings shares fell about 2% on Monday to $145.25.
Employees of TheStreet are restricted from trading individual securities.