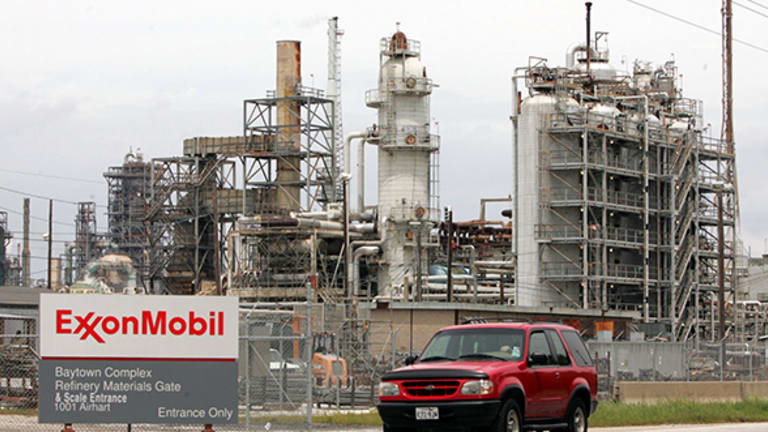 ExxonMobil Was Just Dealt a 'Watershed' Blow as Climate Change Proposal Wins Majority Backing
The surprisingly strong support comes as President Trump contemplates pulling the U.S. out of a major climate accord and as Wall Street investors press ExxonMobil to conduct climate stress tests.
An activist shareholder proposal seeking to have ExxonMobil (XOM)  produce a report on the impacts of "technological advances" and "climate change policy" on its oil and gas reserves received the backing of a majority of participating shares at the company's annual meeting Wednesday, a major blow to the energy behemoth and one that suggests it will need to respond in some way in the coming weeks. 
At issue is a New York State Common Retirement Fund shareholder proposal urging ExxonMobil to publish an annual assessment of the long-term portfolio impacts of technological advances and climate change policies to its oil and gas reserves. 
The proposal is nonbinding, which means ExxonMobil is under no obligation to implement any changes in response to shareholder support. Nevertheless, the strong showing of support could embarrass the oil and gas titan into producing a detailed report or taking other actions.
"This is an unprecedented victory for investors in the fight to ensure a smooth transition to a low carbon economy," said New York State Comptroller Thomas DiNapoli in a statement. "Climate change is one of the greatest long-term risks we face in our portfolio and has direct impact on the core business of ExxonMobil."
It is likely that several institutional investors including BlackRock and Vanguard, backed the measure this year. The large funds are reportedly pressing the oil company to conduct climate stress tests to determine how environmental regulations impact its oil asset value.
One environmentally themed activist fund manager, Arjuna Capital's Natasha Lamb, noted that the measure received 62% of the vote, what she called a "watershed" moment. "A majority of Exxon shareholders are speaking loudly and clearly that they need to address climate change risks," Lamb said after she exited the meeting. "Denial is no longer an option."
The vote comes after a similar proposal received 38% backing last year, also a major vote of no confidence, and one that may have been partly responsible for ExxonMobil to add atmospheric scientist Dr. Susan Avery to its board.
The provision this year and last year asks Exxon to report on the implications of different climate scenarios including one that takes into account a climate agreement reached in Paris in 2015 that will restrict greenhouse gas emissions in a way that limits increases in atmospheric temperatures to no more than 2 degrees Celsius.
"We think the current path of investing in high-cost, high-carbon projects is not going to work this century," said Lamb. "There is only so much easy oil to extract, so companies like Exxon are stuck looking at growth through oil sands or deep Arctic exploration."
Lamb argues that renewable energy costs will dramatically drop in the coming years resulting in a drop in oil demand, due to increased efficiency, electric vehicles and biochemicals replacing petrochemicals.
Environmentally themed activist investors argue that a large segment of Exxon's oil assets will be stranded if the global community meets the goals laid out in the Paris agreement. 
However, the proposals came to a vote Wednesday, the same day that an Axios report suggested that President Donald Trump has decided to withdraw from the Paris climate accord either over three years or more quickly.
Nevertheless, Lamb argues that even if the U.S. pulled out of the accord, Exxon would need to abide by restrictions in other countries it does business. Also, she contends that market forces are at play that will have a major impact on Exxon in the coming years.
"We expect to see an acceleration of electric vehicles, energy efficiency and bio chemicals replacing petrochemicals," Lamb said. "None of these have anything to do with regulation. Regulation is just another nail in the coffin."
And proposal comes as the company holds its first annual meeting under the leadership of CEO Darren Woods, who took over the reins when former CEO Rex Tillerson left the company to become the U.S. Secretary of State.
Shareholders put additional scrutiny on ExxonMobil in recent months after its previous CEO, Tillerson, became secretary of state. Lawmakers on Capitol Hill in Washington have expressed concern that Tillerson has an overly cozy relationship with Russian President Vladimir Putin and Moscow-controlled oil company Rosneft.
Critics of Tillerson wonder whether as secretary of state he would press to dismantle sanctions on Russian companies that were installed in the wake of the country's intervention in Ukraine and its seizure of the Crimean Peninsula in 2014. Eliminating sanctions would allow a joint venture Exxon had with Rosneft to explore and develop oil and gas in Russia, including in the country's Arctic region and one that was shut down by the sanctions.
Lamb agreed that concerns around Exxon and Russia may have been a factor impacting investor decisions. However, she argued that concerns around the U.S.'s role in the Paris climate change agreement as well as technological changes impacting the energy giant's future likely played a role as well. "Institutional investors read the writing on the wall," she said. 
She noted that the New York Common Retirement Fund shareholder proposal this year comes after Arjuna reached an agreement with Exxon in 2014 to have it produce a report, which the energy company subsequently did. However, she said Arjuna backs the 2017 climate change proposal, arguing that the one Exxon produced previously was misleading.
Another environment-themed proposals, introduced by Arjuna and the Baldwin Brothers, asked ExxonMobil to hike the amount it authorizes for share buyback and dividends and reduce its investment in what the fund argues are risky high-cost, high carbon energy exploration projects that will produce fewer returns in the coming years.
However, Arjuna's proposal didn't do that well either this year or last year, garnering only 4% of the yes or no vote at both Exxon annual meetings. "Large institutional investors shy away from anything that isn't disclosure based," she said. "This proposal has a bit more teeth to it even though its non-binding."
Click here for the latest business headlines.