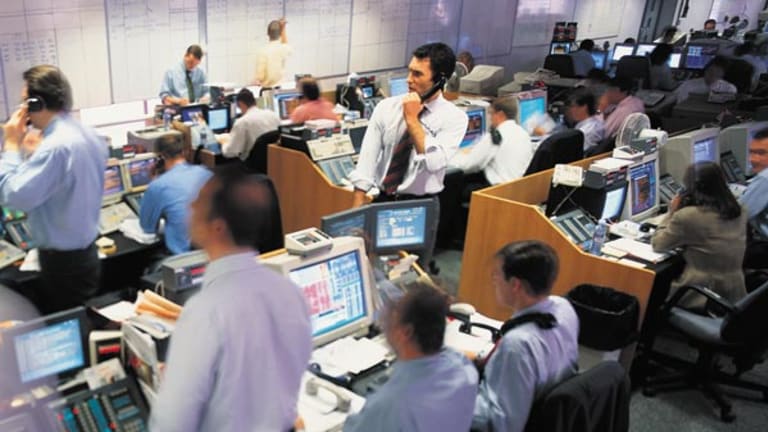 Core Concepts: Computers and Office Supplies
Here's how you can become a better stock owner.
This column was originally published on RealMoney on Feb. 2 at 11:05 a.m. EST. It's being republished as a bonus for TheStreet.com readers. For more information about subscribing to RealMoney, please click here.
If you're trying to improve your investing skill set, you might want to take a second look at some underloved sectors. They can teach you a lot about finding bargains in an always-changing market environment.
Over the next few months, I'll be integrating core investing concepts into a methodical review of stocks in every major market sector. Yesterday, I examined
some chemical companies. In this column, I'll cover investing concepts and ideas culled from the computer and office supplies sectors.
As the computer industry matures, it becomes a more compelling sector for long-term investors. That's because excess capital no longer flows into it. Excess capital flows create excess capacity, which, in turn, begets lower profitability.
This growth sector has no new entrants, and consolidation has reduced the number of major suppliers. For example, Compaq was acquired by
Hewlett-Packard
(HPQ) - Get HP Inc. (HPQ) Report
, eMachines was acquired by
Gateway
(GTW)
and Lenovo bought
IBM's
(IBM) - Get International Business Machines (IBM) Report
PC operation. This sort of consolidation augurs well for the sector's long-term profitability.
Dell: The Long View
PC maker
Dell
(DELL) - Get Dell Technologies Inc Class C Report
has been making headlines lately, with CEO Kevin Rollins
resigning and founder Michael Dell retaking the reins. However, look past the short-term noise surrounding this stock and take a longer view.
Dell is a compelling buy in the $20-to-$22 area, compared with its current level of $23.80. From there, it represents a low-risk double over the next four years. (That's an investment return of 18% per year.) This assumes that Dell grows revenue beginning this year at 10% per year and maintains current operating margins. Looking past the short term, you can reasonably argue that Dell deserves a premium valuation. That's because the company's return on equity -- at more than 50% and unleveraged -- is exceedingly rare.
Gateway: Margin Leverage
Investors often make the mistakes of overweighting the importance of sales leverage and underweighting the importance of margin leverage. It's terrific when a company can grow sales by, say, 15% per year. Compounded at that rate, sales will double in five years. The problem is that investing in these sorts of companies is popular. As a result, the sales lever is generally already discounted in the stock price.
The margin lever, though, is often overlooked. Ironically, that happens despite the fact that it can be an easier lever to pull. For a company that is underperforming operationally, at trough profitability -- for example, at 1% or 2% net margins -- it often does not require heroic measures to ratchet net margins up to 2% or 4% (a 100% gain). Even better, huge margin gains can be achieved over a period of several quarters instead of several years, as in the case of the sales lever.
Gateway is one company for which the margin lever represents low-hanging fruit. The new management team doesn't have to do anything heroic to double the net margins. Even without reaching the operating levels of competitors, there is sufficient margin leverage in this model to justify an $8 stock valuation over the next two to three years. That represents a stock value at 50% of sales, up from 20% of sales currently. The stock closed Thursday at $2.06.
Office Depot: Patience Pays
To be a great investor, you have to be not only a great stock picker but also a great stock "owner." The latter is much more difficult than you might imagine. Six years ago, I highlighted
Office Depot
(ODP) - Get ODP CORPORATION Report
in my
Top 10 Turnarounds column for
RealMoney
(and in several other columns). Since then, the stock is up six-fold.
On paper, it looks like it should have been easy: Load up at $6.94 and ride it above $40. The reality is much more difficult. In fact, it might be harder for a professional investor to harvest a six-bagger than it is for an amateur investor. The pros are under pressure to perform on a year-over-year basis, while amateurs can buy a stock and forget about it.
Look at the chart of Office Depot below, which begins in December 2000 when my Top 10 column was published. As you can see, the stock saw no gains for three consecutive years. It's difficult for a pro to hold fast with a nonperformer for that long because of the short-term pressure to perform.
So how do you become a better stock owner? It starts with knowing what you own. If you are absolutely convinced that you hold Office Depot at 50% of value, for example, you probably won't short-circuit the opportunity. If you're unsure about what you own, the odds increase substantially that you'll miss out on a potential multibagger.
Note also the asymmetry between being a great stock picker and being a great stock owner. If you have a sound analytical mind and are able to detect patterns in the data that others don't see, you have a good chance of being a great stock picker.
To be a great stock owner, though, you have to turn off the analytical mind. That's because, over a period of years, an analytic mind can employ a multitude of excuses to short-circuit a great opportunity. When it comes to stock ownership, sometimes the no-brains have a distinct advantage.
At time of publication, Alsin and/or ACM was long Gateway, although holdings can change at any time.
Arne Alsin is the founder and principal of Alsin Capital Management, an Oregon-based investment advisor, and portfolio manager of The Turnaround Fund, a no-load mutual fund. Under no circumstances does the information in this column represent a recommendation to buy or sell stocks. Alsin appreciates your feedback;
to send him an email.