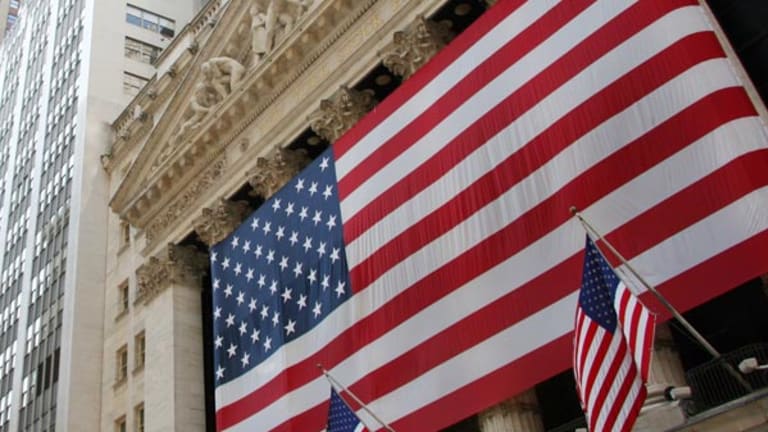 Consumers Stick It to Stocks
Oil falls $3 a barrel and stocks give up ground Friday -- despite a half-hearted late-day comeback -- after data showed a dip in consumer confidence in August. Inflation was tamed in July.
Oil falls $3 a barrel and stocks give up ground Friday -- despite a half-hearted late-day comeback -- after data showed a dip in consumer confidence in August. Inflation was tamed in July.
(Updated with commentary, stock and commodity prices)
NEW YORK (
) -- Oil fell $3 a barrel and stocks gave up ground Friday -- despite a half-hearted late-day comeback -- after data showed an unexpected dip in consumer confidence in August.
The
Dow Jones Industrial Average
, which dipped more than 150 points earlier in the day, ultimately gave up 76.79 points, or 0.8%, to 9,321.40, while the
S&P 500
slid 8.64 points, or 0.9%, to 1004.09. The
Nasdaq Composite
fell 23.83 points, or 1.2%, to 1985.52.
The indices logged their first down week in five, with the Dow down 0.5%, the S&P 500 off by 0.6%, and the Nasdaq lower by 0.7% in the five-day session.
Losses were broad-based, although industrials were particularly hard hit with
Alcoa
(AA) - Get Report
and
Caterpillar
(CAT) - Get Report
down more than 3% on the Dow.
The S&P 500 and Dow had reached new highs for the year earlier in the week, despite disappointing data. But stocks, which some observers argued were already ready for a breather, couldn't weather an unexpected drop in consumer sentiment Friday.
"It just tells me there's more of a wall of worry to climb," says Jeffrey Kleintop, chief market strategist for LPL financial.
The University of Michigan's preliminary report for August showed its
index fell to 63.2, from 66 in July, undercutting expectations for a rise to 69.
That news also helped to send
$3.01 lower, to $67.51 a barrel.
"We're still getting some aftershocks from the severity and depth of the recession we've went through," says Brian Bethune, chief U.S. financial economist at IHS Global insight. "It's another reminder that it's not that easy to pull out of these situations; it's a lot easier to get in, and a hell of a lot harder to get out."
The consumer data came a day after disappointing retail sales data for July, which is either fitting or even more concerning to some market observers.
"I would say that the consumer situation is still very fragile," says Bethune. "Even though there is some positive impact from this fiscal stimulus, the underlying business cycle dynamics are still not all that healthy."
But LPL's Kleintop believes conditions are ripe for improvement. "Looking at the trend in the weekly data, looking at better weather conditions, the 'cash for clunkers' program affecting August more than July, and a lot of the other things we're hearing out of retailers like
Macy's
(M) - Get Report
, and even
Wal-Mart
(WMT) - Get Report
,
Urban Outfitters
(URBN) - Get Report
,
Kohl's
(KSS) - Get Report
, and some of the others, suggest that trends are improving," says Kleintop. "So I'm relatively optimistic on the back-to-school season."
Click below hear more from Kleintop on consumer spending, inflation and investment strategy.
Other data, including those
, were largely as anticipated. The Commerce Department said consumer prices showed no change in July, in line with analysts' expectations and much below the 0.7% jump in June.
Prices fell 2.1% over the past 12 months, the biggest annual decline since a similar drop in January 1950. Most of the past year's decline reflects energy prices falling 28.1% since peaking in July 2008.
Capacity utilization, meanwhile, increased slightly to 68.5% in July, from 68.1% in June, roughly in line with expectations. Industrial production also increased slightly as expected, by 0.5%, after an 0.4% decline the month prior.
Earnings continued early Friday with reports from retailers
J.C. Penney
(JCP) - Get Report
and
Abercrombie & Fitch
(ANF) - Get Report
.
shares were down more than 6.3%. Although the retailer posted a smaller-than-expected loss in the second quarter, thanks to cost-cutting efforts, and raised its annual profit outlook, it gave a sluggish view for sales.
reported a loss of $26.7 million, or 30 cents per share, including $24.4 million in charges for the Ruehl closing and store asset impairment charges. Investors seemed pleased, however, as shares added 4%.
Watch maker
Swatch Group
(URH.VX)
earlier reported a smaller quarterly decline than expected and said second-half revenue will match the prior year's, as the Swiss company sees signs of recovery in some of its bigger brands.
In other news,
Boeing
(BA) - Get Report
said it
for more than a month on two sections of the middle fuselage of its new 787 Dreamliner because of manufacturing flaws at an Italian supplier. The stock was the worst performer on the Dow, losing 3.7%.
Elsewhere, the number of banks exceeding the level of nonperforming loans that former regulators said could threaten their survival, equal to 5% or more of their holdings, more than doubled in the year through June,
. There are now 150 publicly traded U.S. lenders at or above this threshold for toxic loans, according to the report.
Stocks overseas were mixed. In Europe, Frankfurt's Dax and London's FTSE 100 were down 1.8% and 0.9%, respectively, after giving back gains from earlier in the session. In Asia, Hong Kong's Hang Seng edged up 0.2%, while Japan's Nikkei advanced 0.8% during their session.
Longer-dated Treasuries were rising in price, falling in yield. The 10-year was up 10/32 to yield 3.56%, while the 30-year gained 16/32, yielding 4.41%.
-- Written by Elizabeth Trotta in New York
.
Copyright 2009 TheStreet.com Inc. All rights reserved. This material may not be published, broadcast, rewritten, or redistributed. AP contributed to this report.