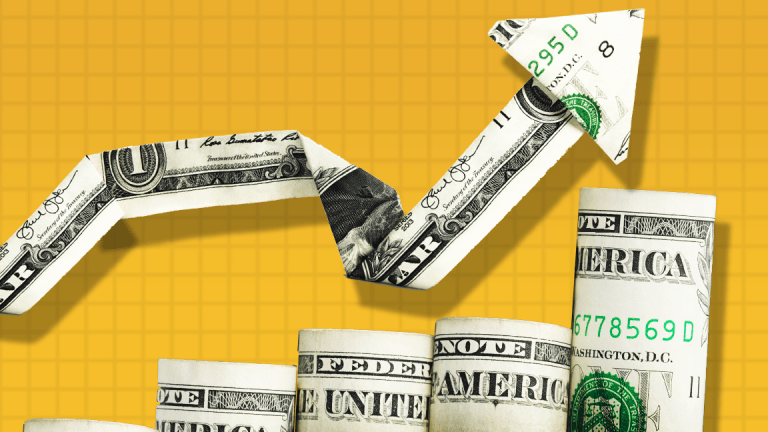 Consumer Price Index Unexpectedly Jumps in June, Sending Inflation Signal
Prices on consumer purchases, excluding food and energy, rise by 0.3% in June after gaining 0.1% in May, a report from the Labor Department's Bureau of Labor Statistics shows.
A key U.S. inflation gauge jumped unexpectedly last month, following months of warnings from economists that President Donald Trump's new trade tariffs on Chinese imports would drive up costs for consumers.
The Consumer Price Index rose by 0.1% in June, the same as in May, the Labor Department said Thursday in a statement. Economists had forecast no increase in June, based on a survey by FactSet. 
Excluding prices for food and energy items, which can vary widely, the index rose 0.3% in June, accelerating from the 0.1% clip reported for May. Economists had expected the so-called core inflation index to increase by 0.2%. Over the past year, the core index is up 2.1%.
Investors have been closely monitoring inflation in recent months, since the annual pace of price increases has stayed stubbornly below the Federal Reserve's target of 2%. The implication is that the slack in consumer prices means the Federal Reserve doesn't have to worry about runaway inflation -- allowing the central bank to cut interest rates to bolster U.S. economic growth.
Yet signs have emerged recently that inflation might be picking up, and perhaps even poised to exceed the Fed's inflation target, following a decade of unusually low interest rates. And although Trump has called for lower interest rates, his $1.5 trillion of tax-cut legislation in late 2017 has helped to stimulate the economy and push the unemployment rate to 3.7%, close to the lowest in a half century.
Typically, economic strength and a low unemployment rate prompt businesses to raise wages for workers, which in turn tends to push up inflation.
Eric Winograd, senior U.S. economist for the money manager Alliance Bernstein, wrote in e-mailed comments that he doesn't expect the latest inflation reading to change expectations that the Fed will cut rates at the central bank's next monetary-policy meeting, scheduled for July 30-31. 
But if inflation continues to trend higher, the Fed might find future rate cuts more difficult to push through, he wrote.
"One of the primary reasons the Fed is going to cut rates is that inflation expectations have fallen, so if expectations bounce back it may limit the scope of the impending easing cycle," Winograd wrote. "I think it will take a few months of data for that to happen, but it bears watching in the next few weeks."
Trump's tariffs on Chinese imports now appear to be pushing up consumer prices, in a sign that U.S. importers are successfully passing along the cost of the higher duties.
In June, inflation was fueled by rent increases and higher prices for clothes, household furnishings and healthcare costs, according to Ian Shepherdson, chief economist for the forecasting firm Pantheon.
Prices for furniture for infants, some of which is subject to stiff 25% tariffs that took effect in mid-May, were 11% higher than a year earlier, according to Shepherdson. 
Based on trading in U.S. futures markets, most investors believe the Federal Reserve will cut interest rates later this month to stimulate the economy. Those predictions were based on prior data showing little threat of accelerating inflation.