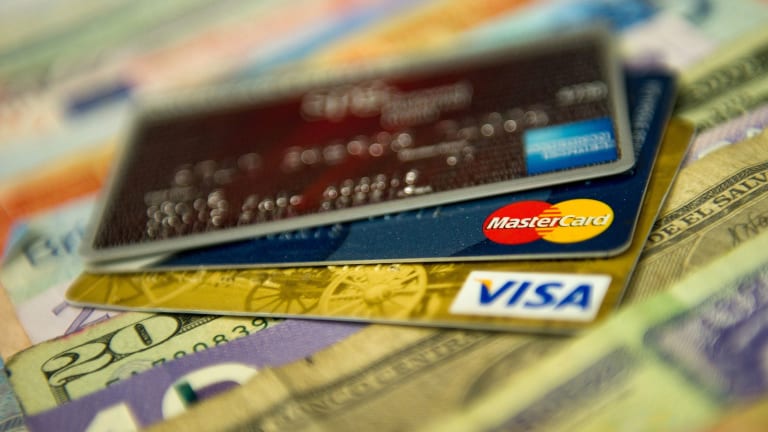 U.S. Consumer Confidence Surges in May Even as Economy Shows Mixed Signs
The Conference Board says its monthly gauge of consumers' faith in future economic prospects rises faster than expected in May, at least partly thanks to a U.S. unemployment rate at a half-century low.
U.S. consumer confidence strengthened more than expected in May, as an unemployment rate at a half-century low boosted assessments of future business and labor-market conditions, a report showed.
The Conference Board's index of consumer confidence jumped to a reading of 134.1 for May, the highest in six months, from 129.1 in April, the Conference Board said in a statement. Economists surveyed by the data provider FactSet had projected a slight increase to 130.
The survey could presage a rebound or at least stabilization in the months ahead in consumer spending -- a key driver of economic output. Earlier this month, a separate report from the Census Bureau showed that U.S. retail sales dipped slightly in April, and analysts estimate, on average, that the economy probably will slow to a 2.1% annual growth rate this quarter, from 3.2% in the first three months of the year.        
"Consumers expect the economy to continue growing at a solid pace in the short-term, and despite weak retail sales in April, these high levels of confidence suggest no significant pullback in consumer spending in the months ahead," said Lynn Franco, the Conference Board's senior director of economic indicators.
The strong confidence reading could also provide support for the economy as President Donald Trump's intensifying trade war with China threatens to drive up the cost of imported goods for U.S. consumers. The unemployment rate fell in April to 3.6%, the lowest since Richard Nixon's presidency. 
A study released last week by the Federal Reserve Bank of New York estimated that the average U.S. household will pay an extra $831 a year as a result of Trump's expanded tariffs on imports from China. That amount would wipe out the roughly $800 a year tax cut that middle-income households got from Trump's late-2017 legislation, based on estimates from the bipartisan Tax Policy Center. 
Ian Shepherdson, chief economist at research firm Pantheon Macroeconomics, wrote in a note to clients after the consumer confidence report that there is "no sign here of any direct hit from the trade war, yet."
"People increasingly appear to believe they are in a stronger position to push for bigger wage increases," Shepherdson wrote.