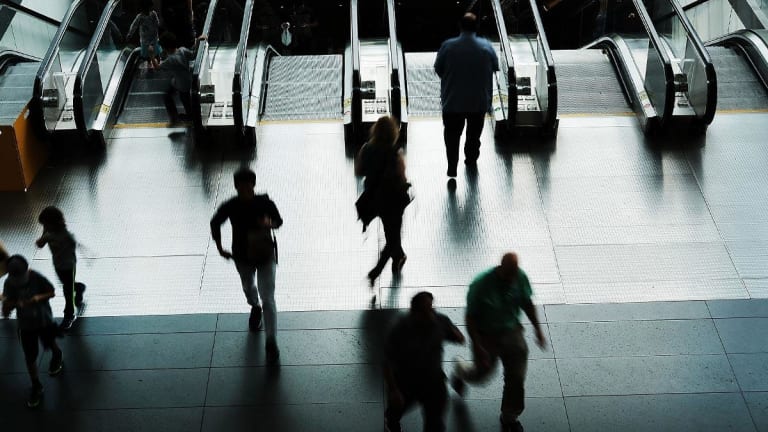 U.S. Consumer Confidence Improves With the Jobs Market
A monthly survey from the University of Michigan shows that consumer confidence improved faster than expected last month, even as a separate Federal Reserve report shows that manufacturers are mired in a slowdown.
U.S. consumer confidence is improving faster than most Wall Street economists had expected following the stock market's selloff in December, a new survey showed.   
The University of Michigan's Index of Consumer Sentiment for March jumped to a reading of 97.8, up from 93.8 in February, according to a press release on Friday. Economists had expected a reading of 95.5, based on estimates from the data provider FactSet.
The gains came largely from households in the bottom two-thirds of the income distribution, according to the release. 
The new reading comes amid reports that despite a projected slowdown this year in the economy American workers are seeing faster wage increases, with the U.S. unemployment rate currently at 3.8%, close to the lowest in a half century. What's more, the higher hourly earnings haven't translated to a major pickup in inflation so far; businesses often try to pass along their higher personnel costs by raising end prices charged to consumers. 
"Rising income expectations were accompanied by lower expected year-ahead inflation rates, resulting in more favorable real income expectations," Richard Curtin, chief economist for the University of Michigan Surveys of Consumers, said in the press release. "Moreover, all income groups voiced more positive prospects for growth in the overall economy during the year ahead."
Most economists say growth is poised to slow this year as the stimulus fades from President Donald Trump's late-2017 tax cuts, but consumer confidence will prove a key determinant of activity, through retail sales and by impacting the willingness of business executives to invest in new factories and equipment -- or to hire more workers.
The current economic expansion in the U.S. is already one of the oldest in history at nearly 10 years, and a majority of forecasters now expect a recession within the next three years. But the labor market has proven resilient, with average hourly earnings climbing 3.4% over the past year, while consumer prices are rising at a pace of about 1.5%, recent government data show.  
The Federal Reserve is likely to consider the latest readings at a meeting next week, as officials evaluate whether the current level of interest rates is appropriate to keep the economy growing without sparking runaway inflation.  
The latest sentiment reading "hardly indicates an emerging downturn," Curtin said.
Consumer confidence has improved despite separate indications that manufacturers are slowing or in some cases reducing their output.
A Federal Reserve report Friday showed that industrial production increased 0.1% last month, shy of economists' estimate for a 0.4% gain, and following a 0.4% contraction in January. 
Ian Shepherdson, chief economist at the forecasting firm Pantheon Macroeconomics, wrote in a note to clients that a "broad-based softening is underway" in manufacturing. The decline could constrain overall economic growth and crimp new employment gains in the months ahead, he predicts.
Even so, manufacturing only accounts for just 12% of the overall economy, with retail, services and other components accounting for the bulk. 
That's why consumer confidence is so crucial to monitor.
Shepherdson said he estimates that after-tax incomes, on an inflation-adjusted basis, are "still quite strong" at a growth rate of about 2.5%. That should be sufficient to maintain a decent level of consumer spending, even if it's "unreasonable to think that people would carry on spending at least year's near-4% pace," he wrote. 
Bank of America economists argued earlier this week that a recent slowdown in retail sales can be explained partly by delays in tax refunds, which means consumers are likely to return to shopping as those checks arrive.   
The University of Michigan's latest sentiment reading "strongly supports our view that the slowing in consumption in recent months is more likely to be a transition to a sustainable pace, as the kick from tax cuts and lower gas prices fades, rather than the start of a sustained downtrend, ultimately leading to the end of the cycle," Shepherdson wrote.