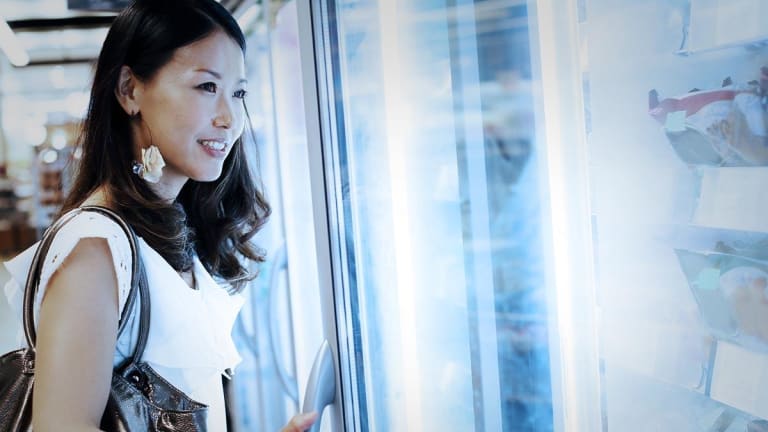 ConAgra-Pinnacle Deal Spotlights Hot Frozen-Foods Sector
Health and convenience are boosting sales of frozen food including vegetable sides.
Frozen foods sales are on a roll.
Right on schedule, then, is the news of ConAgra Brands Inc.'s  (CAG)   plan to buy Pinnacle Foods Inc. (PF) in a cash-and-stock deal that values the company at just over $8 billion, or $10.9 billion including assumed debt. 
Sales of frozen foods have gone from $50 billion in 2012 to nearly $54 billion in 2017. Last year's figure represents an increase of 1.7% over the previous year, according to data from market research firm IRI, and Nielsen reported that two years ago, the number was at $52.7 billion. Worldwide, the sector racked up more than $250 billion in sales in 2015, according to Grand View Research Inc.  
Frozen foods are hot now due to "the convergence of health and convenience," said Jordan Rost, Nielsen's vice president of consumer insights. "Frozen varieties of vegetable sides that have grown in popularity as a carb replacement (think rice or mashed potatoes) have helped push frozen food sales."
Nielsen said certain frozen-food categories are popular with specific age groups. For example, younger shoppers opt for breaded chicken and other poultry, waffles, pancakes and French toast, whereas older generations count ice cream as a favorite. The equalizer, Nielsen said, are frozen entrees, good sellers across all generations. In addition, U.S. households with incomes of $100,000 or more are more likely to choose frozen foods, Nielsen said.
ConAgra and Pinnacle give consumers a lot to choose from in all those categories. Among the frozen brands of ConAgra are Healthy Choice dinners and Alexia fries and sides. Pinnacle's frozen choices include Birds Eye vegetables, Hungry Man meals, Mrs. Paul's fish and Udi's Gluten Free breads. 
ConAgra said Pinnacle Food shareholders will receive $43.11 in cash and 0.6494 shares of Conagra stock for each share held, indicating an implied deal price of $83 per share. ConAgra said it will continue to pay its 85 cent quarterly dividend and noted Pinnacle will do the same until the deal, which it said was unanimously backed by both boards, closes by year's end.
4 Top Experts Tell You How to Play the Market. TheStreet's Scott Gamm recently sat down with top market watchers from Bank of America, Fisher Investments, Invesco and Wells Fargo. Register to watch a free roundtable in which they lay out their best advice.