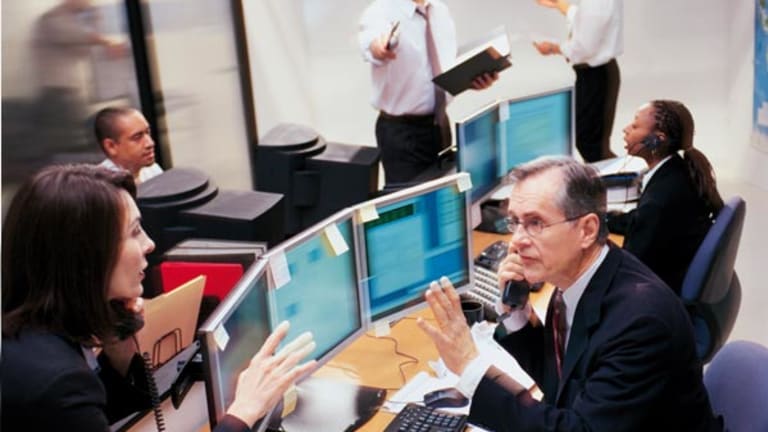 Commodity Charts Counter Inflation Talk
The fear of inflation appears to have arrived at precisely the wrong time.
Sometimes we get so caught up in the day-to-day or moment-to-moment fluctuations of the market that we forget to step back and look at the bigger picture.
This occurred to me as I jotted down the close for the
S&P 500
on Wednesday night.
The close was 1270, and it had that
deja vu
feeling. So I went back and saw that we closed at 1270 on May 17, which is a very interesting date because the market actually topped out on May 10.
That means for the past two weeks we have milled around, yet everyone would have you believe the market has been in free fall the entire month of May.
However, May 17 is an even more interesting date from a psychological perspective: That was the date we got the CPI report that sent everyone into the inflation camp. All of a sudden we were on inflation watch, anywhere and everywhere.
Anecdotally, I can tell you that two weeks ago I paid about $2.95 for a gallon of gas and this past weekend, I filled up for $2.46 a gallon.
So clearly gas prices, at least since that CPI report, have been trending downward in some parts of the country.
But on a more factual basis, I would like to show you the chart of the CRB futures index.
To my eyes that is a potential head-and-shoulders top. And I would note that the head -- the top -- came right around the day we were getting that inflation report (the CPI).
Should this chart break that neckline, it measures to the 340-45 area. Yet is there anyone out there (with the exception of Doug Kass on
) who notes that many commodities peaked right around the time of that report?
Nope.
Instead, recommendations to buy these stocks litter Wall Street.
Now take a look at the chart of silver. What a fuss everyone made over the ETF and how all that buying was going to push the price of silver sky-high. Seems to me all the buying was done before, not after, the fact. This too is a sort of head-and-shoulders top. Breaking the neckline would not be as meaningful as breaking that uptrend line I've drawn in, but clearly a break here would put silver's long-term uptrend in jeopardy.
Platinum doesn't have the same head-and-shoulders pattern, but it does look like a parabolic move that has seen its best times.
I know everyone's interest really lies in gold, so let's take a look at that chart. Gold actually doesn't look that bad in here. Of course from a sentiment standpoint, I don't believe there is anyone now who is not looking for $1,000 an ounce, but that too is anecdotal.
Often, the commodities move in 50% retracement patterns.
So if we're looking for support, take the move in gold from $540 to $720 and we get $180. If we divide $180 by two we get $90, and $90 from $720 gives us $630. The uptrend line I've drawn in comes in between $620 and $630, so it makes sense that gold should find some support down at the $630 level on this current trip lower.
However, it will be the rally from that level that we need to watch. Should gold fail on that rally (see the chart of sugar below for what a failing rally looks like), we will have to begin to worry about gold.
Away from the metals, I see that all that talk about ethanol has died down somewhat -- but one of the best-performing commodities last year was sugar, which the Brazilians convert to ethanol. We all know the story. (We should, we've heard it a zillion times.) Yet take a look at the chart of sugar this year. Sure looks to me like sugar is headed back to $14 after having peaked in January/February.
Crude oil is more like gold in that it hasn't done anything wrong yet. I keep wondering if that is because these two commodities are now being traded by equity folks and not just traditional commodity traders. But be that as it may, oil is caught in a triangle pattern at present and we can't pick on it just yet except in the short-term. I am not yet convinced the oil chart will be heading back up anytime soon. First it will have to prove it can hold.
In sum, it appears to me that the fear of inflation should have been back in February and March when the CRB was bottoming, not in May when the CRB was peaking. Clearly the
Fed
should have been worried well before May 10.
All this inflation talk has also taken its toll on consumer confidence as well as traditional stock market sentiment readings. The American Association of Individual Investors published their weekly survey this morning showing the highest percentage of bearish investors (50%) since a few weeks before the lows in the spring of 2005. There were only 28% bears when that CRB chart was launching upwards.
Financial markets anticipate; humans react. The CRB peaked just as investors were reacting to the inflation readings. And now folks appear to be turning bearish, after the equity markets have taken a fall.
Helene Meisler writes a daily technical analysis column. Meisler trained at several Wall Street firms, including Goldman Sachs and SG Cowen, and has worked with the equity trading department at Cargill. Under no circumstances does the information in this column represent a recommendation to buy or sell stocks. She appreciates your feedback;
to send her an email.