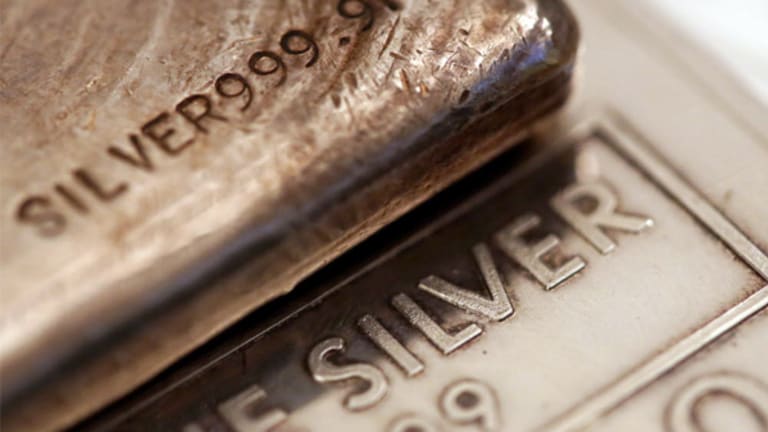 Why You Should Buy Silver Wheaton Stock Right Now
Think all the big precious metals gains can be made from gold? Think again. Here's why this silver company is poised for profits.
We've all seen what can happen to gold-mining stocks when the price of the yellow metal skyrockets. In the last year we've watched Barrick Gold soar 161%.10
But gold isn't the only precious metal that has profit potential. In fact, silver stocks have been offering even better gains. With silver on the rise -- and with some analysts calling for the metal to climb into the stratosphere -- it's certainly worth exploring silver miners for profitable long-term opportunities.
After combing through the data, we can highly recommend Silver Wheatonundefined . As the world's largest precious metals streaming company, it boasts a strong portfolio chock-full of the good stuff: a low-risk business model, robust growth prospects, cost assurance, direct leverage to rising silver prices and a treasure chest of high-quality assets.
Since 2004, Silver Wheaton, (which derives 60% of its sales from silver) has stood shoulder to shoulder with a clutch of other silver-related companies. They include Tahoe Resources, Pan American Silver, Hecla Mining and First Majestic Silver. But Silver Wheaton is the largest (and most potent player) in terms of market value among this set.
The company has formalized 20 precious metal purchase pacts with as many as 15 operating partners, including Vale, Barrick and Goldcorp. These agreements grant Silver Wheaton access to high-quality assets.
Nearly 70% of silver production is as a byproduct, created from base metals and gold mines. Silver streaming agreements are Silver Wheaton's principal source for silver acquisition -- the company purchases silver production rights from third-party mines.
And this is what makes this company different from other silver miners. Silver Wheaton doesn't own its own mines and doesn't actually produce silver. It makes advanced payments to miners in return for the right to buy a designated amount of what they produce. Silver Wheaton's model -- which eliminates exposure to physical production -- is low risk and is a savvy way of betting on silver prices.
Annual revenue has surged to $649 million from $159 million over the last 10 years. What's more, analysts expect Silver Wheaton's top line to explode in 2017, to $939.20 million. Also in 2017, adjusted earnings per share are expected to grow to 98 cents, from the estimated 73 cents in 2016. On average, analysts expect Silver Wheaton will grow earnings by nearly 21% every year for the next five years.
This is a sharp turnaround from its performance during the previous five years, when EPS dropped an average of 26% each year.
The stock has been on a roll recently. It has risen an astonishing 118% so far this year. Shares of some of its peers have gained even more. But we think Silver Wheaton is the best long-term stock pick in the bunch because of its streaming business model.
In the second quarter, the company met investor expectations in terms of EPS and delivered a beat in sales. It also has used this period to gorge on assets (like the $800 million gold acquisition from Vale).
Regarding its silver business, the company's strategy is pretty clear: The production price averages about $4 per ounce of silver. This ensures that Silver Wheaton's costs are fixed, helping the company stabilize operating costs and reduce downside risks. Beyond the preliminary upfront payment, Silver Wheaton is generally safe from additional capex or exploration costs.
The company has less than $706 million in debt (even lower if you subtract its $124.5 million in cash). 
The 15 analysts offering one-year price targets for Silver Wheaton have a median target of $33.60, which is still 24% greater than the stock's recent price of $27.06.
Available at a price/earnings-to-growth ratio of 1.9, Silver Wheaton's shares are undervalued compared with peer Tahoe Resources (3.9). Some of its other peers have negative PEG ratios. If you're looking for precious metals gains beyond gold, this a stock that completely deserves your time -- and money.
---
85% Accurate Trader gives his Personal Guarantee: "Give Me 9 Minutes a Week and I Guarantee You $67,548 a Year." As you can see, Apple remains a great play for investors. But what if I told you I know a way you can see a $67,548 per year - or more - in profitable trades just by following this simple step-by-step process? The trader who is sharing this secret has been right more than 8 out of 10 times, turning $5,000 into more than $5 million for himself. Click here to see how easy it is to follow his lead and collect thousands of dollars in "Free Money" every month.
This article is commentary by an independent contributor. At the time of publication, the author held no positions in the stocks mentioned.