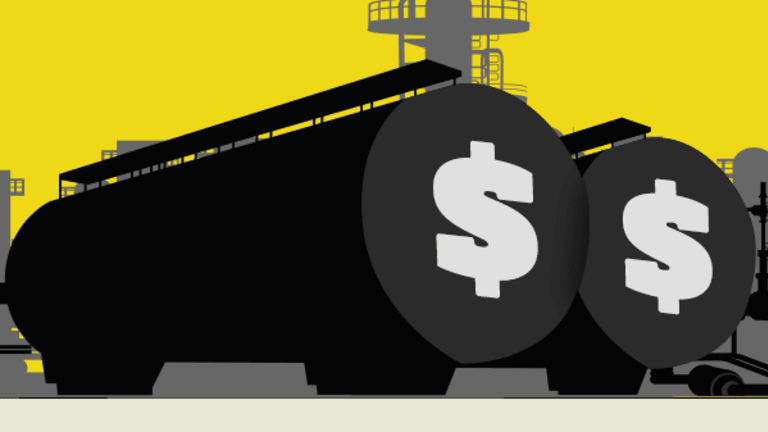 Here Are the Best Energy Stocks to Buy Even if Oil Plunges to $20
The trajectory of U.S. oil production may further upset the balance of global crude supply and demand, sending commodity prices plummeting once again, one firm argues.
In a perfect world, a nine-month production cut by the Organization of the Petroleum Exporting Countries would indicate the oil industry is heading for a turnaround, but one energy-focused research firm is calling for the exact opposite: Oil may plummet back down to around $20 per barrel in 2018. 
That's a scary possibility to ponder considering there have been few more somber times in the oil and natural gas industry than in February 2016 when oil prices bottomed out around $26 per barrel. 
But Seaport Global Securities analysts argued in a research note on Wednesday, June 21, that the supply-demand imbalance that has plagued the industry since 2014 isn't going away anytime soon. 
"After refining our approach, we believe the industry's current trajectory, if left unchecked, will result in an oil market that is as much as 2.2 [million barrels per day] oversupplied in 2018 and only getting worse through 2020," the firm wrote. "Something has to give, and first and foremost we think it's further downside to the price of crude -- we envision oil revisiting the $20s early next year and averaging $35 [per barrel] in [the first half of 2018]."
It wasn't so long ago many industry followers were calling for $60 oil by the end of this year. 
Such a substantial drop in oil prices would result in a massive cut in U.S. oil drilling rigs, the firm argued. Seaport expects the oil rig count to stumble to 729 by the fourth quarter of 2017 and then drastically drop to 430 by the second quarter of 2018. 
U.S. producers have added 283 rigs year to date, and the domestic oil rig count now stands at 758, despite a 19% drop in oil prices so far in 2017.
Seaport said it has reached the conclusion that a long-term price of $40 per barrel of crude oil is actually what is necessary to reduce the oversupply vs. the firm's previous assumption of $50 a barrel. 
Furthermore, OPEC would be required to extend its production cut an additional six months beyond March 2018.
That being said, there are some names that stand to gain from the relentless U.S. production growth that Seaport predicted, including energy infrastructure companies with Permian leverage such as Targa Resources Corp.  (TRGP) - Get Targa Resources Corp. Report , Plains All American Pipeline L.P.  (PAA) - Get Plains All American Pipeline, L.P. Report and Magellan Midstream Partners L.P.  (MMP) - Get Magellan Midstream Partners, L.P. Report , along with shipping names such as DHT Holdings Inc.  (DHT) - Get DHT Holdings, Inc. Report , Gener8 Maritime Inc.  (GNRT) and International Seaways Inc.  (INSW) - Get International Seaways, Inc. Report . 
The vast majority of U.S. energy equities, particularly the exploration and production group, are set for a whole lot of hurt if Seaport's bearish expectations play out, however. Notably, Seaport's E&P coverage universe is already down 30% this year, and its oilfield services names are down 33%.
Now, the firm is cutting the ratings on 51 energy-related names, including Cimarex Energy Co.  (XEC) - Get Cimarex Energy Co. Report , Concho Resources Inc.  (CXO) - Get Concho Resources Inc. Report , Apache Corp.  (APA) - Get APA Corp. Report , Marathon Oil Corp.  (MRO) - Get Marathon Oil Corporation Report , Newfield Exploration Co.  (NFX) , Baker Hughes Inc.  (BHI) , Halliburton Co.  (HAL) - Get Halliburton Company Report  and Weatherford International Ltd.  (WFT) - Get Weatherford International plc Report . 
The reality is, while oil companies desperately want oil prices to surge to $55 per barrel and beyond, a long-term oversupply issue may be perpetuated if oil prices don't remain below $45 a barrel for an extended period. Seaport predicts that without sub-$45 oil prices, rigs will ramp up through the fourth quarter setting up a supply-demand mismatch in the first quarter of 2018 of about 900,000 barrels per day.
Recent comments from big oil execs compiled by Seaport appear to support that claim. 
Exxon Mobil's (XOM) - Get Exxon Mobil Corporation Report senior vice president Mark Albers recently commented, "... this development planning mind-set that we take to the whole portfolio whether it's deepwater, LNG or any other development is all about making it work at these low, low prices, making it work at $40 or lower." 
And from Parsley Energy's (PE) - Get Parsley Energy, Inc. Class A Report Bryan Sheffield founder and CEO: "So, I don't see us backing off even at $40 oil, but going into 2018, maybe it's a discussion for below $40 to back off a rig or two if we're closer to $35." 
The problem is "a rig or two" at $35 a barrel may be too little, too late. 
--This story has been updated with the most recent rig count data and was originally published June 21.
Read More Trending Articles:
Intel Just Got Smoked By AMD In the Race to Unleash a Super Chip
Honeywell and NASA May Have Just Stumbled Upon a Way to Change the Aviation Industry Forever
'Walmart Rx' Takes Center Stage as Walgreens Rite Aid Saga Nears Homestretch
Costco Sees an Extremely Damaging Flush In Aftermath of Amazon's Big Whole Foods Deal
Visit here for the latest business headlines.
Editors' pick: Originally published June 21.