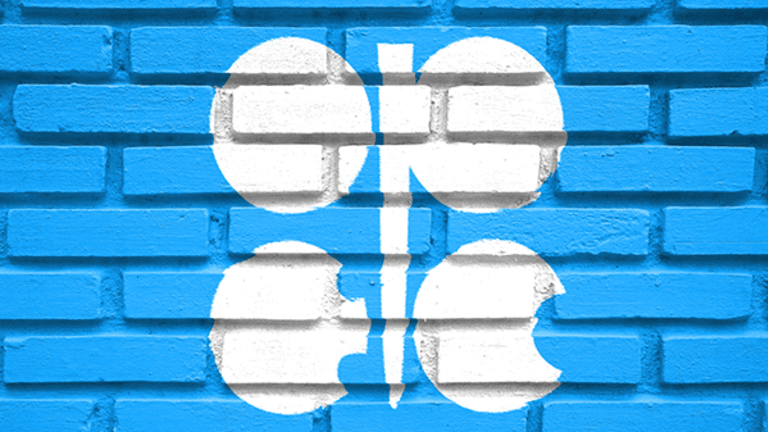 Why Further OPEC Cuts May Not be Enough To Support Oil's Recent Rally
An extension of the OPEC and Russia production cap is already priced into the bullish oil market, leaving risk on the downside ahead of OPEC's meeting on Thursday.
'Buy on the rumor, sell the news' is an old investment adage that seems tailored to the recent spike in oil prices ahead of OPEC's meeting on Thursday.
Brent Crude futures gained 0.7% Monday morning, extending a two-week rally that has now added just over 10% to take the international oil benchmark to $54 per barrel.
The oil price rally has coincided with leaks and statements from OPEC members, that have served to confirm expectations that the oil producing cartel is ready to extend production caps - and not only for the rest of 2017 but also into 2018.
OPEC's biggest producer Saudi Arabia and Russia, which is outside of OPEC but participating in coordinated caps, last week said they were both willing to extend the bulk of their production cuts for nine-months. Iraq and Iran, which trail only Saudi Arabia in terms of output amongst OPEC members, have also pledged their support for an extension of the six-month-old agreement that lopped 1.8 million barrels per day off production at the start of the year.
All those positive murmurings mean that extension of the production cap is now effectively priced into the market, largely robbing Thursday's meeting in Vienna of the impetus to extend oil prices gains.
Indeed, the risk now appears to be that a simple extension of the current cuts could be met with a fall back in prices. That possibility has grown with expectations that the cuts might be deepened, possibly to about 2 million barrels per day, in a bid to speed OPEC's stated target of draining supplies and rebalancing oil markets.
And there is always the chance that the deal could unravel. Saudi Arabia and Iran have little in common except a reliance on oil revenues and even less love for each other. President Trump roiled those tensions this week on his trip to Saudi Arabia, when he accused Iran of fomenting regional instability by supporting militias that "spread destruction and chaos".
News out of the US oil fields, where the rig count continues to grow, is also likely to continue to weigh on oil prices. The number US rigs operating in shale fields rose by 8 in the week ending May 19, increasing the total number of rigs to 404, up about 130% from their low point in May 2016.
"Assuming the US oil rig count stays at the current level, we estimate...annual average US production would increase by 290kb/d year-on-year on average in 2017," Goldman Sachs noted last week. "The y-o-y production would rise by 440 kb/d in 2017 if we account for the impact of the estimated remaining county-level well backlog being gradually brought back online between 1Q17 and 2Q17."
US shale producers could boost production further if OPEC and Russian production cuts succeed in keeping oil prices above $52 a barrel for an extended period. Shale producers took advantage of prices of between $52 and $54, in January and February, to massively hedge future production allowing for the growth in rigs that we are still witnessing today.