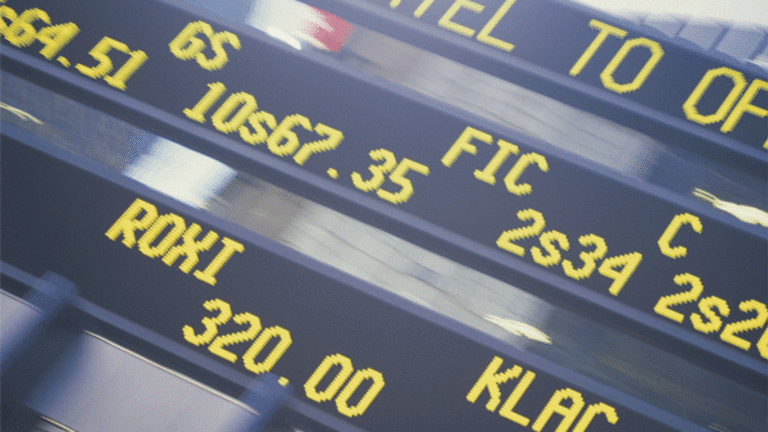 Why Crude Will Move Well Over $110 a Barrel
Multiple rulings this week on Russia will push Brent crude prices over $110 a barrel.
NEW YORK (TheStreet) – Russia was ordered Monday to pay shareholders of the dissolved oil company Yukos more than $50 billion, a decision that is likely to be followed by additional sanctions and a separate court ruling that are likely to exacerbate already tense relations between Europe and Russian president Vladimir Putin, and push global crude prices higher.
The decision by the The Permanent Court of Arbitration in The Hague comes eight months after Russia released Mikhail Khodorkovsky, Yukos' founder and chairman, who was arrested in 2003 and charged with fraud. His trial and subsequent imprisonment, were widely criticized in Russia and in the West for having been orchestrated by Putin to squash the political ambitions of Khodorkovsky, at the time, Russia's wealthiest man.
Brent crude oil futures for September delivery were nonetheless falling 90 cents, or 0.83%, to $107.49 a barrel while WTI light sweet crude oil for September delivery was dropping 72 cents to $101.37 a barrel.
Russia's quick actions to dissolve Yukos and transfer its assets to state-owned Rosneft, had been under review by the court since 2005. Sate-owned Rosneft took hold a majority of the assets seized from Yukos. The decision. which Russia is expected to vehemently contest, is required to pay $51.6 billion to shareholders of the now-defunct oil giant. Judges determined that Putin purposely bankrupted Yukos in order to seize its oil assets, according to the Permanent Court of Arbitration in The Hague.
"Even if Russia does not accept the payment and appeals the verdict, it could have a medium- to long-term negative impact on oil exports from Russia, for a defeat in court could possibly put at risk assets held abroad by Russian state-owned companies such as Rosneft," Commerzbank AG wrote Monday in a note to clients.
The European Union is expected to slap heavy economic sanctions on Russia, the world's largest producer of natural and a major oil exporter, following reports that military intelligence linked the country to having some responsibility in the downed Malaysia Airlines flight that crashed two weeks ago in eastern Ukraine. Additionally, the European Court of Human Rights may levy another ruling against Russia on the Yukos issue.
The price of Brent crude is expected to rise as the court's decisions put a strain on Russian oil exports.
"It's going to be hard to keep a moral high ground in terms of doing business with Russia," Francisco Blanch, global head of commodities research at Bank of America-Merrill Lynch, said last week in an interview. "Which means that Russia's long-term supply profile five years down the line is going to look worse than we expected."
Brent may see additional pressure from Libya, where the United States just pulled its American Embassy's staff amid rising clashes between militants and government forces.
"Oil prices were moderating on hopes that Libyan oil production and exports would come back but that now seems iffy," Phil Flynn, senior market analyst at PRICE Futures Group, wrote Monday in a note to clients.
-- Written by Joe Deaux in New York.
>Contact by Email.