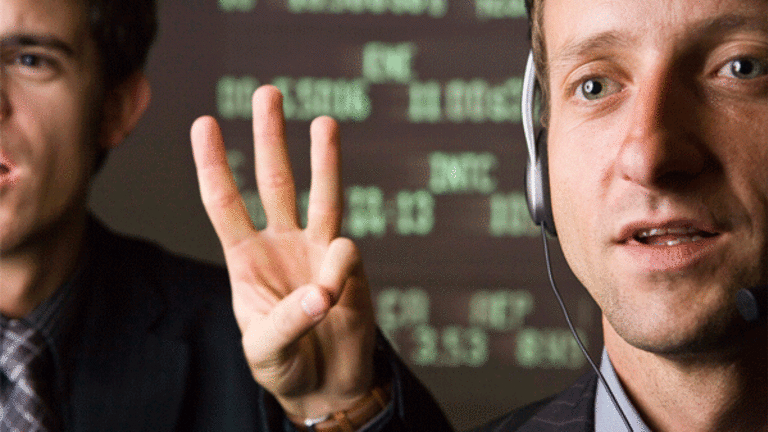 Wheat, Rice Prices Rise as Countries Stock Up
Wheat led the gains in grain prices Wednesday after a major purchase by Algeria's state grain-buying unit.
NEW YORK (
) -- Wheat and rice prices rose Wednesday as Algeria and Indonesia stocked up respectively amid recent unrest worldwide over rising food prices.
Jim Gerlach, president of A/C Trading, describes the large grain purchase as an instance of artificial demand -- that is, demand that's being put away for another day yet reduces the overall all grain supply.
"Globally we're at a point where you cannot have these global sovereign nations stocking up, or hoarding, without causing supply disruptions," A/C Trading president Jim Gerlach warned.
On Wednesday, Algeria bought 800,000 metric tons of wheat, or three months of demand, compared with its purchase of up to 600,000 metric tons of wheat several weeks ago.
This comes as emerging markets, especially in the Middle East and North Africa, grapple with food riots amid rising food and energy costs. The recent riots began in Tunisia and have spread to Algeria and Egypt. There have been rumors that Morocco may soon be facing riots as well, and that they could continue spreading eastward to India, Pakistan, Bangladesh and China.
"This seems to be more grass roots in terms of the impoverished," taking a stand, AgResource president Dan Basse commented.
Wheat futures for March delivery ended up 18.5 cents to $8.56 1/4 a bushel. Corn for March delivery closed at $6.57 1/6 a bushel, up 13 1/6 cents. Soybean futures for March delivery rose 11 cents to $13.85 1/4 a bushel. March rice futures were 44.5 cents higher to $15.20 per 100 pounds, as Indonesia purchased 800,000 tons of rice from Thailand, according to Basse. He said this was an example of governments reacting to the unrest in North Africa and the Middle East.
"The possibility of other countries coming forward to bolster their food reserves really got the market going," Basse remarked. He said the food unrest has been a major flashpoint in the grain market.
Currently, the market expects Egypt's grain-buying unit to tender for wheat this week even though the unit's already said that it has a six-month supply of the grain, Gerlach noted. Egypt this week was the scene of massive protests against the government of Hosni Mubarak.
Food riot contagion fears have been prevalent.
Food stocks ended Wednesday trading session mixed.
China Marine Food Group
(CMFO)
fell 1% to $4.14 and
AgFeed Industries
( FEED) rose 2% to $2.59 as
American Lorain
undefined
advanced 1.9% to $2.69.
Yongye International
(YONG)
gained 0.5% to $7.40 as
Yuhe International
(YUII)
lost 2.3% to $9.24.
China Nutrifruit
(CNGL)
surrendered 3.5% to $2.78 and
Cosan
(CZZ)
fell 1.4% to $13.11.
>>Search for Highest Dividends by Rate or Yield
-- Written by Andrea Tse in New York.
>To contact the writer of this article, click here:
Andrea Tse
.
>To follow the writer on Twitter, go to
.
>To submit a news tip, send an email to:
.
Copyright 2010 TheStreet.com Inc. All rights reserved. This material may not be published, broadcast, rewritten, or redistributed.