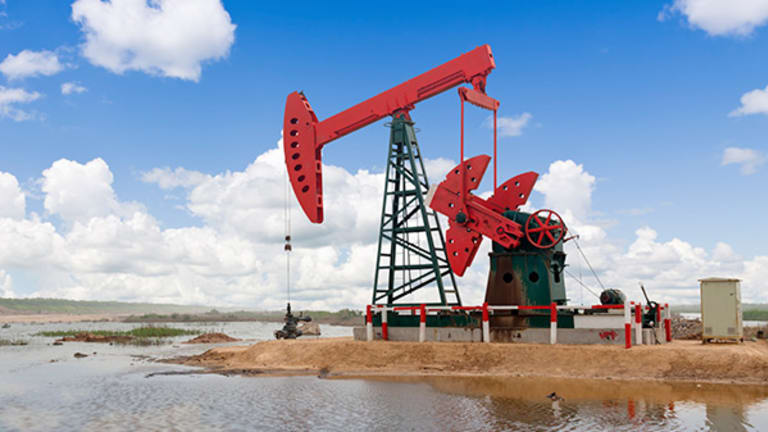 Volatility Returns to the Crude Oil Futures Market as Inventory Levels Dip
As investors waited for reports on the amount of crude inventories in the U.S. and a potential Middle East production freeze, volatility returned to the crude oil futures market.
Volatility returned to the crude oil futures market as investors waited for reports this week on the amount of crude inventories in the U.S. and a potential production freeze in the Middle East.
Crude oil prices declined again on Wednesday after the Energy Information Administration released data demonstrating that inventories for crude oil dipped for a fourth consecutive week and declined by 1.9 million barrels. Iran's rejection of a production freeze this week also played a factor.
"Since crude oil futures (CL) can be a volatile product, retail investors need to be aware of when key figures are coming out such as the inventory data before they make a trade," said J.B. Mackenzie, director of futures and forex of TD Ameritrade, an Omaha, Neb.-based online broker.
Trading crude oil futures can be more challenging than other assets, because it has larger intraday moves, such as when prices reached a high of $46.53 per barrel early on September 23, but dipped later to a low of $44.31 toward the end of the session on September 23, he said. On September 27, there was additional volatility when the market opened at $45.80 per barrel and then reached a low of $44.27 just after OPEC announced they could not reach a consensus between Saudi Arabia and Iran for decreasing output and then closed the  session that day at $44.67 he said.
"Investors should be cognizant about data coming out and make sure they have included these values in their risk plan so when the market reacts, they will be prepared," Mackenzie said.
While the crude oil market has experienced periods of little volatility, investors need to be aware of the leverage involved, said Elaine Levin, president of Powerhouse, a Washington, D.C.-based futures brokerage firm specializing in energy. A margin requirement is the minimum amount that must be kept in a futures account while holding the position. If market movement occurs such as the price of oil dropping and brings the cash balance below the required margin amount, the investor will have add more funds to continue holding the position or what is known as a margin call.
"Future products were built for businesses and are extremely leveraged," she said. "Currently, the Exchange's initial margin for crude oil futures is less than 10% of the value of crude."
As crude oil prices remain range bound, traders must look for confirmations of strength and "buy in a rising market," Levin said.
"This market has been very complacent on either side of the $45 level," she said. "Trading has been pretty sideways and the support level would be $42, but we need a move of over $52 for the inverse head and shoulders pattern to be complete."
Retail futures investors need to be patient and wait for signals in the market, which can be difficult to spot when prices continue to trade within a tight range, Levin said.
"Investors should wait for a breakout one way or another," she said. "You need a reason to trade and don't trade for trading's sake when we are not in an exciting market."
Since crude oil is a large and robust market, the amount of liquidity is high and not thin compared to other commodities.
"It is an important market for the economy and liquidity is a trader's friend," Levin said.
Crude oil is the second most traded futures contract at TD Ameritrade, mirroring the trends seen at the Chicago Mercantile Exchange. The number of average retail investors who began to watch it closely or trade it rose as crude oil prices broke the $50 plateau in October 2015, a critical price point.
Making money from speculative trades on crude oil futures can be challenging. While oil has rebounded from its record lows and a 70% decline, last June it was trading at a high of $61 per barrel of oil, but in February it had weakened to a low of $26, said Mackenzie.
While oil futures are not more volatile than other asset classes, the probability for it to rise or decline even within a 24-hour period can be higher than purchasing investments such as an E-Mini S&P 500 (ES), he said. Even a $0.50 move in prices can be expensive since one crude oil futures contract is equal to 1,000 barrels of oil and has a margin requirement of $4,000.
The contract specifications of oil futures are not identical to equities, because despite trading in penny increments like equities, the value of that $0.01 move is not the same.  "However, having the ability to react to market news by accessing futures almost 24 hours a day is a huge advantage over equities," he said.
"Most people have a comfort level with crude oil futures and they feel like they understand the product," Mackenzie said. "However, in crude futures, a penny change is valued at $10, so it is important that investors define their risk thresholds prior to entering a trade."
Purchasing oil futures gives investors the ability to "immediately place a hedge which is a huge advantage over equities," he said. "It gives you the true market price of crude oil versus buying energy ETFs or other products."
"Crude oil futures are also very capital efficient and a single futures contract has a notional value of $50,000," Mackenzie said. "Otherwise, you would have to buy 4,000 shares of iPath S&P GSCI Crude Oil Total Return (OIL) - Get iPath Pure Beta Crude Oil ETN Report ."
Futures trading is the most effective and efficient way for retail investors to trade commodities since commodity ETFs or tracking stocks have tracking errors with the underlying commodity prices, said K.C. Ma, a CFA and director of the Roland George investments program at Stetson University in Deland, Fla.
Brent crude oil November futures sank $1.76 or 3.69% on Sept. 23 to settle at $45.89 a barrel on the ICE Exchange in London. By Sept. 26, the same contract rallied to $48.26, the highest since September after Saudi Arabia reportedly agreed to trim its production if Iran caps its own output. Crude oil prices tanked again that afternoon after another report quoted another Saudi official, cautioning not to expect a deal since the meeting would be more informational than decisions. On September 28, the last day of the OPEC meeting, the futures prices dropped to $44.50.
The volatility in prices can make it "virtually impossible for anyone to trade oil futures," he said.