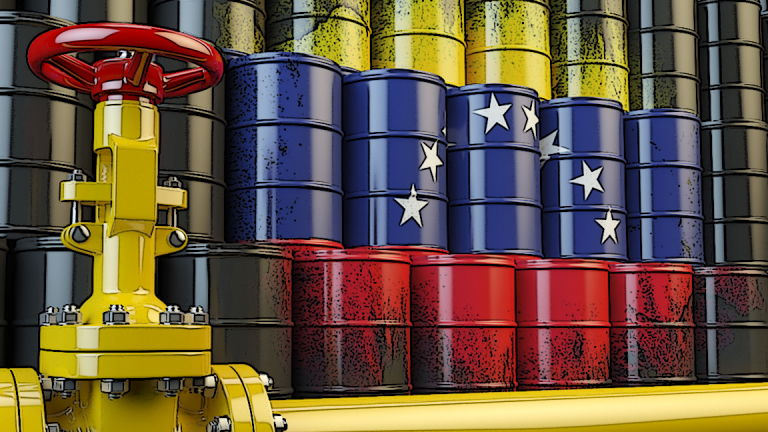 Venezuela to Launch Oil-Backed Cryptocurrency
The launch of a sovereign cryptocurrency could bypass U.S.-led financial sanctions.
Venezuela's President Nicolas Maduro has announced the launch of a sovereign cryptocurrency "petro" which could bypass the U.S.-led financial sanctions, according to a market commentator.
It is no surprise that digital currencies have become more popular as reports have been emerging that Venezuela's economic crisis is triggering increased use of Bitcoin due to its currency -- the bolivar -- plunging in value. 
Earlier this year, U.S. President Donald Trump's administration signed an executive order that prohibits dealings in new debt from the Venezuelan government or its state oil company. 
According to Reuters, the cryptocurrency announcement was made on Sunday, Dec. 3, in a televised broadcast by Maduro who said that Venezuela would create a cryptocurrency, backed by oil, gas, gold and diamond reserves. 
David Coker, a lecturer in accounting, finance, and governance at Westminster Business School and former vice president of global risk management at Deutsche Bank, said Venezuela's president Nicolas announcing the launch of a sovereign cryptocurrency could bypass U.S.-led financial sanctions.
Coker said: "The Maduro regime's announcement of the 'Petro,' a sovereign cryptocurrency, seems more of a distraction than a solid policy proposal. Bitcoin and other cryptocurrencies thrive because they are free of government control. In other words, the value of each Bitcoin is determined by forces largely outside the remit of any single government. One of the cryptocurrency's fundamental design principles is the idea that no entity can arbitrarily increase the supply of Bitcoin and thus dilute its value. Backing this government-sponsored cryptocurrency by a basket of commodities is no guarantee of value either because the Maduro regime can alter the formula at any time."
One thing to note is that in Maduro's cryptocurrency plan, there is no mention of convertibility.
Coker explained: "Generally, currencies backed by commodities may be exchanged for the underlying assets, in this case, oil, gold, and diamonds. So, will the Maduro regime allow holders of the Petro to exchange their virtual currency for real assets? Presently convertibility is not clear. But what is clear is that this proposal seems more intended to distract rather than solve Venezuela's pressing domestic problems."
He concluded that even if the "petro" does launch, there is no fundamental reason to hold the currency except as a tool of outright speculation.
More of What's Trending on TheStreet: