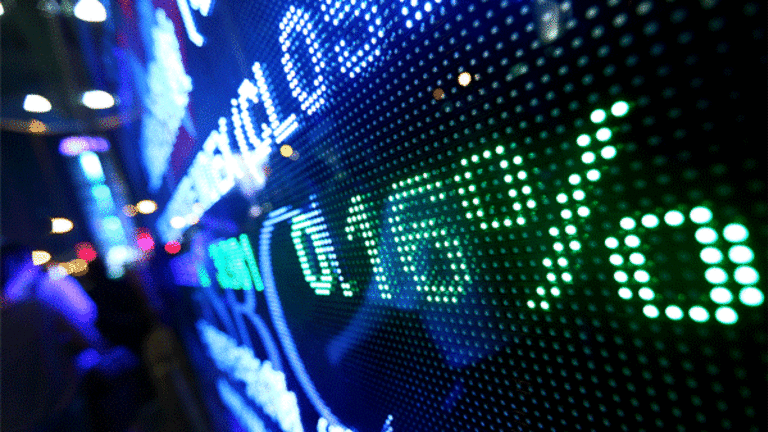 Coal Glows, Bonds Rise: Market Bits
Coal prices remain strong, while Treasuries rise and the dollar trades in mixed directions.

NEW YORK (TheStreet) -- Coal prices have been climbing, according to ANZ Global Markets Commodity Research analyst Natalie Robertson.
Xstrata
and
Chugoku Electric
have settled on an annual coal contract for the Japanese fiscal year starting April 1, at a record level between $129.5 to $129.85 a ton. That's below some market expectations of $140 a ton, but consistent with ANZ's forecasts.
The contract is 32% higher than the previous year's prices, and exceeds the 2008 record of $125 a ton, according to the analyst. The price is also $10 above current Australian spot prices of about $120 a ton, according to Robertson.Negotiations between Xstrata and Japanese utilities providers were delayed after the earthquake in Japan, the analyst said.
Meanwhile, Queensland's coal production has fallen 30 million tons, or 15% of annual production due to summer flooding, the Queensland Resources Council reported, and a derailment in South Africa's Transnet rail line to Richards Bay Coal Terminal has lost around 500 kilotons (kt) of export coal, according to initial market predictions, Robertson says.
The analyst notes that state-owned Indian Railways has levied a busy season charge of 5% for coal and coke transport and that China is expected to raise power prices this year due to rising coal costs.
Coal stocks were trading mixed Monday afternoon.
Massey Energy
( MEE) was rising 1% to $69.95,
Westmoreland Coal
(WLB)
was gaining 2% to $15.26 and
International Coal
( ICO) was falling 2.1% to $11.15.
U.S. Treasury bonds were rising as the
Federal Reserve
bought back $8.03 billion of Treasuries maturing between 2016 and 2018.
The two-year note was rising 3/32, pushing the yield down to 0.758%; the 10-year note was up 12/32, lowering the yield to 3.407%; and the 30-year bond was rising 12/32, pushing the yield down to 4.465%.
Treasuries were also rising amid cautious rhetoric from Atlanta Fed President Dennis Lockhart, who was speaking at a conference in Florida. While Lockhart noted the economic recovery, he also cautioned that there are still underlying problems that need to be resolved.
Deutsche Telekom
,
General Electric's
(GE) - Get Report
GE Capital,
Hormel Foods
( HMR) and
Raymond James
(RJF) - Get Report
are among companies that are expected to issue high-grade bond sales this week, according to
Reuters.
The U.S. dollar was gaining 0.1% against the euro at EUR 0.70330, down 0.1% against the Japanese currency at 83.962 yen and flat against the British pound at GBP 0.62025 after Lockhart sounded cautious optimism about the U.S. economic recovery -- dampening predictions of monetary tightening in the U.S.
PowerShares DB US Dollar Index Bearish
(UDN) - Get Report
was flat at $28.16.
(Published at 12:26 pm EDT)
May copper futures were flat at $4.26 a pound as metals advanced on stronger battery demand and investors digested mixed news on the copper supply-demand front.
Mitsubishi
said it will accelerate lead production by 16% in the April-to-September period to meet increasing demand for batteries following the country's massive earthquake and tsunami.
Also supporting copper was news that Hong Kong-based nonferrous metals trader
Minmetals Resources
was launching a $6.5 billion hostile bid for copper mining and exploration company
Equinox Minerals
(EQXMF)
. If the transaction succeeds, Minmetals would be in control of Africa's largest copper mine.
Possible supply concerns have hit the markets, with
Sumitomo Metal Mining
estimating that copper output will decline by 24% to 155kt (kilotons) between April 1 and Sept. 30 from the previous six months as it begins factory maintenance in September. At the same time, producer
Southern Copper
(SCCO) - Get Report
predicts that output will shoot up 33% to 600kt in 2011 after its Buenavista mine in Mexico restarts following a two-year strike. The Collahuasi copper mine in Chile has removed a force majeure on exports, enforced after an accident in December.
This comes as automakers
Honda
(HMC) - Get Report
and
Mazda
said they will restart production in Japan after suspending operations on March 11. Copper is widely used by automakers for tubing and wiring.
Natural gas for May delivery was falling 0.3% to $4.35 per million British thermal units as weather forecasters predict more normal or warmer weather in the eastern U.S. over the next two weeks.
"The heat that was in the West finally plods over to the East Coast by next Thursday, breaking up the cold snap in all but the northernmost parts of New England," a Gelber Natural Gas report stated.
The public relations damage done to the nuclear power industry amid Japan's nuclear crisis has offered natural gas some support.
According to UBS, a move away from nuclear power would be to the advantage of natural gas producers such as
Woodside Petroleum
(WOPEY)
and
OAO Gazprom
.
(Published at 10:30 am EDT)
Raw sugar for May delivery was rising 1.9% to 27.97 cents a pound amid news of higher sugar output, offset by predictions of higher ethanol demand.
India's sugar output rose about 23% at 20.5 million tons during the first half of the 2010 to 2011 production period, while Brazil's sugar harvest is expected to be plentiful.
Still, PFG Best analyst Robin Rosenberg says if high energy prices persist, the Brazilian government will direct a larger than usual amount of sugar to ethanol production.
"If that turns out to be the case, expect firm sugar prices to continue," he said.
Sugar processor
Imperial Sugar
( IPSU) was falling 0.5% to $13.30 Monday and ethanol producer
Pacific Ethanol
(PEIX) - Get Report
was falling 1.7% to 61 cents.
Corn for May delivery was rising 1.7% to $7.48 ½ a bushel on tight supply concerns.
Last week, the U.S. Department of Agriculture said corn stocks dropped 15% from a year ago to 6.52 billion bushels on March 1.
The "USDA hangover continues to support corn market as funds rebuild long positions that had been liquidating leading to
the report," said a Benson Quinn Commodities report.
Corn processor
Corn Products
( CPO) was falling 1.4% to $51.92 and grains transporter
Archer Daniels Midland
(ADM) - Get Report
was rising 0.4% to $36.61.
Cocoa for May delivery was up 0.2% to $3,016 a metric ton as the world's leading supplier continues to battle political strife.
The battle over main Ivory Coast city Abidjan persists for the fifth straight day, with fighters favoring President-elect Alassane Ouattara gaining control.
The Ivory Coast continues to be embroiled in political turmoil. The conflict involves Laurent Gbagbo, a 10-year incumbent who refuses to step down, and Alassane Ouattara, who declared victory during the country's 2010 presidential elections, and wants Gbagbo to formally resign.
Food companies with significant cocoa exposure were trading mixed.
Kraft Foods
( KFT) was falling 0.1% to $31.57 and
Hershey
(HSY) - Get Report
was rising 0.1% to $54.37.
Coffee for May delivery was flat at $2.597 a pound even amid tight supplies in the short term as coffee producers wrestle with high energy prices.
"Tight supplies could give way to massive producer selling if coffee prices head lower," PFG Best's Rosenberg warned.
Overall, demand hasn't shown any significant signs of waning even as producers pass on their costs.
"Of interest is the fact that the coffee market doesn't seem to care," said Rosenberg of the higher prices. The analyst said coffee traders have shipped close to 200,000 tonnes of Robusta Coffee to Europe from Vietnam recently.
Coffee chain
Starbucks
(SBUX) - Get Report
was flat at $37.22 on Monday.
>>Search for Highest Dividends by Rate or Yield
-- Written by Andrea Tse in New York.
>To contact the writer of this article, click here:
Andrea Tse
.
>To follow the writer on Twitter, go to
.
>To submit a news tip, send an email to:
.
Copyright 2011 TheStreet.com Inc. All rights reserved. This material may not be published, broadcast, rewritten, or redistributed.