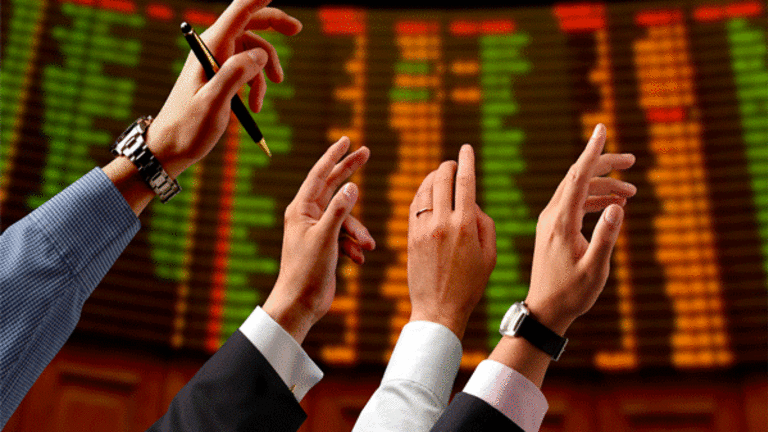 Struggling Silver Standard a Prime Takeover Target
Despite production snafus, rising cash costs and high inflation, Silver Standard might the best takeout candidate in the silver space.
NEW YORK (
) --
Silver Standard Resources
(SSRI)
might be the best takeout target in the silver space, says Credit Suisse.
The firm, which has a neutral rating on the stock, says the company possesses a strong "platform for future growth and mine building through a pipeline of projects in Argentina, Peru, Mexico, Chile, the U.S. and Australia as it transitions from explorer to producer." But that transition isn't without its set of growing pains.
The company recently lowered 2011 production targets to 7.3 to 7.6 million ounces of silver from 8.5 million ounces due to a gearbox failure at its only operational mine, Priquitas in Argentina.
"It's a one-off event," reassures CEO John Smith. Silver Standard had been dealing with two second hand pieces of equipment -- a crusher, which was replaced in the first quarter, and gearbox in the ball mill. Although the process plant is working, the ball mill won't restart until mid-October/November once the company gets a new gearbox. "We are going to have to manage the situation until we see those parts."
Vote: How High Will Silver Prices Go in 2011?
The result is lower production and higher cash costs for the year. "It's not fundamental, it's only reflecting the situation we have over the next couple of months," says Smith. BMO Research, which has an outperform rating on shares, says the news would have a negative impact for 2011 earnings.
Total production cash costs are already $25 per ounce of silver, consistent but high. Smith says the company tries to offset the cost by producing more silver, a tactic that got derailed this month when the gearbox failed. Updated cash costs will be released in November.
Smith is hoping to secure long term contracts with smelters and refiners to lock in costs and help control expenses. "Our team at Priquitas went away 6 weeks ago and had a whole cost session and effectively identified about half a million cost per month that they can take out of their basic cost structure."
Deutsche Bank says any new contracts with smelters could result in better 2012 rates and the company's net cash position could improve by 3% to $318 million despite increased capital expenditures. The firm is forecasting higher cash costs in 2013, however, as the company will have less by-products to mine.
Another cost challenge is rampant inflation in Argentina, officially at 15%, but Smith argues it's nearly double that. Smith hopes that the presidential and legislative elections on October 23rd will usher in new leadership to tackle this problem.
Silver Standard is also a one mine wonder that has the capacity to produce an average of approximately 8 to 10 million ounces of silver a year, but it's hard for a company's fortunes to be tied to the success or failure of one operation.
The miner has 15 projects in the pipeline, but it will take until 2015 for Smith to think of Silver Standard as a full-blown production company. "We have to get diversity in our portfolio." Smith is concentrating efforts Mexico at its Pitarrilla mine in addition to other development projects in Peru and Argentina.
"It's important that through these stages we do not make a mistake," says Smith which means investors can forget about any dividend until 2015.
"I'd love to be in a position to pay a dividend to shareholders but I think you have to look at where we are as a company in terms of maturity. We are really stepping out from being an exploration company with one of the best exploration portfolios in the industry ... my job ... is to build us into a full spectrum mining company." Smith is reinvesting all the company's money into mining not into appeasing shareholders, despite the fact that shares have tanked 26% for the year while
are relatively flat.
Once Silver Standard is running at full capacity, Smith will look at a dividend option and said he is paying close attention to those payouts that are tied to the silver price, that is unless another company snatches up the miner first.
Related Articles:
Do Gold Prices Have Room to Rise?
--
Written by Alix Steel in
New York.
>To contact the writer of this article, click here:
Alix Steel
.
Disclosure: TheStreet's editorial policy prohibits staff editors and reporters from holding positions in any individual stocks.