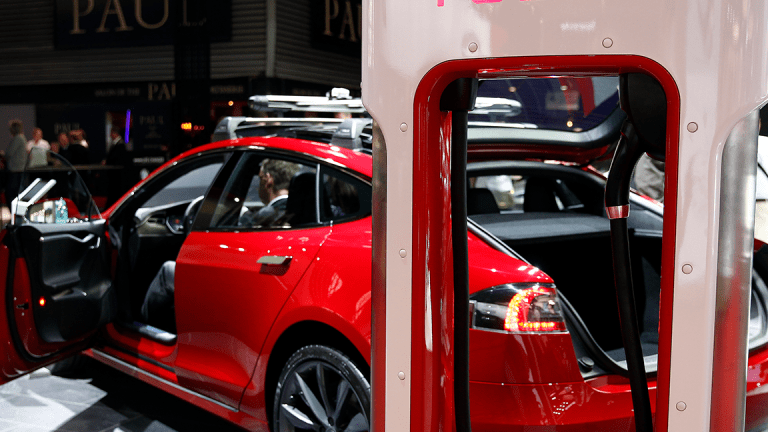 Soaring Nickel Prices Could Be Bad News for Electric Carmakers Like Tesla
Nickel prices have rallied to a three-year high this week.
Nickel prices have known just one direction in the last week: up.
The metal jumped to its highest price since December 2014 in trading Thursday, April 19, rallying more than $1,790, or 12.9%, to $15,749 per metric ton. Prices reached as high as $16,690 earlier in the session.
The massive gains came amid sustained concerns that the nickel market, like the aluminum market, may face a supply shortage if the industry becomes the target of U.S. sanctions against Russia. Traders have expressed concern that Russian nickel producer Norilsk Nickel could soon be included in the sanctions, which have targeted Russian oligarchs and their businesses.
The concerns were magnified by the fact that Russian business magnate Oleg Deripaska owns about 25% of Norilsk Nickel, the second-largest nickel producer in the world. In sanctions announced April 6, the U.S. targeted Deripaska, who also owns Russian aluminum producer United Co. Rusal, which produces about 6% of the world's aluminum.
Under the sanctions, Deripaska is essentially blocked from transaction using the U.S. dollar, which is the de facto currency of the commodities market. Rusal already has taken a hit, as aluminum prices have risen about 20% since the sanctions were announced on concerns of a shortage. Nickel prices have followed suit with traders worried Norilsk could be next to face supply issues.
Rising nickel prices and a possible supply shortage in the $20 billion industry could represent a significant problem for electric carmakers including Tesla Inc. (TSLA) - Get Tesla Inc. Report . That's because nickel is an integral part of the batteries in electric vehicles.
Electric cars use lithium-ion batteries, which contain high-grade nickel sulfate, to help keep a charge over longer distances. Lithium-ion batteries are in electric models from Tesla's high-end Model X to General Motors Co.'s  (GM) - Get General Motors Company Report Chevrolet Bolt and Nissan Motors'  (NSANF) Leaf.
But lithium-ion batteries exclusively use high-grade nickel, which is only about half of the world's supply of the metal. Among the biggest high-grade nickel producers in the high-grade market already facing supply constraints? Norilsk Nickel.
The problems could get worse from there, too. According to Glencore PLC  (GLNCY) , there are about 40 kilograms of nickel in the average electric car battery pack. To keep up with booming demand for electric vehicles, nickel supply will have to grow 55% by 2030.
According to North America Nickel, electric car lithium-ion batteries of the future will rely even more on nickel than those today do. The typical battery makeup is expected to grow to nearly 80% nickel in 2020 from about 33.3% in 2017.
"Many of the factors that impact our manufacturing costs are beyond our control, such as potential increases in the costs of our materials and components, such as lithium, nickel, and other components of our battery cells or aluminum used to produce body panels," Tesla wrote in its most recent annual report. "If we are unable to continue to control and reduce our manufacturing costs, our operating results, business and prospects will be harmed."
As the cost of nickel mounts globally, already cash-strapped Tesla could be in for a bumpy ride.