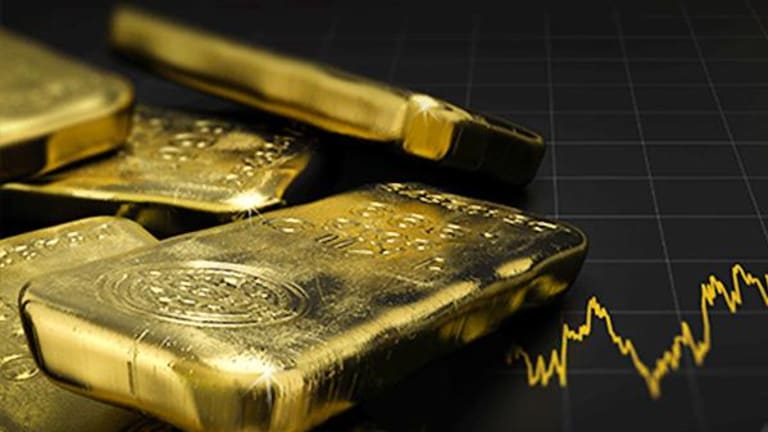 'Sell in May and Go Away' Won't Work for Gold
Maybe those who exit stocks should buy the precious metal instead.
The old saying "Sell in May and Go Away" might work great for stocks, but it's not the wisest choice when it comes to gold this year. I think holding gold here is not only prudent, but might be quite profitable.
It's true that gold prices broke down over the past week from the $1,250s to the $1,210s. And while we rebounded into the $1,220s Wednesday, I think gold will fall further to around $1,200 an ounce over the next week or so and hang out there for a while.
But to me, that's just a big buying opportunity. I wrote last month that investors should buy gold on dips, and prices have gone lower than I thought. But my assessment is that gold's fundamental case remains solidly intact, and I anticipate additional gains as 2017's second half approaches.
I think gold's chief drivers going forward will be global trade wars, growing geopolitical stress, global debt concerns and central-bank policies regarding money creation and currency valuation targets. With gold prices also moving higher in dollar terms as dollar/gold catches up with the metal's price relative to other major currencies, I think gold has a firm bid in place above the $1,257-an-ounce level.
Physical gold also saw strong demand during the first quarter in the metal's largest buyers' markets: China, Russia and India. Additionally, individual investors made a robust move into gold during the period. Strong demand for physical gold has picked up throughout Europe, particularly in the United Kingdom, where mint sales surged 20% in the first quarter.
And to me, the case for an alternative financial asset free of counterparty risk only grows stronger as U.S. stocks' bull market stretches into its eighth year. Physical gold is the only tangible, liquid, non-financial asset that is universally recognized and accepted as insurance against portfolio risk.
So, my view is that if you're going to "sell in May and go away" from stocks, perhaps you should allocation some of your proceeds to gold. After all, the time to buy "portfolio insurance" is while the cost is still low. The demand (and price) for such protection always increases after a crisis -- not before.
(This column originally ran on May 1, but has been updated with new information.)
Sell in May and Go Away:
At the time of publication, Williams was long physical gold, although positions may change at any time.