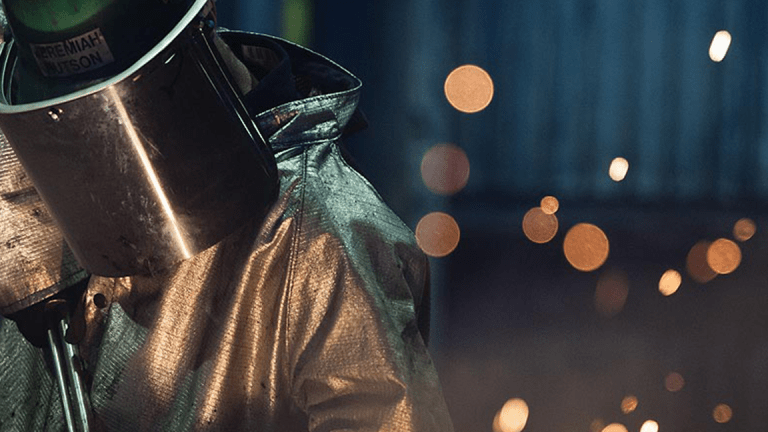 One of the World's Rarest Metals Is Having Its Best Price Run in a Decade
With all eyes on gold getting back to the $1,300 level and talk of bitcoin headed towards $10,000, people may have overlooked rhodium.
With all eyes on gold getting back to the $1,300 level and talk of bitcoin headed towards $10,000, investors might have forgotten that there is one commodity that has already achieved this feat.
Back in 2008, rhodium - the lesser talked about metal of the platinum metals space (PGMs) - reached $10,000 on the back of an electricity crunch in South Africa, the largest producer of the metal.
The metal eventually came way back to below $1,000 an ounce and has acted as a sitting duck for much of the time, until now.
On Friday, spot rhodium rallied $40 and hit $1,200 an ounce, more than doubling its gains since the start of the year. The rare metal is up nearly 70% year-to-date or $485 an ounce, with prices rebounding from lows of $575 last seen in July 2016.
Because the market is so small compared to the other metals, rhodium's moves can be drastic and volatile, explained metals expert, Peter Hug, global trading director for Kitco Metals. From 2003-2008, the metal surged almost 23-fold when it hit that record $10,000.
For those wondering rhodium who? The metal is primarily used in catalytic converters of cars which helps with emission controls.
On average, South Africa produces 86% of the global supply. In 2008, due to a slew of issues with the country's electricity supply, it affected the mining industry and caused a spike in the price of PGMs. Platinum went from $1700 to $2100, palladium rallied from $390 to $560, and rhodium hit a whopping $10,000 an ounce.
So why is no one talking about rhodium's recent rally?
It simply has to do with a lack of knowledge, said Hug.
"It traded all the way down to $650 in December 2016 which was a screaming buy. It was begging to be bought with car sales headed higher. I just think people don't have enough knowledge on the market and are nervous buying something they are not familiar with."
And what's behind the current momentum for rhodium?
"There are a number of things that have been added to the demand side of the rhodium equation since 2008," Hug explained. The metal has seen two new electronic traded products (ETPs) emerge, both by Deutsche Bank and Standard Bank Group Ltd., Hug explained.
"So you have investor interest which is taking some supply off the market which was not available in 2008. And if you look at the jargon coming out of the European Union, they are looking at a global recovery here. That is going to continue to create demand for cars and rhodium is a very difficult metal to mine. So you are seeing industrial demand added to the ETF demand and there is not enough supply."
The presence of strict regulation norms regarding emissions in various developed countries including the U.S., and the U.K. is also expected to fuel the metal's demand.
While Hug is hesitant about calling $10,000 again for rhodium he noted that a continued rally is not out of the question. "If these global economies are on track to start generating some significant growth, a $2,000 or $2,500 print is certainly within the realm of possibilities."
More of What's Trending on TheStreet:
Mom Was a Harley Rider ('70's), I Ride Today ('17), Will my Girls Ride Tomorrow?
This article is commentary by an independent contributor. At the time of publication, the author held TK positions in the stocks mentioned.