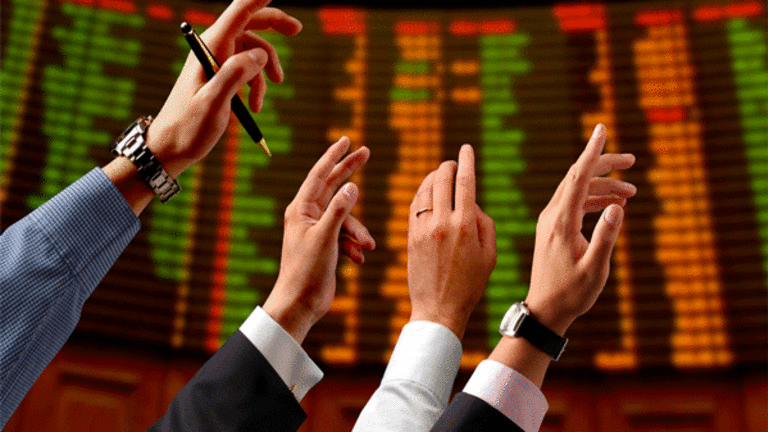 Putting Mines Over What Matters
Fund manager Graham French says some mining companies value size over shareholders.
There are a lot words that can be used to describe mining companies, but "silly" usually isn't one of them.
But Graham French, portfolio manager of the
(VGPMX) - Get Vanguard Global Capital Cycles Inv Report
Vanguard Precious Metals and Mining fund (VGPMX), says that "silliness" is creeping into the mining industry as cash-flush metal companies start on a quest of "big for big's sake."
He identifies copper producer
Phelps Dodge
( PD) and zinc miner
Teck Cominco
(TCK)
as poster children for shareholder disregard as both companies engaged in a frenzied summer bidding war for nickel producer
Inco
(N)
.
French refuses to buy stock in Phelps and Teck, since he believes that the companies have placed size over shareholders. He also fears that continued boom times in the sector could lead to wasteful company cultures and maybe even "corporate-jet land," where "every director thinks they should fly in the corporate jet."
French's fund boasts an annualized five-year return of 36.6% and Morningstar's
only
overall five star rating for specialty precious-metals funds.
The bad news is that Vanguard closed the doors to new investors in February, putting a halt to the $20 million to $25 million a day that was pouring into the fund, which now tops $3.4 billion.
The good news is that French gave
TheStreet.com
some useful investing tips when we spoke with him recently.
TheStreet.com
:
What are the top holdings in your fund?
French
:
Rio Tinto
( RTP),
8%,
Lonmin
,
8%,
Impala Platinum
,
7%,
Aber Diamonds
,
7%,
Meridian Gold
( MDG),
5.5%, and
Barrick Gold
(ABX)
,
5%.
About 50% of the fund is in gold and precious metals and 50% in other minerals. (In addition, French is not allowed to go short and avoids actively trading stocks, keeping turnover to 25%.)
Why such a big stake in Rio Tinto?
It's hugely diversified, very well managed and probably has the best assets in the mining industry. They are a low-cost and large-scale producer. The stock pays a wonderful dividend, is unhedged, has an extremely strong balance sheet and huge operating cash flow.
It's everything you want in a company, even though it's in mining. We give it a dollar and it gives us 15 cents a year.
Why Meridian?
What I like in this company is its operations in Chile and its tremendous exploration upside. They only explore in Chile within the areas they know. On top of which, their producing mines are extremely low cost and generate an awful lot of free cash.
And the management is very focused on shareholders, which the gold industry sometimes forgets.
Some investors would say that sounds like the opposite of Phelps Dodge
.
As a long-term investor, I fear that mining companies need always to remember that the game is about returns and not about size. Being big for big's sake is not what my
investors require.
We don't own Phelps Dodge, and it's one of the few we don't own for that very reason. Their decision to enter a bidding war was not the right one for investors. We don't own Teck for same reason.
We owned CVRD
(RIO) - Get Rio Tinto plc Sponsored ADR Report
another bidder in the nickel mania, and sold it three months ago,
because it looked too pricey.
There has been a lot of success in the mining business lately. Are managers letting it go to their head?
I think that's a fantastic comment. For the first five years of the cycle
since 2000, miners were prudent. There was very little mergers and acquisitions silliness. I believe this year you're beginning to see the first evidence of corporate silliness.
Take Falconbridge
which was recently acquired by Swiss miner
Xstrata
: It's the same as it was three years ago. And people are now prepared to pay five times what it was worth then.
Falconbridge stock traded at $10 in August 2003 and traded at $55 when it was delisted earlier this month.
Eventually you'll get into "corporate-jet land" when every director thinks that they should fly in the corporate jet. We're not there yet. But a certain silliness is creeping in. That's when capital is wasted.
Do you seek out companies that could be likely takeover targets?
The key is to buy companies that have good assets that are undervalued because one day other people will see what we see. We don't buy on EBITDA or P/E. Instead, we ask, "What would we pay for that company?"
What should investors in mining stocks look for and what should they avoid?
Look at geology and have an understanding of the geology. It's not easy to learn geology. Most people didn't understand the Internet.
And we all know what happened there!
With a small, new speculative company, it is all to do with the geology and is not to do with the financial earnings.
What's your view of the gold price?
We have said that the gold price should be at $500 an ounce. If you have a good project in a nice part of the world, you should be making 20% to 25% gross margin. At $700, which we saw recently, even if you have a bad project in a nasty part of the world, you are still making 20% to 25%. It means a lot of gold will be found and sold.