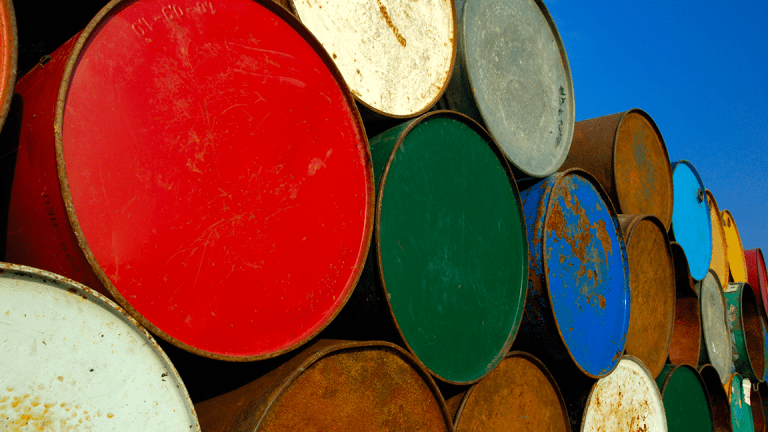 Has OPEC Finally Grown Up?
Oil prices are up, but not by much, following OPEC and Russia's well managed production cut announcement.
Has OPEC finally grown up?
The oil cartel's announcement, alongside Russia, of an agreement to extend production cuts until the end of 2018, with the caveat of a review to begin in June, suggests it might have.
However, it wasn't the Thursday agreement itself, but rather the way in which it was delivered, that may have truly impressed the markets: a well flagged deal, hinted at over the weeks prior to the Vienna meeting, couched in language that makes clear its intent and sets limits on its application. In fact, in many ways, it was all slightly reminiscent of a well managed Federal Reserve announcement. 
OPEC and Russia's success was evidenced by Friday's oil prices. Brent crude was up a modest 0.69% to $63.06. U.S. benchmark West Texas Intermediate also climbed, gaining 0.6% to $57.57. The gains while significant suggest that the announcement was largely priced into the oil market - as any well managed deal should have been. 
OPEC even delivered the Fed's favourite trick of a token gift to the market, in the inclusion of Libya and Nigeria in the deal, and back-ended the agreement with a healthy dose of expectation management.
Goldman Sachs was impressed. "Perhaps more important (than the agreement) is (the) relatively benign messaging around bringing volumes back, with the Saudi minister commenting that it was "premature" to talk about an end to the cuts, that they wouldn't discuss the exit strategy before 3Q18 and that any exit will be 'very gradual' and 'very thoughtful'," Goldman noted.
All of those carefully chosen words would still mean little had it not been for recent evidence that OPEC has learned the admirably mature habit of doing what it says it will.
It is worth remembering that prior to the implementation of the oil production caps in January most analysts were tipping compliance with the cuts of about 60% to 70% - in line with OPEC's historic record of delivering on output reductions. Yet within months of the cooperation deal coming into force its signatories were delivering on about 90% of their promises. By the second half of this year Russia and OPEC were over delivering as output cuts surpassed the target reduction of 1.8 million barrels per day.
How to explain this new found discipline?
Some of it is down to structural factors. Iraq, ravaged by war, and Iran, still recovering from sanctions, are probably pumping near their limit. Nigeria, which had been excluded from the agreement prior to Thursday, has continued to see its output damaged by unrest in key oil regions.
Russia's involvement in the deal also added backbone. The threat that the world's biggest oil and gas exporter would break with the production cap agreement if OPEC didn't pull its weight will have concentrated minds.
But perhaps most important factor was the will of Saudi Arabia, which holds significant sway of many smaller OPEC nations, to see the production cuts implemented.
Saudi Arabia always had more to lose than most if oil inventories continued to swell and weigh on prices. The kingdom needs oil at about $70 a barrel to balance its budget for 2018, according to the IMF. That is second highest level amongst OPEC members, behind Bahrain. It is also significantly above the about $40 per barrel that Russia requires.
The country also has its eyes on next year's planned initial public offering of Saudi Aramco, the state-run oil producer. The success of the IPO, which could be the biggest ever if it raises an expected $100 billion, will hinge not only on prevailing oil prices but on expectations of longer-term oil prices. The markets view of those oil prices will in turn be driven by faith in OPEC's ability to manage global supply.
OPEC's political divisions, including tension between Saudi Arabia and Iran and the ongoing boycott of Qatar, mean there will always be risks of dysfunction. Yet OPEC's performance over 2017, including Thursday's announcement, suggest that it may finally be emerging as the force for oil price stability it has previously only claimed to be.
More of What's Trending on TheStreet: