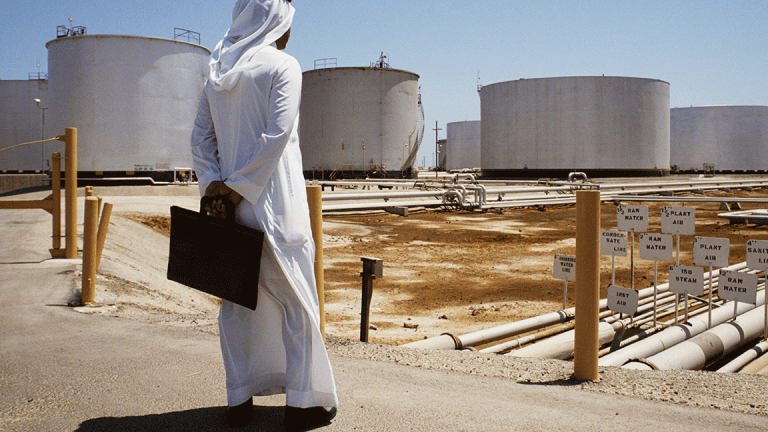 OPEC, Russia Expected to Extend Supply Cuts but With a Get-Out Clause
Thursday's OPEC-led meeting is likely to announce oil cuts will run until the end of 2018 but include an option to wind them up early.
The world's biggest oil exporters are expected to prolong supply cuts until the end of the year at a meeting on Thursday, November 30, while also leaving the door open to an early wind up of their agreement if oil prices rise too far.
OPEC producers, Russia and a handful of other oil producing nations, will meet in Vienna to discuss an extension to production caps that have reduced cut supply by 1.8 million barrels per day since January and supported oils rise beyond $60 a barrel.
International benchmark Brent crude traded Thursday morning in Europe at $62.77, up $0.24 or 0.38%. U.S. benchmark West Texas Intermediate traded at $57.44, up a slim 0.3%.
Analysts have warned that an extension of the production caps until the end of 2018 is priced into the oil market and anything less than that will weigh on oil prices. The agreement to limit production is currently due to expire in March.
Why Gas Prices Are Set to Plummet This Winter
The lead up to the meeting has been marked by disagreement between Russia, which prefers a shorter six-month extension, and Saudi Arabia and other OPEC members, which have lobbied for the longer deal.
"Russia seems to be pushing OPEC to have a concrete plan to phase out the cuts when appropriate, compared to the typical undisciplined OPEC strategy of "leakage/cheating" to increase production/quotas," noted Tudor, Pickering, Holt & Co.
Analysts appear to have settled on an expectation that meeting, which starts at 9:00 AM Eastern Time, is likely to produce a compromise based on the longer extension favored by OPEC, but with a review that could end the deal sooner.
"Most rhetoric in the last days suggest OPEC members back a full 9m extension with no tapering, potentially with a "review" at the June meeting next year," Goldman Sachs analysts including Peter Hackworth wrote on Thursday. "Russia's position remains the key unknown and presents the biggest downside risk to this outcome, although recent comments from the energy minister have been more positive."
Goldman tipped oil equities to trade higher in the wake of a nine-month extension and named the heavily-shorted U.K. independent Tullow Oil Plc (TUWOY) amongst its top picks in Europe, following its announcement yesterday that it would refinance loans.
More of What's Trending on TheStreet: