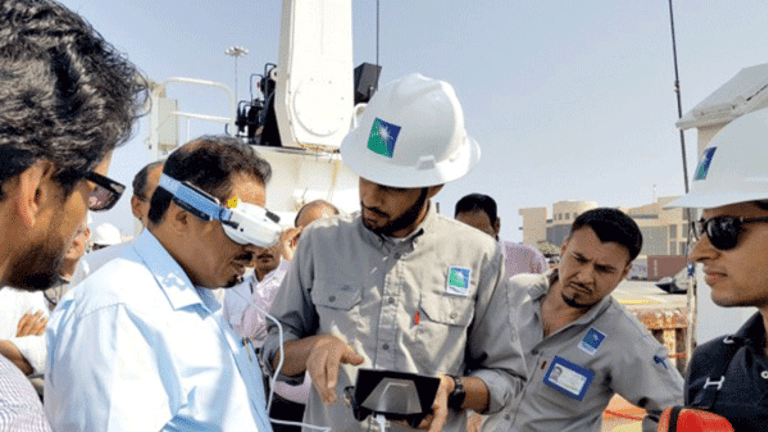 One Tiny Leading Indicator Means a Great Big Deal for the Oil Market
A change in how Saudi Arabia sells light crude oil to Asia could show that oversupply concerns in the Atlantic are fading.
The first signs of a rebalancing in the oil market may come from the other side of the Earth.
An RBC research note circulated to investors Friday argues that a hike in the Official Selling Price (OSP) for Saudi light and sweet crude in Asian markets could be a leading indicator that some oversupply concerns are finally abating.
Since Saudi Arabia and the other OPEC nations agreed in November to cut production by 1.2 million barrels a day, Asian countries have increasingly turned to African countries that operate in the Atlantic Ocean Basin like Angola for their fix. According to the RBC note, West African oil exporters are currently sending 2.2 million barrels a day to Asia — 200,000 barrels more than their 2017 average output.
"I think a lot of people generally think about the global oil overhang as a broad-based term," RBC strategist and note author Michael Tran said. "It's really locational and regionalized in terms of where the overhangs and the deficits really are. When you look at a place like Asia, Asia is really tight. They need to pull barrels from other places to fund their demand."
For Asia, Saudi Arabia is often that "other place." 32% of all Asian crude oil exports among the 35 Organization for Economic Cooperation and Development (OECD) member states come from Saudi Arabia, by far the largest percentage for an individual nation (The United Arab Emirates is in second with 19%).
The light, sweet crude that the Saudis send to Asia is primarily used for gasoline. Functionally speaking, the OSP for the oil is, depending on the health of the market, either a markup or a discount off the per-barrel Dubai benchmark price for the commodity.
Data collected by RBC shows that the Saudi light crude OSP to Asia is currently priced at a slight 15 cent-per barrel premium to Dubai crude. Dubai crude was selling at about $54.18 a barrel Friday afternoon.
A sustained hike in the OSP to Asia could be a sign that the oil glut in the Atlantic Basin is disappearing, Tran argued.
"The OSP to Asia in the 2010-2014 time period averaged $1.65 over Dubai. In the time since the world price collapse back in mid-2014, that OSP has averaged a discount of 34 cents to Dubai," he said. "Right now, we're slightly north of flat. I would think that while there's no magic number...I would look at more of a trend. If you see several months where you see a material uptick, that would suggest that the market is certainly tightening. If we saw a 30 cent hike two or three months in a row, I think that would be quite significant."
Any signs of a recovery, no matter how small, could be cause for celebration in Saudi Arabia. The Arab nation's government is preparing to sell a 5% stake in oil producer Saudi Aramco in 2018. The initial public offering of Saudi Aramco shares is expected to be the most valuable float in history and Saudi Deputy Crown Prince Mohammed bin Salman publicly estimated the total value of the company at $2 trillion in April 2016.
"If prices can really be shored up, if market share can really be shored up [for Saudi Arabia], then I think the IPO, etcetera, it all will really fall into place," Tran said.