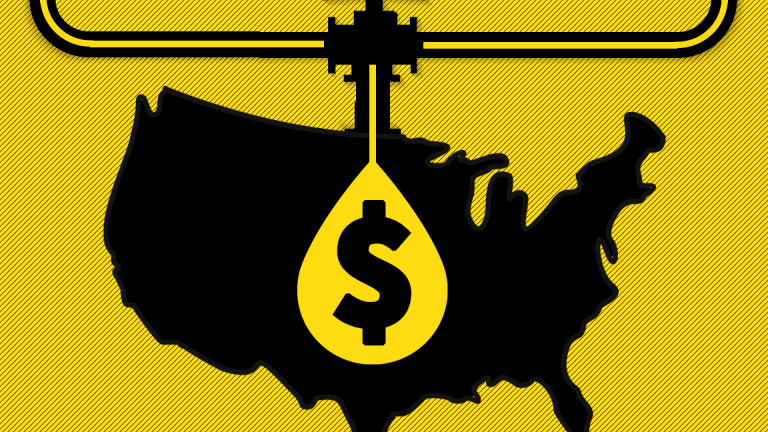 U.S. Drillers at Mercy of Iran, Saudi Production Spat as OPEC Meeting Begins
Saudi Arabia and Iran are in a power struggle that will come to a head Friday, June 22, in Vienna as OPEC debates whether to raise its current oil production, leaving U.S. producers at the mercy of the oil cartel's decision.
Saudi Arabia and Iran are in a power struggle that will come to a head Friday, June 22, in Vienna as OPEC debates whether to raise its current oil production, leaving U.S. producers at the mercy of the oil cartel's decision. 
Thursday afternoon reports emerged that Iran was "ready for a deal," while earlier in the week Saudi Arabian Oil Minister Khalid Al-Falih told reporters in Vienna that "of course" there will be a deal.
What kind of a deal, however, and whether it will maintain stability in oil prices or send then surging higher is up for debate. The latest word from Vienna suggested Saudi Arabia is targeting an output increase of up to 1 million barrels per day, but that an inability to meet that number by several member countries could leave the actual increase well short of that.
"U.S. shale producers are interested in OPEC delivering a 'Goldilocks' price for oil (not too high, not too low) that supports continued drilling and doesn't spoil the broth by impacting demand," Morningstar Inc. analyst Sandy Fielden wrote in an email to TheStreet. "Keeping the lid on prices will mean increasing production but the trickier question is - by how much and by which OPEC member."
JPMorgan Chase & Co. analysts wrote in a Thursday report that OPEC and non-OPEC members including Russia will likely agree on an output increase of between 500,000 barrels and 1 million barrels of oil per day. Russia has called for the group to push production up by as much as 1.2 million barrels per day by the end of the year. 
But two of the most influential OPEC members -- Iran and Saudi Arabia -- are rarely on the same page, and an inability for the pair to come to an agreement could create more uncertainty in the oil market just as it regains balance and is starting to see renewed investment. Between 2018 and 2025, research firm GlobalData predicted this month about $801 billion will be spent on major planned and announced oil and natural gas production fields. That number would be in jeopardy if global oil prices, which traded at $73.82 a barrel around mid-day Thursday, were to slide due to too much production coming online too quickly. 
Iran threatened this week to veto any deal to increase production. Saudi Arabia can bypass a veto, but it doesn't have to in order to add barrels to the market, as Iran has pointed out.
Iran supports OPEC's current output freeze, which has taken 1.8 million barrels of crude per day of the market and is currently set to continue through the end of 2018. Iran, which doesn't want to see its market share shrink due to reduced output from revived U.S. sanctions, has suggested OPEC producers that have been overachieving on their production cut goals merely produce the reduced levels first agreed to in November 2016. 
"Iran pointed out the obvious that instead of changing the parameters of the deal, those countries that were over-complying (cough cough Saudi Arabia) could just start complying instead," Ashley Petersen, of energy consulting firm Stratus Advisors, wrote in an email to TheStreet. "The fact that this was seen as a major conciliatory move sort of emphasizes just [how] acrimonious this meeting is likely to be."
Saudi Arabia, which would like to see prices climb higher to improve the outlook for a widely anticipated 2019 IPO of state-owned oil producer Saudi Arabian Oil Co., appears to now be of the mind to kick production back into high gear.
That may be partly thanks to U.S. President Donald Trump, whose administration reportedly called the de facto OPEC leader up ahead of issuing sanctions on Iran and asked for support in keeping oil prices stable in the event the decision disrupted supply. 
Reuters reported June 7 that Washington was worried U.S. sanctions would slow deliveries from Iran and send oil prices higher. A June 13 tweet from President Trump echoed that sentiment, "Oil prices are too high, OPEC is at it again. Not good!"
This week, one major U.S. producer added its voice to that call. Pioneer Natural Resources Co. PXD chairman Scott Sheffield on Wednesday said OPEC needs to create a plan to increase production across the cartel as certain members, including Iran, Venezuela and Libya, lose even more production in the coming months. 
OPEC should come to an agreement that keeps U.S. oil prices, trading relatively flat at about $65.75 around midday Thursday, within a range of $60 to $80 per barrel through the end of 2018, Sheffield told reporters Thursday. Oil prices above $100 a barrel would not help OPEC or U.S. producers, he said, because returning to such high prices too quickly will curb consumer demand and therefore reduce investments in the industry. 
The U.S. is temporarily barred from being much of a swing producer because U.S. crude production has outpaced the U.S. midstream's capacity to get that oil to regions of export, according to Ben Cook, a portfolio manager for BP Capital Fund Advisors, an energy investment firm.
Major pipeline projects that will relieve these so-called bottlenecking issues are not set to come online for another two years; railroads are largely dedicated to bringing supplies to oil producers, such as fracking sand; and there are strict mileage-based trucking laws in Texas that prevent too much crude being transported via highways. 
The fear from U.S. producers like Pioneer that rising oil prices will stymie investments stems from a desire to ensure there is enough global spare capacity, or the amount of a resource the world can produce minus the amount the world is producing, Cook said in an interview with TheStreet.
Diminishing spare capacity sets the global oil market up for future volatility, because it is spare capacity that would be used in the event of a spike in demand caused by any number of factors, including a global crisis. 
And it is spare capacity that is at stake this week. 
To be sure, a production increase isn't a given, according to Stratas' Petersen, and Saudi Arabia might be forced to do most of the work itself if there is one. In the event that it goes that way, the market may not see much of a price adjustment either, since expectations of an uptick in production are already priced in, she explained. 
"This is similar to some of the underwhelming price action we've seen out of these meetings previously because of how much OPEC telegraphs its moves ahead of time," Petersen said of the drop ahead of OPEC's Friday meeting. "If [an increase] does happen and price movements are small, then we'll inevitably see all the talk around 'was that increase not enough, what will it take to keep prices low, etc.' "