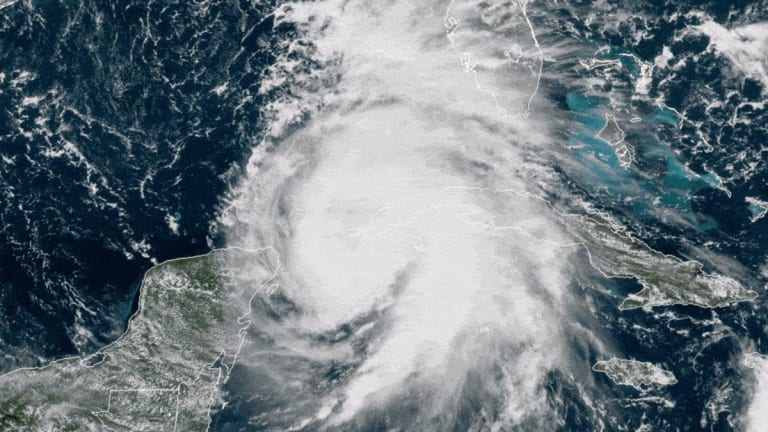 Oil Prices Rise as Hurricane Michael Takes Aim at Florida
Storm could make landfall Wednesday.
Oil prices rose slightly and energy companies evacuated some Gulf of Mexico platforms as Hurricane Michael approached the Florida Panhandle on Tuesday, with the potential of slamming into the area as a Category 3 storm by Wednesday.
West Texas Intermediate oil for November delivery rose some 0.8% to $74.91 a barrel on the New York Mercantile Exchange shortly after noon ET. Oil firms also evacuated 10 Gulf of Mexico production platforms as of Monday, according to the U.S. Bureau of Safety and Environmental Enforcement. That's about 1.5% of the manned platforms in the area.
Michael is currently in the Gulf of Mexico some 360 miles south of Panama City, Fla., moving north at 12 mph. It's heading toward the Florida Panhandle as a Category 2 hurricane with 110 mph windsm but could strengthen.
AAA spokeswoman Jeanette Casselano told TheStreet that drivers in the Southeast could see an initial bump in gasoline prices, but added that that's typical when hurricanes hit. She said pump prices seem unlikely to jump significantly across the country, as they did when Hurricane Harvey battered the Texas coast last year.
"It's not going to hit critical infrastructure in Texas like Harvey did," Casselano said. However, she said flooding, high winds and rain could take a toll on Colonial Pipeline Co., which transports more than 2.4 million barrels of refined petroleum daily across the Southern and Eastern United States. Colonial posted no notices of any problems related to the hurricane as of Tuesday morning.