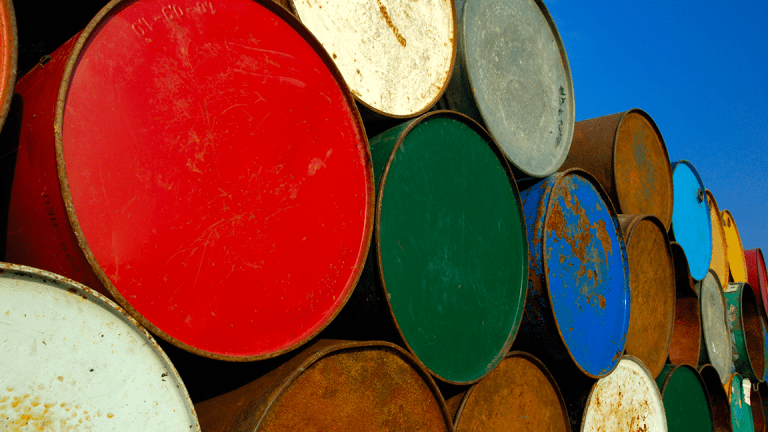 Oil Prices Rally to More Than 3-Year High Ahead of Iran Nuclear Deal Decision
The U.S. could pull out of the Iran nuclear deal as soon as this week. That has sent oil prices surging with WTI crude topping $70 a barrel.
Global oil prices were rallying again Monday, May 7, as traders continued to weigh the possibility of the U.S. exiting the Iran nuclear deal.
West Texas Intermediate crude oil for June delivery settled higher 1.04% to $70.73 after earlier reaching a three-and-a-half year high. WTI crude last topped $70 a barrel in November 2014.
Brent crude, the global benchmark for oil, gained about 1.8% to $76.20 in London to reach prices not seen since 2014. Monday's gains came on top of sustained momentum in oil prices, which have rallied more than 10% in the last month.
Prices have surged as President Donald Trump has indicated with increasing conviction that the U.S. may pull out of the Iran nuclear deal. The 2015 international agreement eased sanctions on Iran on the promise the country would curb its nuclear program.
If the U.S. chooses to exit the deal, it could reimpose economic sanctions on Iran. That would weigh on the country's crude exports and global supply at large. Trump is expected to make a decision on extending related sanction waivers Tuesday, he said on Twitter.
When the Iran nuclear deal came to be a few years ago, Iran soon re-emerged as major oil exporter. Traders are concerned renewed sanctions could hamper Iran's recent export leadership, sending prices higher as supply weakens.
At the same time, continued tension in Venezuela has weighed on supply. The major oil-exporting country has seen its crude output cut in about half over the last decade. A survey of the Organization of the Petroleum Exporting Countries, of which both Iran and Venezuela are members, showed last week that OPEC's crude production fell in April for the third-straight month to a one-year low.