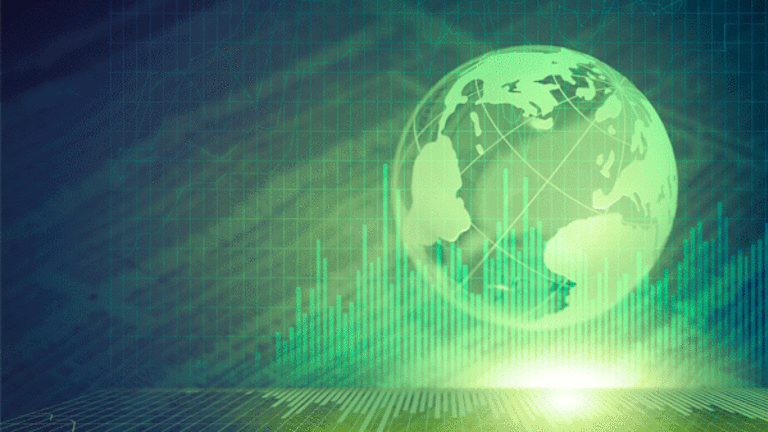 Oil Up as UAE Trims Output
Crude futures clear $59 as an OPEC cut gains steam.
Updated from 12:30 p.m. EDT
Crude-oil futures cleared $59 Tuesday after the United Arab Emirates said it would follow OPEC's lead and trim exports next month.
The UAE will cut daily production by 100,000 barrels, a move that assuaged traders' suspicions that OPEC members would ignore the group's decision in a bid to maintain oil revenue. Saudi Arabia, the group's largest producer, which moved to reduce exports to Asian refiners by up to 8%, had been the only OPEC member to agree to the cut.
OPEC agreed last week to trim output by 1.2 million barrels per day beginning next month to shore up sluggish oil prices. But the group of 11 oil-producing countries is more likely to cut exports by 750,000 barrels because not every member will go along with it, says Peter Beutel, an energy analyst with Cameron Hanover in New Canaan, Conn.
"They have a lot less influence than they did a year ago," said Guy Gleichmann, president of United Strategic Investors Group, a commodity brokerage in Hollywood, Fl.
The group may shave output by up to 500,000 barrels per day at its next meeting in December if the cut doesn't stick and prices remain sluggish.
Light, sweet crude with a December delivery date rose 54 cents to settle at $59.35 a barrel on Nymex. Unleaded gasoline climbed 6 cents to $1.53 a gallon, and heating oil increased 2 cents to $1.69 a gallon.
This morning, oil prices had been losing ground on expectations that robust domestic crude stockpiles would outweigh OPEC's upcoming production cut. In the Energy Department's weekly update, crude stockpiles are expected to have climbed by 2.87 million barrels last week, according to analysts polled by
Bloomberg
.
Refiners have been idling some of their units as they completed seasonal maintenance ahead of the winter heating season. Oil is processed into products such as gasoline and heating oil. Oil inventories are currently 7% over the same period last year.
Consequently, gasoline inventories likely fell by 125,000 barrels, and distillates, a category that includes heating oil and jet fuel, dropped by 1.25 million barrels, according to a
Bloomberg
poll.
Despite the projected drops, supplies of gasoline and distillates are 6% to 15% higher than a year ago. High inventory levels will come in handy before the winter heating season.
Refining capacity likely improved last week to 87.5%, up by 0.75 points, according to the poll.
After oil prices fell below $60 this month, OPEC made an about face and opted to tweak production levels. Crude prices have plummeted about 25% since July on brimming fuel stockpiles, no hurricanes in the Gulf of Mexico and cooling tensions with Iran, the world's fourth-largest crude exporter.
Still, the market is quite volatile and could easily rocket back up if the U.N. Security Council imposes trade sanctions on Iran for refusing to halt nuclear development activities and Tehran lashes out by slashing crude exports. As it is, the U.N.'s nuclear watchdog agency said Iran was in the process of increasing its nuclear capability with another batch of centrifuges.
In February, Iran defied U.N. bans and kick-started its nuclear program, ostensibly to produce more electricity. However, European and American diplomats believe Iran intends to build atomic weapons with the fuel.
Natural gas, meanwhile, added 21 cents to end the session at $7.09 per million British thermal units on projections of colder temperatures in the Northeast over the next week. The rise in prices comes despite brimming supplies of natural gas.
Among energy stocks, the Amex Oil Index, which tracks 13 refiners and exploration companies, was up 1%.
Chevron
(CVX) - Get Report
,
Occidental Petroleum
(OXY) - Get Report
and
Hess
(HES) - Get Report
were leading advances by as much as 2.8%.
The world's largest publicly traded energy company,
Exxon Mobil
(XOM) - Get Report
, was down fractionally to $69.85.
BP's
(BP) - Get Report
stock was recently picking up 0.7% to $68.35 despite a fall in net income during the third quarter. Lower refining margins, downed production at its Prudhoe Bay oil field and higher taxes pushed down BP's quarterly profits by nearly 4% to $6.23 billion. Revenue rose to $73 billion from $67.9 billion last year.
This week,
ConocoPhillips
(COP) - Get Report
,
Chevron
(CVX) - Get Report
and
Royal Dutch Shell
(RDS.A)
will also report their quarterly earnings, which are expected to be boosted by high oil prices.
The Philadelphia Oil Service Index was higher by 3.4% in trading thanks to higher-than- expected quarterly earnings reports from some of its components.
Halliburton
(HAL) - Get Report
,
Rowan Companies
(RDC)
and
BJ Services
( BJS) were increasing as much as 5.9%.
Smith International
( SII) clocked in a 67% increase in profits during the third quarter of $132.9 million, or 66 cents per share. Revenues soared to $1.9 billion, up from $1.4 billion last year.