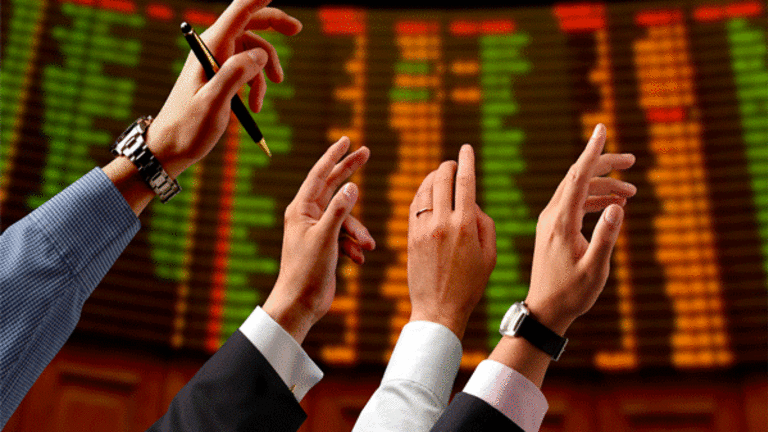 Oil Prices Weaken on Europe Doubts
Oil prices slump as traders analyzed the plan to address Europe's debt situation and decided to book profits.

NEW YORK (TheStreet) -- Oil prices were weak Friday as traders analyzed the plan to address Europe's debt situation and decided to book profits.
Some limited chatter about more government asset buybacks and marginally uplifting U.S. economic news took prices off session lows.
West Texas Intermediate light sweet crude oil for December delivery was down $1.05 to $92.91 a barrel, off the intraday low of $92.01, and the December Brent crude contract was behind by $2.01 to $110.07, off the intraday low of $109.78. The U.S. dollar was ticking up 0.2% to $75.04 against a basket of currencies corresponding to the country's major trading partners.
While Friday's University of Michigan consumer sentiment final reading turned out better-than-expected, the data wasn't enough to significantly move the needle to the upside.
"It is a revision of the number originally released mid-month," explains Matt Smith, a commodity analyst at Schneider Electric's Summit Energy. "That number was worse than expected, so the impact of it is already likely to have been absorbed, even if this number disappoints further."
Meanwhile, Trey Cowan, senior market research analyst at Rigzone, characterized the Michigan number as "benign."
Overnight, Japan's weak industrial data rattled the markets a bit, but the reaction was shortlived as Japan only represents about 5% of the global crude oil consumption.
"The downside in consumption is limited and variations do not have much impact on the world total anyway," says SEB Commodity Research strategist Filip Petersson.
Brian Habacivch, a senior vice president at energy management company Fellon-McCord, agrees that the Japan numbers weren't "any big surprise," pointing to the record high strength of the Japanese yen currency and the chokehold this has put on the country's exporters and manufacturing sector.
Thus, the real pressure bearing down on oil prices Friday was a strong bout of profit taking following the
Dow Jones Industrial Average's
340-point move up Thursday, with many market watchers now punching holes in the strategic plan formulated by European leaders.
OptionsXpress analyst Michael Zarembski says he now sees strong resistance for December WTI futures from $94.65 to $95 and support at $90. He sees Oct. 17 highs of $113.86 as a key resistance level for December Brent, with support found at the 20-day moving average, which is now near the $107.75 level.
Now, "the devil will be in the details and I think the details lend themselves to more scrutiny and possible anxiety," TEAM Asset Strategy Fund manager James Dailey says of the European plan.
The main question being asked is where the money to leverage the European rescue fund will come from. After all, if the strongest countries of the eurozone provide guarantees, they could also be dragged down with the rest on any losses incurred, rendering the entire region a debt union.
Fellon-McCord's Habacivch said it's unnerving that the enormous 50% haircut for Greece still may not be enough to prevent a country with a gross domestic product the size of "the state of Delaware" from taking down the entire European Union.
With the general markets consumed by Europe's far-reaching problems, fewer have been paying attention to a bigger story unfolding: The possibility of another round of quantitative easing -- which could suppress the dollar and inflate oil prices -- amid speculation on how the U.S. government will support its movement towards reducing consumer debt levels and servicing costs. Another round of asset purchases focused on the mortgage-backed market in reportedly being talked about.
"The student loan program announcement has been followed by mortgage rules being weakened and now a growing move towards principal write downs," says Dailey of TEAM Asset Strategy. This asset manager has been navigating the markets with the view of an unfolding recession and weak short-term data. He says these conditions could drive the Federal Reserve to become even more aggressive with its loose monetary and fiscal policies.
Shares of energy companies were trading mixed.
EOG Resources
(EOG) - Get Report
was down 0.6% to $92.26;
Triangle Petroleum
(TPLM)
was surging 9.2% to $6.03;
Suncor Energy
(SU) - Get Report
was down 0.2% to $33;
Apache
(APA) - Get Report
was up 1% to $103.83;
Anadarko Petroleum
(APC) - Get Report
was up 0.8% to $83.27;
Chesapeake Energy
(CHK) - Get Report
was up 0.8% to $29.40; and
Southern Union
( SUG) was down 0.3% to $42.35.
-- Written by Andrea Tse in New York.
>To contact the writer of this article, click here:
Andrea Tse
.
Copyright 2011 TheStreet.com Inc. All rights reserved. This material may not be published, broadcast, rewritten, or redistributed.