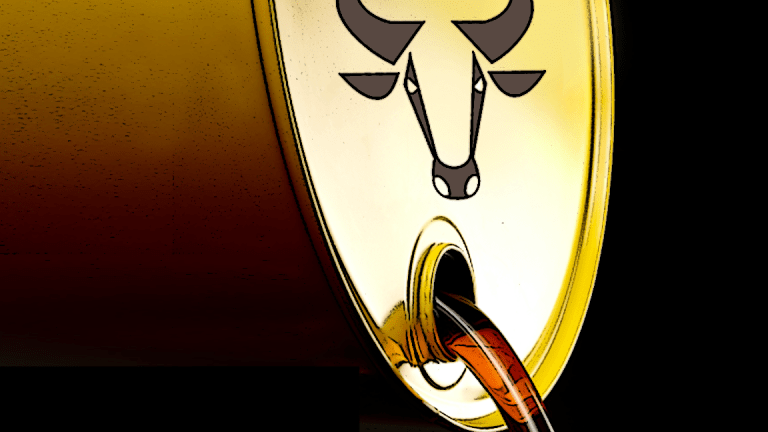 Why Oil Prices Are Suddenly On Fire
Crude continues a week-long rally ahead of EIA data that is expected to confirm the biggest drawdown of crude, gas and distillates in eight years.
A flame has been lit under oil. 
Oil prices continued a week-long rally Wednesday, November 1, hitting their highest mark since mid-2015 on expectations that data due out of the US will confirm a sharp dip in reserves while OPEC compliance with its oil production caps continued to crimp supply.
Brent Crude futures for delivery in January traded Wednesday morning in Europe at $61.49, up $0.55 or 0.9%, breaching the $61 mark for the first time since the start of July 2015. US benchmark West Texas Intermediate futures for December climbed even more sharply, hitting an early session high of $55.17 before falling slightly to trade at $55.05, up 0.67 or 1.16%.
The gains came after the American Petroleum Institute forecast US inventories of crude, gas and distillates liked fell 15.9 million barrels last week, a draw down that would be the largest in at least eight years. The figures are expected to be confirmed by the US's Energy Information Administration, when it releases its official survey data on Wednesday.
"Combined with headline production data from the US showing another miss for revised monthly data vs the weekly, and tanker tracker sources suggesting Saudi continue to keep exports at low levels, near term sentiment should remain bullish," noted Goldman Sachs analysts.
Oil prices gained 7% over October, buoyed by OPEC and Russian compliance with supply caps that have drained the market of excess supply that drove prices into the mid-$20 a barrel range in early 2016. Oil price bulls have been further encouraged by suggestions out of Russia and Saudi Arabia that the supply caps, which have sort to remove 1.8 million barrels per day of supply, could be extended through 2018.
OPEC produced an average 32.78 million barrels of oil per day during October, meaning it had met about 92% of the supply cuts pledged by members. That figure was up from about 86% in September.
Despite the recent strong gains analysts and traders remain wary that the bull market will continue to run, amid signs that US shale producers were responding to higher prices by ramping up production and locking in prices.
"The wild card remains North American shale's potential to upend any coordinated moves to keep a lid on global production," noted Saxo Bank analysts on Wednesday.
Goldman echoed those concerns in its note. "Digging into the monthly data in the US shows strong sequential production growth from shale states not impacted by the hurricanes (North Dakota and Colorado in particular stood out), and with the US rig count stabilising and US producer hedging starting to pick up again after a 1 month hiatus, how long before the focus shifts onto the shale production response once more?"
The rising oil price lifted European oil company stocks Wednesday. France's Total SA (TOT) - Get Total SA Sponsored ADR Class B Report was up almost 1% at 48.32 ($56.23), Royal Dutch Shell Plc (undefined) , which is due to report its Q3 number on Thursday, was marginally higher at 2,422.1 pence ($32.21), while BP Plc (BP) - Get BP p.l.c. Sponsored ADR Report climbed 0.65% to 513.50.
More of What's Trending on TheStreet: