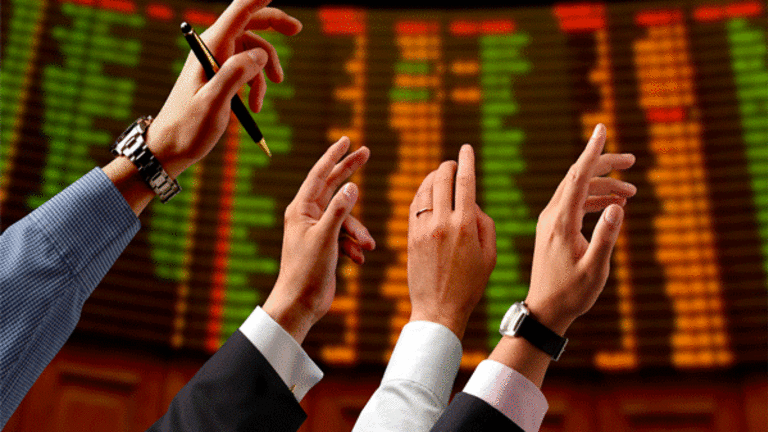 Oil Prices Swing on Mixed Data
U.S.-pegged oil prices were skittish in Wednesday as traders weighed rejuvenating economic news against a built in domestic crude inventory stocks.

NEW YORK (TheStreet) -- Oil prices were volatile Wednesday as traders weighed rejuvenating economic news against a build in domestic crude inventory stocks.
West Texas Intermediate (WTI) light sweet crude oil for October delivery was up 7 cents to $88.97 a barrel, but has traded as high as $89.49 and as low as $87.67 in the intraday.
Brent crude oil for October delivery was climbing 42 cents to $114.44 a barrel as the global benchmark received support from not only the positive economic news, but also views that it will be a while before prewar levels of crude oil production in Libya resume -- keeping supplies tight.
"By now most Libya optimists have come to their senses and the tight balance in the crude oil market going forward comes back in focus as soon as U.S. growth optimism grips the market," said SEB Commodity Research strategist Filip Petersson.
While the new chairman of Libya's state-owned oil company expects oil production to resume within weeks as the civil war comes to an end, he estimates that it will take about 15 months for production levels to return to 1.6 million barrels a day.
The U.S.-pegged WTI was swinging between positive and negative territory on promising U.S. economic news and the build in domestic crude inventories.
The Department of Energy on Wednesday reported a 5.3 million barrel injection in crude oil inventories for the week ended Aug. 26. Before that, the American Petroleum Institute revealed a big stock increase of 5.1 million barrels.
Still, both bodies reported a decline in gasoline supplies, with the Department of Energy reporting a drawdown of 2.8 million barrels and the API reporting a decline of 3.1 million. This, after the latest MasterCard SpendingPulse report said that U.S. gasoline demand increased by 1.3% last week mainly due to the spike in pumping along the east coast as people evacuated coastal areas ahead of the Hurricane Irene.
The macroeconomic indicator is based on aggregate sales and services activity in the MasterCard payments network.
Unleaded gasoline for October delivery was rising two cents to $2.8646 a gallon following the reports of declines in gasoline supplies.
"But
unleaded gasoline futures have resistance overhead and are getting overbought. There may be some more on the upside, but it is starting to look limited to me," cautioned Cameron Hanover founder Peter Beutel.
Earlier today, the Commerce Department said factory orders saw improvements in July. New orders increased 2.4%, a rebound from June's revised 0.4% decrease. The latest update was better than the 1.8% increase economists had anticipated.
Meanwhile, the Institute for Supply Management's Chicago Purchasing Managers' Index came in at 56.5, beating expectations of a drop to 53 and only slightly below July's 58.5 reading. Readings above 50 indicate that an industry is growing. Still, business orders and production in the Chicago region are at their lowest level since Nov 2009.
A reading ahead of Friday's nonfarm payroll report this morning suggested modest job gains in August. Companies added 91,000 jobs in August, according to payroll processing firm Automatic Data Processing. The latest reading was below expectations for a 100,000 gain. July added a revised 109,000 numbers of jobs.
Hopes of more quantitative easing for the U.S. economy, which would likely boost commodity prices amid the extra liquidity, were thrown into confusion on Tuesday as the latest Federal Open Market Committee minutes revealed a deep rift among members over policy issues.
"In plain English, there are a number of Fed governors who are ready to vote for
a third round of quantitative or its equivalent. Markets still think it could come, especially if we get more weak reports," say Cameron Hanover analysts. At the same time, "we know that three Fed governors dissented from the latest agreement and it seems that these three are against the Fed doing much of anything."
"Chairman
Ben Bernanke is not keen to be lined up in anyone's crosshairs, especially after being blamed by a number of people for higher oil prices and for 'printing money,' which Governor
Rick Perry looks at quite negatively," they added. "Mr. Bernanke is not keen to become a focal point in the coming election, and he knows he runs the risk of doing exactly that."
October natural gas futures were spiking 13.8 cents to $4.047 per million British thermal units as the markets kept their eye on thunderstorms developing in the vicinity of the Gulf of Mexico, a major area of natural gas operations.
Energy stocks were gaining ground.
Eog Resources
(EOG)
was rising 0.9% to $93;
Apache Corporation
(APA)
was ahead by 0.8% to $103.46;
Stone Energy
(SGY)
was gaining 1.3% to $26.39;
Murphy Oil
(MUR)
was adding 3.3% to $53.26;
Chesapeake Energy
(CHK)
was up 0.2% to $32.49;
Kinder Morgan
(KMI)
was gaining 3% to $26.14; and
El Paso
( EP) was rising 1% to $19.17.
-- Written by Andrea Tse in New York.
>To contact the writer of this article, click here:
Andrea Tse
.
Copyright 2011 TheStreet.com Inc. All rights reserved. This material may not be published, broadcast, rewritten, or redistributed.